I have always said that before you jump to conclusions as to whether the world economy is "slowing down" or not, you should perform a quick "reality" check with what is happening to the prices of industrial metals and steel. Yes it is highly simplistic, but if base metals and steel prices are rising rather than falling, then it is difficult to entertain the "idea" that the world economy is contracting, or at least to any material degree.
Below is the spot price for LME billet steel, over the last few days it has made a multi-month high.
London Metal Exchange Billet Steel Spot
[Click all images to enlarge]

Click to enlarge
Now I wouldn't take the multi-month high in Billet Steel too seriously if base/industrial metals were trading at multi-week lows, or at least they were on the verge of doing so. The LMEX Metals Index (6 base metals) is only a few good trading days away from a multi-month high. This to me suggests that movement in steel prices is for real!
London Metals Exchange Metals Index

Click to enlarge
One of the reasons I pay close attention to the price action of billet steel (and also scrap steel), is that these prices are difficult to manipulate because they are not securitized (unlike many base metals), you don't tend to find Moms and Pops or Hedgefunds investing in scrap metal yards or storing huge quantities of "big hunks of steel"!
So, it would seem that the world economy isn't slowing to the degree that many economists are suggesting. Perhaps we should position ourselves for surprises to the upside in world growth! Of course there are many ways to apply this view via broad ETFs, just being long the Dow (NYSEARCA:DIA), commodities (NYSEARCA:DBC) and short US treasuries (long TBT) would be how one could apply a bullish world growth story from a macro view.
However, on a more micro view one should look at taking positions in steel producers. If there is one stock that comes to mind, it is Arcelor Mittal (NYSE:MT). Mittal's stock price has gone no where in some two years and it is trading below book value (0.87x).
If steel prices continue to improve over the coming weeks, it is difficult to imagine that Arcelor Mittal will not be trading materially higher in 12 months from now.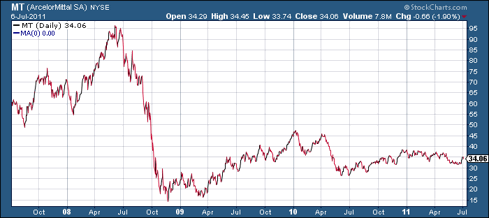 Click to enlarge
I have been suggesting to clients that they should consider buying long dated OTM calls on MT and also US Steel (NYSE:X) and Nucor (NYSE:NUE). Low option valuations provide the very real potential for significant upside over the coming months.
Disclosure: I am long MT, X.