June 2011 was the second straight brutal month for Chinese Internet stocks: After plummeting 11.6% in May, stocks in the industry plunged 9.3% on average in June, recorded a depressed advance/decline ratio of 7 to 40 and significantly underperformed the NASDAQ Composite's -2.2% monthly return (Table 1). Such a poor performance in June was mainly caused by surging uncertainty surrounding overseas-listed Chinese companies as a result of recent controversies related to Sino-Forest and Alibaba (OTC:ALBCF). Social media stocks dropped the most in June, followed by online advertising, online video and e-commerce stocks. Online games stocks were relatively the best performers among major industry segments. Below is the detailed analysis of each segment.
Social media stocks were the biggest decliners for the month, plunging 16.4% on average. Renren.com (NYSE:RENN) declined 31.1% as investors became increasingly worried about competitive pressure from Tencent (OTCPK:TCEHY) and Sina (NASDAQ:SINA). Investors are increasingly betting on Sina instead of Renren as the strongest challenger to Tencent in China's burgeoning social networking services industry. Currently, many Chinese Internet companies are learning from Apple (NASDAQ:AAPL) and Google (NASDAQ:GOOG) and trying to establish an "open platform" to share users and revenues with application developers. Based on recent news flows and data points, I expect Tencent to emerge as the ultimate winner in the race to be China's leading open platform.
Online advertising stocks fell 12.9% on average in June. Baidu (NASDAQ:BIDU) was up 3.3% for the month, demonstrating great resilience in a tough overall market for Chinese Internet stocks. In a previous article, I recommended BIDU as a relatively safer stock for investors during tough times. The stock's outperformance in June has lived up to my expectation. Baidu shares currently trade at 54.7x 2011 consensus EPS, enjoying a much higher valuation multiple than the average Chinese Internet stocks. BIDU's high valuation is firmly supported by Chinese search market's fast growth and lack of real competition. I expect BIDU's valuation premium to sustain in the next several years, as the company continues to face little competition in a fast-growing market.
Online video stocks dropped 10.6% on average in June. All four stocks in this segment declined for the second straight month. Youku (NYSE:YOKU) shares fell 18.7%, mainly due to investors selling the shares after the stock's IPO lockup period expired on June 6. In the month, there were no major changes to China online video industry's competitive landscape. Therefore, I maintain my opinion that Youku is facing too much competition and a significant reduction in competition will change my view on the stock.
E-commerce stocks declined 9.1% on average in June. Dangdang (NYSE:DANG) shares fell 40.8% for the month, as selling pressure mounted after the June 6 expiration of the stock's IPO lockup period. B2B e-Commerce stocks dropped 4.0% on average, marking the fourth consecutive month of declines for the group. Despite the negative performance in June, B2B stocks are showing signs of stability as they outperformed the whole China Internet industry's -9.3% monthly return. I continue to believe B2B stocks have passed their prime and should be avoided in 2011.
Online games stocks were relatively the best performers in June, falling 8.3% on average. Changyou (NASDAQ:CYOU) was the best performer in the segment, rising 6.6% due to the intital success of new game DMD's formal unlimited closed beta. In a previous article, I believed DMD was very likely to become a hit game with more than 300K peak concurrent users and forecast the game will generate $20 million revenue in 2011. My recent checks show that these estimates are likely to be too conservative. NetEase (NASDAQ:NTES) was another noteworthy online games stock. It declined 2.3% for the month, holding up well in a tough month for Chinese Internet stocks. A key supporting factor for NetEase shares during the month was news that Cataclysm, the third expansion of hit game World of Warcraft, had been approved by regulators and will be launched by NetEase in China on July 12. I believe investors should now consider buying shares of Changyou and NetEase, following their resilient performance in June. These two stocks are well positioned for the second half of 2011 on the back of major game launches.
Table 1: China Internet Stocks' Performance in June 2011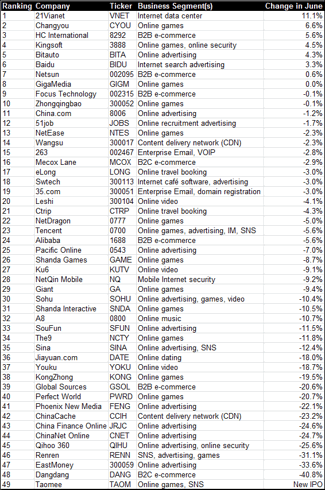 Disclosure: I have no positions in any stocks mentioned and no plans to initiate any positions within the next 72 hours. My virtual investment portfolio has a long position in GA, NCTY and NTES and a short position in DANG, MCOX and YOKU.