OpenTable (NASDAQ:OPEN) is a compelling short at this level. After selling off post a lackluster quarter, it has rebounded strongly with the rest of the momentum names, despite obvious signs that the core business is slowing.
Counting the restaurants on the website, it seems as though the company is on track to miss or barely meet analyst expectations for the quarter in the domestic business, and miss expectations (again) for the international side. In addition, Spotlight (its Groupon-like business) revenues are down 40% sequentially from the first quarter, against expectations of growth in sell-side models. Thus, the biggest areas of potential upside (international and Spotlight) are already proving to be very disappointing.
Since restaurant additions, international and Spotlight are below expectations, the only way for the company to report a decent quarter would be if many more diners ate at each restaurant (revenues are basically diners/restaurant times average restaurants plus installation and Spotlight restaurants). This seems unlikely given what we know about the macro environment in the second quarter, as well as reports from public restaurant chains such as Darden (NYSE:DRI) which reported negative traffic comps at its key Olive Garden branch. The National Restaurant Association also said that more members reported declines in May traffic than increases:
Graphs from Google Trends and Alexa support the possibility of a slowdown: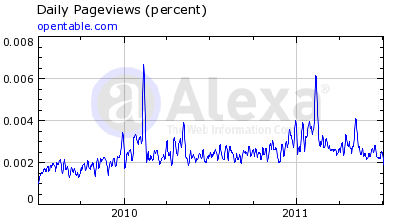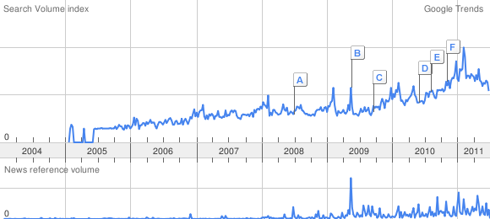 The first is opentable.com pageviews, the second is the number of times that "opentable" is searched for on Google. It is difficult to draw any conclusion except that of significant deceleration or decline.
Assuming that international and Spotlight are each worth a few bucks a share, then the core domestic business is probably worth around $35 assuming that every restaurant in the U.S. uses them today and putting a 25x multiple on those earnings. Since this is not the case, for a variety of reasons (competition, dislike of the service, using a non-zero discount rate, etc.), then the real value is probably half that.
potential
restaurants

30,000
fees/rest

2.00
diners/night

30.0
nights/year

310.0
diners/yr

279.0
revs/diner

$

0.75
revs

209.3
opex

150.0
om
28%
ebit

59.3
x net income

60.0
Disclosure: I am short OPEN.