This morning I used Barchart to screen for the S&P 500 stock that had the most frequent new highs and Hersey (NYSE:HSY) was right near the top of the list with 16 new highs and a price increase of 6.79% in just the last month. The market as measured by the Value Line Index had nine new highs and was up 5.90% for the same period.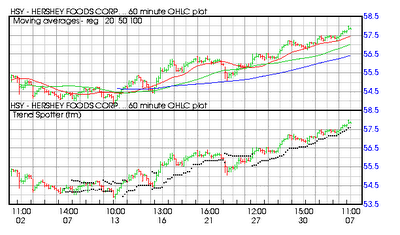 The Hershey Company together with its subsidiaries, engages in manufacturing, marketing, selling and distributing various chocolate and confectionery products, pantry items and gum and mint refreshment products worldwide. It offers chocolate and sugar confectionery products, including milk chocolate bars, chocolates, candies, candy bars, wafer bars, nougat bars, peanut butter cups, boxed chocolates, peppermint pattie and toffee bars. The company also provides high-cacao dark chocolate products, such as chocolate bars, tasting squares, home baking products and professional chocolate and cocoa items; and natural and organic chocolate products consisting of chocolate bars, drinking chocolate and baking products. In addition, it offers snack products comprising snack bars and macadamia snack nuts; and a line of refreshment products, such as mints, chewing gum and bubble gum, as well as pantry items consisting of baking products, toppings, sundae syrups, and hot cocoa mix. Further, the company provides chocolate-covered raisins, peanuts and almonds; malted milk balls; beverage products; and cooking oil products. It sells its products through sales representatives and food brokers, primarily to wholesale distributors, chain grocery stores, mass merchandisers, chain drug stores, vending companies, wholesale clubs, convenience stores, dollar stores, concessionaires, department stores and natural food stores. The company was founded in 1893 and is based in Hershey, Pennsylvania.
Some of the companies brands include Hershey's, Reese's, Hershey's Kisses, Kit Kat, Almond Joy, Mounds, York, Jolly Rancher, Twizzlers, and Ice Breakers as well as innovative new products such as Swoops and Hershey's S'mores. Hershey also offers a variety of snack products to consumers, including Hershey's Cookies, Mauna Loa macadamia nuts, and Hershey's Snack Barz.
Factors to Consider
Barchart Technical Indicators
96% Barchart technical buy signal
Trend Spotter buy signal
Above its 20, 50 and 100 day moving averages
16 new highs and up 6.79% in the last month
Relative Strength Index is 68.13% and rising
Trades around 57.87 with a 50 day moving average of 55.87
The company had to raise prices almost 9% to maintain margins due to increases in food commodities, packaging, fuel and transportation price increases.
The stock pays a 2.50% dividend which is equal to a little less than 50% of its earnings.
Wall Street brokerage analysts are recommending the stock to their long term conservative investors with four strong buy, two buy, nine hold and only one under perform report released.
Sales are projected to increase by 5.70% this year and 4.50% next year.
Earnings are estimated to increase by 10.20% this year, another 9.60% next year and continue by 7.53% annually for the next five years.
General Investor Sentiment
There are 598 readers on Motley Fool willing to express an opinion on this issue and they vote 82% that the stock will beat the market.
The more experienced All Stars are slightly more positive with a 85% vote for the same result.
Summary: Although I believe the stock is fully priced Hershey is still a buy for long term conservative investors. The stock has a 100% price stability score so its pretty predictable. With a 2.5% dividend and projected earnings increases long term investors could see a total annual return in the 5%-6% bracket over the next five years.
Disclosure: I have no positions in any stocks mentioned, and no plans to initiate any positions within the next 72 hours.