I asked this question about Intel (NASDAQ:INTC) yesterday. Based on performance over the last decade, Intel has been a good dividend stock, but has given investors little price appreciation.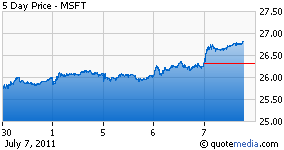 That's how I define a widows-and-orphans stock – a low-risk stock offering solid dividends, but little in the way of capital appreciation. Something you can buy and hold with confidence. But you're not going to get rich on it.
It's only fair we ask the same question about Microsoft (NASDAQ:MSFT).
Since 2001, Microsoft has gone nowhere fast. Its peak before the banking collapse was about $37, its low in 2009 a little over $15. It's now at $26.62, about the price it was on my birthday, January 12. In 2001.
Of course, you do get that dividend, which was 52 cents last year for those scoring at home. (The company's fiscal year ended in June, so we should get the 2011 figure soon.) It was 40 cents a share back in 2007, so you're ahead of inflation there. The yield is 2.40%.
Now compare Microsoft with its peers Over the last 5 years Microsoft has done no better than Hewlett-Packard (NYSE:HPQ). It has done just a little better than Verizon (NYSE:VZ) and AT&T (NYSE:T). By contrast the shares of Southern Co. (NYSE:SO), which no one would confuse with a high flyer, have gained 26% in that time, almost twice as much as Microsoft's 14.24%. (Southern's yield of 4.67% on that 47 cent/share dividend is also twice as good.)
As with Intel, some of the problem here is big numbers. Microsoft is a $17.37 billion company by revenue. You have to do something pretty spectacular to move that needle.
Despite repeated attempts to get into online services, gaming, and mobile, Microsoft's big profit engines remain the Windows operating system and its Office productivity suite. Windows has successfully gone "up the stack" this decade, running server farms (the equivalent of old corporate mainframes) and becoming a safe "enterprise" bet. That's good business, making up for revenue losses to the open source OpenOffice.com, all the games of the SaaS plays like Salesforce.com (NYSE:CRM), even the recent decline in the PC business.
What does Microsoft have going for it?
The Azure cloud could prove highly profitable. Even if its slow takeover of Nokia fails, it could get the same license fees from Android phones it was charging for Windows Mobile. It already has five deals at roughly $5/phone with Android OEMs, and is asking $15 per phone from Samsung.
Rhen there's Skype. Doesn't that deal and the follow-on deal with Facebook put the lie to all this "widows-and-orphans" talk?
No. Because the needle is tough to move. Even if Skype pays off quickly, and the $8.5 billion price tag looked risky until the Facebook deal was announced, it's an incremental gain. So are Android license revenues. So is any deal to put the Bing search engine onto a mobile platform. And all that is going against the headwind of lower Windows PC sales against competition from Apple's (NASDAQ:AAPL) iOS, and other losses to open source.
It's very possible that Microsoft's mix of revenues will change over the next few years, that it will become a more diversified and profitable company, less of a one-trick pony. (Xbox!) But the Windows monopoly is reaching its end-of-life, Office is also going to roll over, Windows Server is as threatened by the cloud as Azure is a beneficiary of it.
It's hard to see revenues growing fast enough for Microsoft to become a growth stock again. IBM stock has made investors much happier over the last decade than Microsoft, and with annual sales of nearly $100 billion IBM is an even-harder needle to move than Microsoft.
Microsoft, in short, is all grown-up. Not that there's anything wrong with that. But grown-up companies don't a growth stock portfolio make.
Disclosure: I bought 100 shares of IBM for my SEP IRA back in the middle of the last decade. I'm one of those who are happy with that investment.