Could Baidu (NASDAQ:
BIDU
) triple from here? It may sound a little crazy but let's look at a few reasons why.
Baidu trades at 37 times forward earnings, Google (NASDAQ:GOOG) trades at 14 times forward earnings, if we take Google's current multiples and overlay them on Baidu's current stock price, we could see an increase from $145 a share to around $385 a share. If we look at trailing earnings—we estimate that Baidu shares would be worth around $600 a share.
Baidu's quarterly year-over-year revenue growth and is 88% vs. Google's 26%, and Baidu's quarterly year-over-year earnings growth is 122% while Google's was –8%. Future estimated growth for this year and next is 14% and 16% for Google vs. 75% and 50% for Baidu.
China is still a growing market, despite government obstacles and regulatory issues. China is expected to grow at around 10% while the U.S. and other western economies will be lucky not to slip back into recession. A growing China market will further justify Baidu's high multiples.
There are certainly risks associated with investing in China, mainly political ones. Over the past several years Google has had repeated problems with the Chinese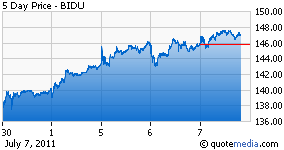 government, as it has threatened to shut down Google's operations there. Google's loss would be Baidu's gain, as Baidu already has 75% of the Chinese search market, and it's still growing.
Eventually Baidu's growth will mature as Google's did, but with over a billion Chinese still coming into a first world economy, one should not ignore this stock. It is my belief that this stock still has good reason to rise further, a triple from here is certainly possible. Years ago, I was in the camp that one could not justify the multiples, business model, and growth forecasts of Google. I don't want to make the same mistake twice.
Disclosure: I have no positions in any stocks mentioned, and no plans to initiate any positions within the next 72 hours.