The S&P 500 is up almost 7% over the past two weeks. We feel that this short term rally is more of a technical bounce and is not representative of the underlying fundamentals of the U.S. economy.
The U.S. economy continues to have significant headwinds (e.g., high unemployment, end of QE2, weak housing market, high debt levels, etc.) and signs are definitely pointing toward further weakness in the equity market.
In the current market environment, it is important for income investors to choose their dividend stocks wisely as they are putting new money to work. As volatility increases (especially downside volatility), investors may want to add some low beta stocks to their holdings to help dampen portfolio volatility. In general, companies with low betas will tend to be less volatile than the general market.
With that in mind, we did a screen with the following parameters to find companies that had high dividend yields, low betas, and P/E ratios under 20:
Dividend Yield > 4%
Avg. 3m Volume > 1,000,000
Stock Price > $10.00
Market Cap > $1 billion
P/E Ratio < 20.0x
Beta < 0.50
The stocks below meet the parameters above. Use this data as a starting point for your own analysis.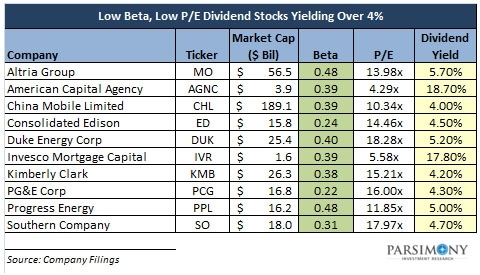 Note: American Capital Agency and Invesco Mortgage Capital are mortgage REITs and have a much different risk profile than the other stocks on the list. We caution investors to do their homework on these REITs before investing. Also note that P/E ratios are not the best valuation metric for REITs (P/BV is a more appropriate metric for REITs). AGNC and IVR have current P/BVs of 1.17x and 1.03x, respectively.
We will begin publishing the results of similar screens every week to give readers a good stable of low volatility income stocks to consider for their portfolios.
In addition, since we feel that the market is due for a pullback, we recommend that investors consider selling covered calls on these stocks to further dampen portfolio volatility (see Double Your Dividend Yield: A Covered Call Strategy for Income Investors for details).
Disclosure: I am long MO, AGNC.