I'm usually suspicious of "theme ETFS" like the new Cloud Computing Index Fund (NASDAQ:
SKYY
). I use the term "theme-based" because cloud computing isn't really a sector. After all, you'd be hard pressed to find any technology, entertainment, e-commerce or media company that doesn't benefit from the growing use of remote applications and data.
Yet the companies in this ETF represent a really interesting portfolio – including a diversified basket of some of the smaller storage, software and Internet infrastructure companies that might be too risky to consider as individual stocks.
In fact, I suspect that it's the smaller stocks in the portfolio that will generate outsized returns.
Although the fund is structured using a modified equal weighting method, First Trust's
description
of the methodology adds a bit of a twist. It appears that "pure play," "non-pure play" and "conglomerates" may be weighted differently – and as of July 7, it appears that the fund's holdings aren't all that equally weighted.
The Impact of Smaller Stocks in the Cloud
Here's a list of SKYY's holdings, ranked not by weighting, but by market cap – with the top 10 highlighted in yellow.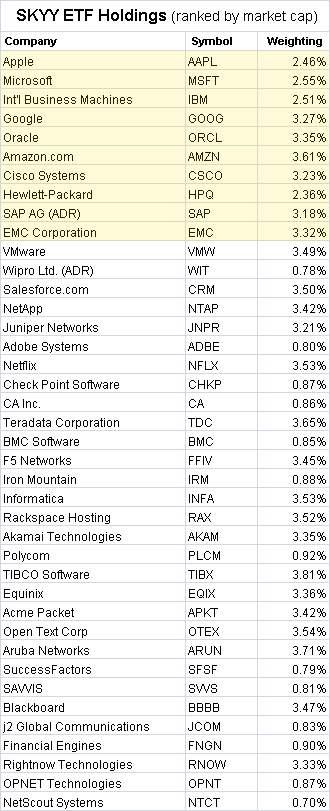 I did a little experiment and created three hypothetical $10,000 portfolios going back to January 2009. These three portfolios include:
1) All 40 stocks in the ETF, but equally weighted
2) The 10 largest companies (by market cap) equally weighted
3) The smallest 30 stocks on the list equally weighted
Note that one company on the list, Financial Engines, was not trading in January 2009, so I pretended that money was in cash until those shares did start trading. And no, I didn't account for commissions as this is just a theoretical overview.
Anyway here are the results.
Note that the larger companies on the list did not perform as well as the smaller companies. True, these larger names include stocks like Apple and Amazon.com, but these were weighed down by the likes of Hewlett-Packard, Cisco and Microsoft.
This does
not
necessarily represent how this ETF would have performed in the past. But the performance of all 40 stocks on the chart above looks a lot like the actual
ISE Cloud Computing Index
(which SKYY tracks).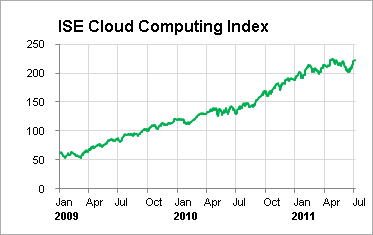 So I really like this ETF for its small- and mid-cap technology exposure. And as John Spence pointed out, small-cap ETFs overall are performing well this year.
As for me, I already own some of the larger cap names on the list, such as Apple and IBM, but even with the duplication, I might just buy shares of SKYY.
Disclosure: I am long IBM, CSCO, AAPL.