We recently wrote an article about the recent wave of mortgage REIT issuance from new entrants
(
Investors Should Be Leery of Recent Mortgage REIT Entrants
). Our thesis is that investors should stay the course and remain loyal to the REITs that have shown the ability to weather different interest rate and credit cycles. As credit dries up, even agency-focused REITs can have issues with repurchase lines and haircuts.
A Look Back…
Before investing in the new entrants, market REIT investors should remember that many once profitable mortgage REITs did not make it through the cycle or had their dividend eliminated (see list below).
Thornburg Mortgage
New Century Financial
Apex Mortgage
Fieldstone Investment
Sunset Financial
Capital Trust
Ashford Hospitality Trust
ECC Capital
Gramercy Capital Corp
Novastar
Carlyle Capital
Creating Value for Shareholders…
We continue to believe that Annaly Capital Management (NYSE:NLY) and MFA Financial (NYSE:MFA) are the cream of the crop in the mREIT space. NLY and MFA both have close to two decades of experience in the mortgage REIT market and both have delivered excellent returns to shareholders (see dividend adjusted price charts below).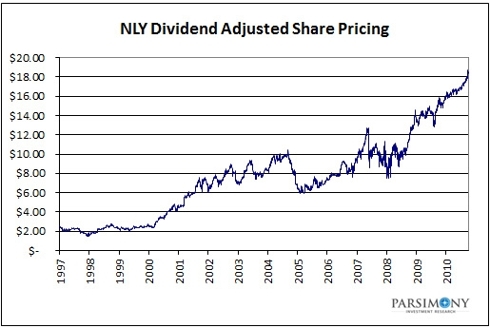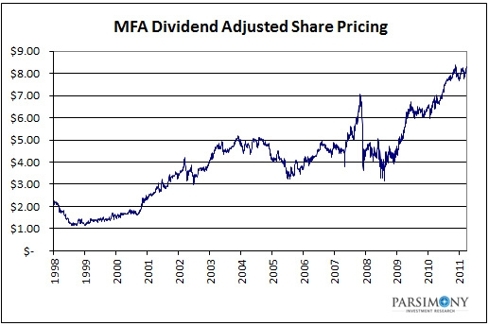 While we aren't too concerned about any meaningful near term rate hikes, it's inevitable that there will be more mortgage REIT failures when the Fed begins to tighten again.
We continue to believe that the best strategy for investing in this space is to own a portfolio of mortgage REITs to diversify your risk. That said, investors should closely monitor REITs with short operating histories: American Capital Agency (AGNC), Chimera Investment Corp. (CIM), Hatteras Financial (HTS), and Invesco Mortgage Capital (IVR).
Disclosure:
I am long
NLY
,
MFA
,
AGNC
.