Glu Mobile's (GLUU) stock has gone from a close of $3.39 on May 16 to around $5.50, spurred first by a dubious comparison to LinkedIn (LNKD) made by a CNBC guest and lately by the Zynga IPO filling. Wall Street analysts have been pounding the table on GLUU, saying that the Zynga IPO provides a great high multiple comp and Zynga may want to purchase GLUU outright with the $1B plus it will raise in its IPO. Given all this hype and the wealth of information in the Zynga filing, I decided GLUU was worth a deep dive.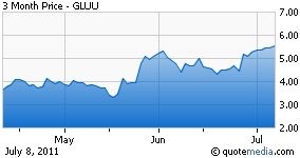 After reading the Zynga IPO prospectus closely and doing more research on the space, my conclusion is that the hype around GLUU is vastly overdone for a couple of reasons. First, I don't think GLUU deserves anywhere near the same revenue multiple as Zynga, because the side-by-side financial comparisons are ugly. Zynga, founded in 2007, has ramped its business at an amazing pace: From scant revenue in 2008 to $839M in bookings (revenue plus change in deferred) in 2010 and $287M in the first quarter of 2011 (up over 60% year-on-year). EBITDA margins in the first quarter were 39%. Zynga gets most of its revenue from Facebook games and dominates the Facebook game rankings, but also has several mobile games at the top of the iOS charts. Of all the Internet Bubble 3.0 companies that have filed for IPOs so far, Zynga seems perhaps the most likely to be a long-term, Google (GOOG)-style winner, given its rapid growth on a large revenue base, impressive margins and clearly demonstrated network effects/scalability.
GLUU's performance has not been nearly as impressive. Founded in 2001, Glu cut its teeth making games for feature phones and was relatively late making free-to-play and social games for smart phones. Overall revenue has declined in 2009 and 2010 and is projected to decline again this year, as Glu's push in free-to-play smart phone games has not yet made up for the lost revenue from the shrinking feature phone game market. GLUU has never made a consistent operating profit and, despite Wall Street hype, has not so far released games that rank consistently at the top of Apple's (AAPL) monetization charts. So saying Zynga and GLUU deserve a similar revenue multiple because they are both in mobile/social games is like saying Amazon (AMZN) and Overstock (OSTK) deserve a similar revenue multiple because they are both in e-commerce.
More important for investors to consider is whether Zynga would have an interest in buying GLUU, as it's been active in M&A. On this front, I am also skeptical for a number of reasons:
Buying GLUU doesn't do much for Zynga financially. For a company that I roughly estimate will do $1.4B in bookings and $500M+ in EBITDA in 2011, buying Glu would add only $62M to the top line (with about 45% of this coming from declining feature phone revenue that Zynga doesn't care about) and nothing to the EBITDA line. GLUU has almost 62M diluted shares outstanding, so paying $7.00 per share would require an outlay of $434M, a significant portion of Zynga's estimated $2B in post-IPO cash. This would be a big bet for Zynga, which brings me to the next point.
Spending $400M+ for a public company would be a departure for Zynga. Zynga had nearly $1B in cash in March of 2011, so even before the IPO is completed Zynga has the financial firepower to do a $400M+ acquisition if it so chooses. However, Zynga details its historical M&A activities in its prospectus, and so far its largest acquisition to date was NewToy, purchased in November of 2010 for a mere $53.3M. Zynga has also purchased six other companies for an additional $48.4M total. So buying a single company for over $400M would be quite a departure for Zynga, which in the past has spent only $102M in aggregate to purchase seven game developers. NewToy has produced two games (Words With Friends and Hanging With Friends) that rank consistently in the top 30 of Apple's AppStore top-grossing games list. Glu's games have not done nearly as well, which brings me to the next point.
Buying GLUU doesn't do much for Zynga's position in the mobile gaming world. The mobile gaming industry is an interesting one to follow because investors can get a sense for real-time revenue through Apple's App Store games top-grossing lists. While the rankings are constantly shifting, several games have ranked near the top of the monetization charts for months at a time. Right now GLUU has only two games in the top 50 (Gun Bros at #48 and Contract Killer at #50), whereas Zynga has four different games -- Zynga Poker (#2), Words With Friends (#18), Hanging With Friends (#31) and CityVille Hometown (#40) -- that all monetize better than GLUU's highest-ranked game. With only two games in the top 50 (and as of a week ago, zero), GLUU would not do much to improve Zynga's presence in the iOS ecosystem. If Zynga decides to get bigger in mobile through M&A, it actually has a lot of better options.
There are a lot of other mobile gaming companies for Zynga to buy. Zynga has clearly stated that it wants to get bigger in mobile, and will continue to participate in M&A. However, I think GLUU bulls are suffering from an availability bias: Just because GLUU is the only U.S.-traded pure play does not mean it is a likely candidate for Zynga. Mobile game development is virtually a zero barriers to entry business, and surprise hits such as Angry Birds have come from small developers all over the world. Venture capitalists have been pouring money into mobile/social game development startups. Zynga has concentrated on buying smaller developers in the past, and a scan of the App Store's top-grossing list yields a long list of independent developers that Zynga could buy and get game franchises that monetize better than Glu's best games, in many cases likely for far less than $400M. Several of these companies have more than one game in the top 50. At the end of this article, I've included a table that details the possible acquisition candidates with games that have top-grossing ranks higher than Glu according to the App Store.
It is worth noting that the only other public company on this list, French-traded Gameloft (GLOFF.PK), reported Q1 sales of around $56M, up 20% year over year, with 28% of sales ($16M) from smart phones and tablets. Despite having higher smart phone sales than Glu, revenue growth instead of declines and profits instead of losses, Gameloft's market cap/revenue multiple for 2011 is 2.4x compared to 5.4x for Glu.
I have a couple of Silicon Valley friends in the mobile/social gaming industry, and from my discussions with them I believe the going M&A rate for mobile game developers with material revenue is 3-5x revenue. According to analyst reports I've seen, Glu is expected to generate about $34M in smart phone revenue in 2011, which means the top end of Glu's M&A valuation would probably be around $170M. Needless to say, this is well shy of Glu's current fully diluted market capitalization. I can never totally discount an overpriced acquisition by a company desperate to get in the mobile gaming space or the general euphoria surrounding the Zynga IPO pushing up the stock. However, I think relative to the valuation of Gameloft and Glu's relatively weak position among a plethora of game makers, the stock is way ahead of itself absent the production of a string of hit games.
Partial List of Top Grossing Games on Apple's App Store, July 2011:
| | | |
| --- | --- | --- |
| | Top Ranking | Current |
| Developer | Game | Ranking |
| PocketGems | Tap Pet Hotel | 1 |
| Kama Games | Texas Poker | 3 |
| NimbleBit | Tiny Tower | 4 |
| Rovio | Angry Birds | 5 |
| Crowdstar | Top Girl | 8 |
| Playforge | Zombie Farm | 9 |
| TinyCo | Tiny Zoo | 10 |
| Storm8/TeamLava | Fashion Story | 13 |
| Halfbrick | Fruit Ninja | 16 |
| ExoWeb | High Noon | 17 |
| PopCap | Plants vs. Zombies | 20 |
| A Thinking Ape | Kingdoms at War | 24 |
| Andreas Illinger | Tiny Wings | 26 |
| Z2 Live | TradeNations | 32 |
| Triniti Interactive | Call of Mini: Zombies | 34 |
| HayPi | HayPi Kingdom | 36 |
| Addmired | Original Gangstaz | 37 |
| Social Expeditions | Mall Party | 43 |
| Gameloft | Order & Chaos Online | 46 |
| Glu Mobile | Gun Bros | 48 |
| Fullfat Games | Flick Golf | 51 |