This is a follow on to prior articles "An Introduction to Investing in the Bakken" and "3 Leading Companies in the Bakken."
Bakken exploration and production (E&P) stocks are currently in a mid-2011 slump. As to whether they will recover strongly, the answer is very probably yes, at least for companies that roll out aggressive drilling programs in 2012 to facilitate good profit growth in 2013. By estimating likely 2012 capex budgets for companies, we are already in a position to get a reasonable view of their 2013 profits.
Recognizing that the second half of the year typically produces the strongest gains, the scene is set for aggressive investors to pick the best stocks and enjoy outsized gains between now and early 2012 – by which time analysts' official earnings estimates for 2013 will appear. And when E&P stocks are riding high in early 2012 the best advice may be to sell everything and repeat this whole exercise again in summer 2012. Investors can ill afford to be sentimental in a market likely to remain difficult and volatile until consumers have deleveraged.
Oasis Petroleum (NYSE:OAS)
Although Oasis may not be the best known driller in the Bakken it is a well run company. It has a strong balance sheet and it is a Bakken pure-play with a large tract of land rights - 318,942 net acres. Additionally, Oasis is almost exclusively an oil company with less than 10% of sales coming from natural gas.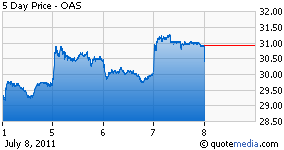 Oasis shares have performed strongly this past 12 months, rising from under $14 to over $36 before dropping back to under $30.
Sales: 2010: $129 million, 2011: $329 million, and 2012: $593 million i.e. plus 360% over 2 years.
EPS: 2010: $(0.61) loss, 2011: $0.89 and 2012: $1.95.
Balance Sheet: As of December 31, 2010, Oasis had net cash of $144 million and in Q1 2011, the company raised $399 cash by selling new equity as well as $400 million through issuing notes due in 2019. By March 31, 2011, Oasis had cash and investments of $470 million. This, plus borrowing availability on its $600 million credit facility, which had an unused borrowing base of $147 million, is more than enough to fund the planned $480 million capital expenditure program for 2011.
Preliminary 2013 EPS view: During 2011, based on analyst EPS estimates of $0.89 and adding back non-cash expenses, Oasis should generate cash from operations of $170 million. Then, in 2012, using EPS estimates of $1.95, cash from operations would be $330 million. Deducting out the 2011 capex of $480 million leaves surplus cash of $560 million. It should be pretty straight forward for Oasis to run a capex budget in 2012 of around $500 million, or more if it opts to use availability on its credit facility. All of this may push 2013 EPS to about $3.
With its large acreage, and being a pure-play Bakken oil producer with a strong balance sheet, Oasis stock is likely to trade on a forward p/e of 15. Come early 2012, when the forward EPS will be about $3.00, this gives Oasis stock scope to trade about $45. Currently it is $31.
The Q2 earnings announcement is expected in early August. Oasis's Q2 business has been negatively affected by the floods and road closures that occurred in North Dakota, in May and June. This has already been pre-announced by the company. What is also clear from the OAS pre-announcement is that the company is experiencing a notable acceleration of its well drilling activities and that the second half of 2011 should see a pick-up in oil production and profits. Thus, and as with BEXP, the Oasis Q2 earnings announcement is likely to be a springboard for the stock to move higher during the remainder of 2011.
Northern Oil (NYSEMKT:NOG)
Northern is next on this list in terms of size of lease holdings in the Bakken. It has large core Bakken acreage; 150,000 net acres.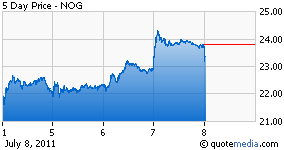 Northern is a virtual pure-play Bakken oil company, generating 100% of sales from Bakken, about 95% from oil. Northern is a non-operator, preferring to partner with various E&P drillers rather than develop in-house drilling operations. The advantage for Northern with this model is that, at least in the early part of the business cycle, it allows the company to function as a low cost company and thereby generate strong profit growth. Longer term, however, there may be some disadvantages in that leading operators are likely to allocate their best drilling crews to wells they fully own and thus wells with a lower working interest, which are partnered with companies such as Northern, may be lower on priority lists with knock-on repercussions in terms of cost and quality.
Sales: 2010: $45 million, 2011: $178 million, and 2012: $338 million i.e. plus 650% over 2 years.
EPS: 2010: $0.31, 2011: $0.96 and 2012: $1.79 i.e. plus 477% over 2 years.
Balance Sheet: As of December 31, 2010, Northern had no debt and cash of $192 million and Shareholder's equity was $435 million.
Preliminary 2013 EPS view: During 2011, based on analyst EPS estimates of $0.96, and adding back non-cash expenses, Northern should generate cash from operations of $110 million. Then, in 2012, using EPS estimates of $1.79, cash from operations would be $200 million.
Northern has a $100 million credit facility that has total borrowing availability of $25 million. The company has a 2011 capital expenditure budget of about $330 million (drilling $252 million, new acreage $70-80 million). Separately, Northern announced in May 2011, that it had established a stock repurchase program of up to $150 million.
By utilizing all its December 2010 cash of $192 million, plus all of 2011 cash from operations, Northern may have enough resources to fund its entire 2011 capex program. But the situation is tight and Northern cannot spend any meaningful amount of cash on its share buy-back program – this would put unnecessary pressure on its ability to fund its 2011 capex budget.
By December 2011, Shareholders' equity will be approximately $490 million and this should enable Northern to raise cash from long-dated notes, perhaps up to $200 million. De facto, Northern will have to complete a funding exercise of this magnitude if it is to roll out a large capital expenditure program again in 2012, otherwise its 2012 budget would be limited to being about half the 2011 level.
Because of its sizable acreage and good balance sheet, we should assume that Northern will be able to raise adequate debt funding for its 2012 budget needs without having to do a dilutive share offering. On this basis Northern would be able to generate another increase in EPS in 2013, probably pushing EPS up beyond $2.50.
There is one other important point that must be kept in mind. As of June 15, 2011, over 50% of the entire free float was shorted. A number of separate arguments have been tabled by shorts against Northern including the fact - duly disclosed in filings by the company - that executives were involved in a series of related party transactions. The issue isn't necessarily about the truth or otherwise of the allegations. It is simply that, during the volatile market times that we now live in, shorts can easily use such allegations to turn Northern stock into profitable fodder for themselves. Of course the existence of large short positions can also work the other way - the stock price can enjoy strong surges during periods when shorts are covering their positions.
Under normal circumstances, a company with Northern's growth prospects for 2013 may be valued in early 2012 on a forward p/e of perhaps 13-15, this equating to a valuation range of up to $37.50. However, as long as professional shorts remain interested, and with the company needing to conclude a funding program to facilitate a strong 2012 capex budget, the upper end of the valuation range may prove to be elusive. For the time being NOG should remain an excellent trading stock with a good upward bias and continued volatility, which can lead to downdrafts in periods of negative newsflow. Currently the stock is $23.80.
NOG is expected to announce its Q2 results the second week of August.
Kodiak generates almost 100% of its sales from oil in the Bakken where it owns rights to 95,000 net acres inclusive of the June 30, 2011, acquisition of 25,000 net acres for $85.5 million.
*Sales: 2010: $25 million, 2011: $145 million, and 2012: $347 million.
*EPS: 2010: $0.03, 2011: $0.31 and 2012: $0.80.
*Analyst estimates for 2011 do not yet take account of the Q2
revised guidance
given by Kodiak, which is substantially below street estimates. There is a growing likelihood that 2012 Sales and EPS figures may have to be revised down if the company cannot regain lost ground during the remainder of 2011. Catching up is hard to do.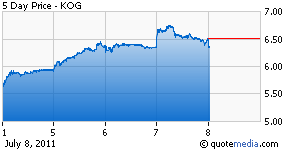 Balance Sheet: As of December 31, 2010, Kodiak had net cash of $60 million, cash of $100 million and long-term debt of $40 million. Additionally, the company had a $200m credit facility with borrowing availability of $50m (increased to $75m in Q1 2011) which has remained unused. Total Shareholders' equity at December 2010, was $299 million.
Kodiak's 2011 capital expenditure budget - for drilling and infrastructure – was revised up to $230 million as a result of the June acquisition. Of the $85.5 million due for the acquisition, Kodiak paid approximately $15 million by issuing 2.5million shares to the seller with the balance, about $70 million, due in cash. Thus Kodiak's total cash payout obligations for 2011 capital expenditure, becomes $300 million.
Preliminary 2013 EPS view: For 2011, guessing EPS estimates of $0.20 (instead of using analysts overstated $0.32 figure), and adding back non-cash expenses, Kodiak should generate cash from operations of about $80 million. Then, in 2012, again using more cautious EPS estimates of $0.60 (instead of analysts $0.80), cash from operations would provisionally be $200 million.
The company's 2011 total 'cash' capital obligations are $300 million. Even using all its existing cash, and all its credit facility availability, and all its expected cash from operations during 2011, Kodiak will not be able to fund this $300 million obligation without completing a cash raising exercise. However, a company cannot function with maxed-out credit lines all of the time and, because of that, Kodiak would realistically have to raise a minimum of $100 million to get through year-end 2011 with a further top-up needed in early 2012. No doubt related to all of this is the shelf filing the company did in April 2011 - this allows Kodiak to issue unspecified amounts of equity and/or debt funding.
Whilst the June acquisition looks like a good long-term move for Kodiak – especially considering the efficiency, cost and infrastructural benefits of an expanded contiguous land base - the company's operational performance in 2011 seems less impressive. At the beginning of 2011, the company guided average 2011 oil output of 5,500 to 6,500 Bpd. In spring 2011, it revised this down to the lower end of the 5,500 to 6,500 Bpd range. And in June this was revised down a second time to 4,500 to 5,500 Bpd. It remains to be seen if the
management changes
announced by the company on June 21, 2011, put an end to the slippage.
It is not possible to say right now exactly how and in what form Kodiak will satisfy its funding needs. The situation is not helped by the backdrop that Kodiak's operating activities mentioned above, especially in Q2 2011, where results appear to have fallen short of analysts' estimates by quite a wide margin. But, with Kodiak's business about to accelerate during the second half of 2011, which should have positive consequences for bottom line P&L performance, management reputation and the share price, there is every incentive for the company to do 2 lots of funding; one now to get through year-end and a second one in early 2012, with the aid of more favorable conditions.
Considering that Kodiak also needs to fund a sizable 2012 capex program, it is clear that borrowings alone are not the solution - new equity will have to be issued. But this need not be a bad thing. With about 180 million shares issued, Kodiak could raise $100+ million quickly via a 20m share offering and this would represent dilution of only about 11%. Besides, since Kodiak can also raise some debt financing, it probably doesn't need to issue quite as much as 20 million new shares in the short term.
Nonetheless, assuming that by early 2012 the company has 200 million shares issued and that Kodiak adopts a capex program again in 2012 of say $200 million, this should lead to strong growth in 2013 pre-tax profits. However, acting as a headwind against after-tax profits and EPS in 2013, is the prospect of Kodiak's large tax losses being all used up in 2012. This last point may be the reason analysts have given KOG a seemingly low target price despite rating the stock a buy.
It remains difficult to value Kodiak stock with so many imponderables, and in the face of weak Q2 2011 results. Over time Kodiak's shares should have real appeal considering the growing block of contiguous acreage and its accelerating business model. Hence, the stock should be nicely higher than the current $6.50 come early 2012, by which time the balance sheet has been strengthened and the growth horizon becomes ever clearer.
One option for investors is to wait and see how the company funds its pressing 2011 cash needs and, if the share price dips sufficiently around the time of such an event, to then consider participating. Certainly, Kodiak stock has the ingredients to throw up attractive opportunities over the next few months and it is well worth watching.