In this high market environment, it is difficult to construct a portfolio that has a projected return of 100 basis points (1.0%) in excess of the projected rate for the S&P 500, while holding the volatility below 15%. Add on the constraint of a Diversification Metric above 40% and one is in for a real challenge. The fifteen ticker Mosaic Portfolio laid out below shows what a challenge it is to meet these requirements.
In the first two slides I am using a projection from the S&P 500 of 7.0%. This is 1.3% below the default setting for the QPP software and that change makes it that much more difficult to come up with a Return/Risk ratio above 0.60. The ratio is only 0.52 in the portfolio listed below where the historical data encompasses the last three years.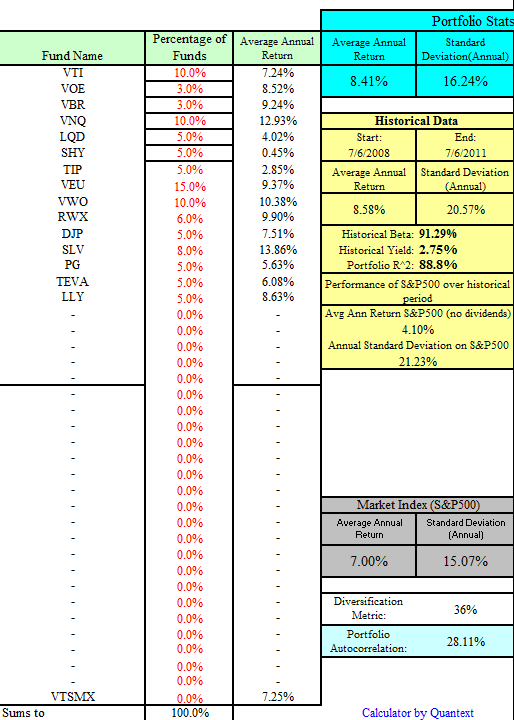 (Click to enlarge)
Readers are always interested in what the "Delta Factor" is telling us. The table indicates we should stay the course, but to be wary as the future projections will not match the historical performance. Check out the Future projections and compare with the Historical (last three years) performance.
What does this portfolio look like if we use data over the past four years instead of the last three years? Not much difference. The projected Standard Deviation is a little lower, a good sign, but the change is not statistically significant.
The Delta Factor column continues to show "Hold" positions when four years of data is used for the analysis. While the Delta column looks stronger for the four year period (to be expected), the warning signals are still visible. This is not a time to back up the truck and put all cash back into the market.
The bottom line is that we need a different array of assets or allocate them differently if we wish to meet our portfolio construction benchmarks. Once more, those benchmarks are to see a projected return exceed that of the S&P 500 by 100 basis points. This Mosaic Portfolio meets that standard. The projected risk needs to be sufficiently low so the Return/Risk ratio is greater than 0.60. This portfolio falls short by 0.08, not a large amount but one that requires attention. Lastly, the Diversification Metric should exceed 40%. Once more, we fall a few percentage points below our arbitrary requirement of 40%.