The folks behind Clear Channel's (CCMO.PK) iHeart Radio keep sending out Tweets directing followers to a Facebook announcement that has Pandora (NYSE:P)-like playlist customization written all over it. It comes as no surprise, given comments Clear Channel's Chairman of Media and Entertainment Bob Pittman made several months ago.

So what does it all mean for Pandora and Sirius XM (NASDAQ:SIRI)? First, consider the radio space in general. Clear Channel's follow-through provides at least symbolic support that rumors of terrestrial radio's death came premature; it's slowly removing itself from life support.

The move proves that terrestrial - or at least Clear Channel - is ready to compete against Pandora in the Internet radio wars. And it sends a loud and clear message to Sirius XM: Innovate or die remain an obscure niche that half of the free world, if not more, has never heard of.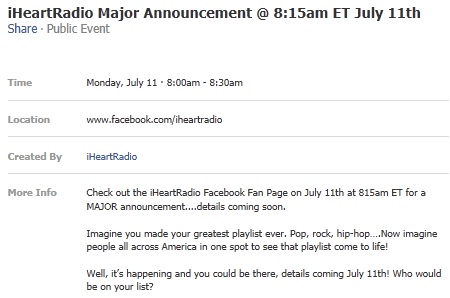 The numbers show that terrestrial has a few things going for it as it weans itself off of dependence on an actual radio for your listening pleasure. For years, the industry feebly squandered its biggest competitive advantages - it's free, it's everywhere and it has thousands of stations and personalities at its disposal to drive digital, online and mobile efforts.

One thing stands out as you look at the latest rankings of online audio streams, courtesy of Triton Digital. Terrestrial radio companies would not dominate the list if it were not for the massive traditional audiences they still command and the cross-promotional power those local station and network audiences command.

Click to enlarge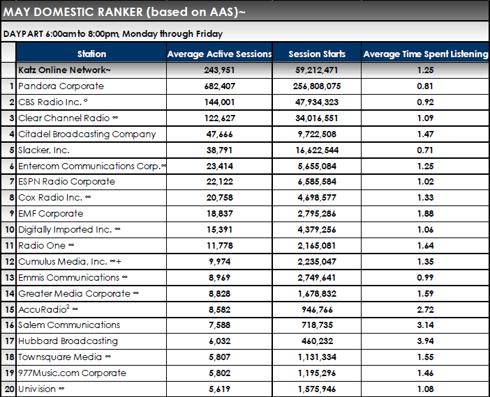 Now the question, of course, is how does terrestrial radio continue to grow both audiences? Compelling talent, particularly in morning and afternoon drive, sounds like a good start. In markets where this exists, the stations that provide engaging and addictive programming tend to remain a force. It's also a positive sign that, as it should, terrestrial's streaming audience, using website traffic as a guage, skews much younger, presumably, than its traditional audience.

All of this tells me that terrestrial radio, particularly Clear Channel, has Pandora right where it wants it. As terrestrial stood idly by, Pandora built a massive audience, but, by comparison, it's not as large, loyal or lucrative as the hundreds of millions of terrestrial radio listeners companies like Clear Channel command each week. If terrestrial can offer what Pandora offers - and more - it might be able to lease its life support machine to what could be the IPO swoon of 2011.

And here's where Sirius XM comes in. At the moment, Sirius XM reminds me a lot of terrestrial AM radio when it was dying its slow death. It has its core, heritage business - generating in-vehicle subscribers in Sirius XM's case - and it's sticking with it, regardless of what everybody else does. On the surface, Sirius XM appears to be in that stubborn and static phase.

Just compare the quality of terrestrial radio Internet streams from Clear Channel and CBS Radio (NYSE:CBS), for instance, to what Sirius XM trots out. There's actually no comparison. Sirius XM's online stream is an embarrassment from a quality and ease-of-use standpoint. And, as I have lamented before, the company seems to have neglected its mobile app, sales and marketing and brand awareness in favor of a monogamous relationship with the automakers.

If it continues down this path, I don't see better days ahead past $2.73. Sirius XM CEO Mel Karmazin holds the keys to the future. I fully expect him to come through on his company's August conference call and address, to everybody's satisfaction, the issues I - and many others - have raised over the last several months. From there, however, I expect even more.

Sirius XM, not just Slacker, should be signing innovative deals to broaden its audience. Sirius XM should be hooking up with Facebook on something dynamic, not Spotify. Sirius XM needs to get innovative, interactive, synergistic and social today, not after it builds out its in-vehicle subscriber base.

The space Sirius XM runs in contains fierce competition. Acting as if satellite radio is somehow above the fray because 20 million loyalists are willing to pay for it is bad business. I don't think this is how Karmazin thinks; instead, I think he has set his sights on August 3rd (the date for Sirius XM's quarterly conference call, according to Briefing.com) to make his big "announcement" and change the way we listen to "radio."

Disclosure: I am long SIRI.