Circle it on your calendar. As Sirius XM (NASDAQ:SIRI) currently sits today at $2.22, on July 25 the stock will hit a new 52 week high. No, this is not Cameron being Nostradamus, I like to call it "predicting the Sirius weather." Ok, bad example. But regardless, this prediction is what I'm banking on and a component upon which I will navigate through the pre-earnings run. So basically I am saying that the stock will likely reach (at minimum) $2.45; give or take a couple of days on or about the 25.
Earlier this week, I told you that Mel Karmazin should give Sirius investors 25 cents. I need to clarify this because it caused a lot of confusion. In the summary of the article I said the following:
I cannot emphasize enough the importance of Mel Karmazin raising guidance here. I have placed 25 cents in his hands, and one that he can share with investors by doing what I have advised him to do. Many analysts (including myself) have placed a $2.50 price target on the stock. If Sirius raises guidance to the degree where it should be, the stock will see $2.75. If Mel Karmazin raises projected FCF by an additional 25 million to $375 and/or increases net subscribers from 1.4 to 1.6, and let's just say he utters the words "stock buyback" once more, it is then possible to say $2.75 is the "minimum" range. Either way, he has 25 cents to give, and the stock remains a huge buy right here.
I thought I was being clever by hinting that if Mel raised guidance the stock would likely appreciate by an additional 25 cents above the consensus $2.50 target. But as comments on the article started discussing whether Sirius should issue a dividend, I then realized how my attempt only flamed confusion. As my kids always say when they seem to mess up "my bad."
What's So Special About July 25?
As you have come to know, I have taken an incredible interest in following Sirius' trading patterns, particularly around earnings time. I have dissected (as meticulously as possible) several events surrounding the stock that continue to generate some excitement. What I have found has been remarkable.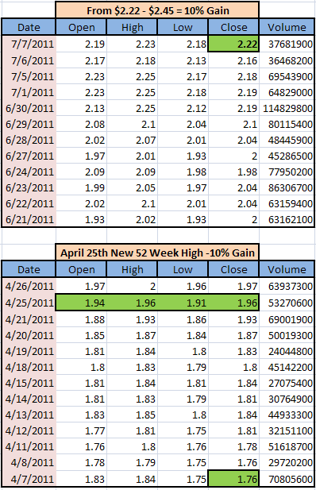 The two charts above explain why perhaps $2.45 on July 25 may be in the cards. In remarkable fashion both trends appear to be identical leading into the earnings announcement relative to price, volume and more importantly incremental percentage gains. On April 7th, the stock then climbed from $1.76 to a new high of $1.94 for a gain of 10%. At Sirius' current Thursday closing price of $2.22, on July 25th I'm also projecting a 10% gain to close at $2.45. Remember, you heard it here first.

Investors continue to be excited about the $2.75 target, but are reminded daily that a stock simply just cannot go up within each session, a reality that often brings about both frustration and disappointment. I often try to remind Sirius investors that they should focus more on positive net gains for the week and less on the day-to-day action. There is a huge amount of pressure on the $2.25 barrier, but it has to fall before it gets to $2.45, much less $2.75. It's only a matter of time and as I've said previously, the stock remains ahead of schedule.
What to Look for
As $2.50 remains the consensus target, as been said previously, Mel Karmazin will be the one to issue the remaining 25 cents. Sirius expects to generate approximately $3 billion in revenue and $715 million in adjusted EBITDA for fiscal year 2011, while projecting free cash flow to now approach $350 million. From an operations standpoint, the company also is projecting to add another 1.4 million net subscribers by the end of the year and to experience full-year conversion and self-paid churn rates, similar to that of 2010. This part of the operation continues to be a concern of mine as the company has shown little initiative toward improving these two important metrics.
As usual, these continue to be rather "conservative" figures in my opinion. As I said earlier this week, Sirius is notoriously cautious when it comes to guidance and Mel painted himself into a corner in Q1 by suggesting that the company could have raised guidance had it not been for the issues of Japan. With two full quarters now removed, I suspect he will not have a reason not to raise it, at least not one that investors will accept. But in a couple of weeks is when the fun starts ... July 25, save the date.
Disclosure: I am long SIRI.