Interactive Brokers Group (NASDAQ:IBKR) is a worldwide market maker and brokerage for stocks, options, bonds, mutual funds, futures, and foreign exchange instruments on about 90 geographically diverse trading venues. It's the low-cost provider in almost every category and caters to the professional trading crowd more than the individual investor segment.
The company went public in early 2007 at $30.01 per share during the height of the bull market. IBKR shares peaked at $34.25 that year and $35.93 in 2008 before the post-Lehman bankruptcy market melt-down in 2008.
When you look at its five-year chart, the thing that jumps out at you is the outstanding support the stock has garnered at the $15 trading price. Except for very brief periods in late 2008 and early 2009, IBKR's shares have never violated this price point.
[Click all to enlarge]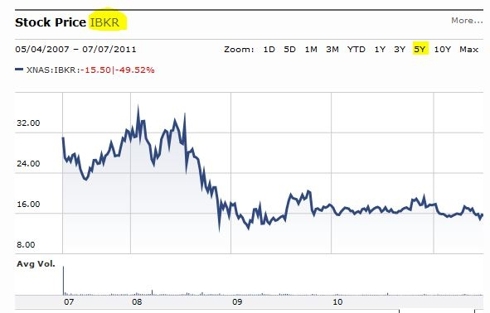 Click to enlarge
Interactive Brokers Group has a healthy balance sheet and maintained profitability on continuing operations even during the worst market periods. Management seems to care deeply about creation of shareholder value. It paid a special one-time dividend of $1.79/share last December by repatriating some money from overseas, and had to take a charge against earnings to account for taxes due on that action in Q4 last year.
More recently, a regular quarterly payout of $0.10 per share has been initiated. The first payment went ex-dividend in May and was paid in June. At this morning's quote of $15.68, the current yield is 2.55%.
The second half of 2007 showed earnings of $0.99, and the full year 2008 came in at $2.24/share, showing IBKR's earnings power in a good market environment can be around $2/share. Estimates for 2011 now run from $1.15-1.21 after a very good Q1 year over year comparison of $0.38 versus $0.09. Q2 earnings are scheduled for release after the close on July 21. Expectations are for $0.27 this year against 2010's $0.09 figure. An eventual return to a normalized $2 EPS at a 14-15 multiple brings me to a $28-30 target price range.
What's been holding back margins? Tight bid-ask spreads and tough competition for order flows certainly make for less profit than back in 2007. A huge factor that many people don't think about? Today's near-zero interest rate policy makes IBKR's net profit from free credit balances look anemic. When I worked for Merrill Lynch in the 1980s, I was surprised to learn that it made more actual profits from that source than it did from commissions. That was before commissions came under today's intense margin pressure due to ubiquitous cheap online trading.
Whenever interest rates start creeping up again, which I think is coming sooner than expected, this now-small source of revenue should jump exponentially. In the meantime, IBKR is offered near all-time lows despite many positive factors that suggest big rebound potential ahead.
IBKR reported very favorable metrics on July 1. As of June 30, its DARTs (daily average revenue trades) were up 4% from 2010. Its ending customer equity was up 57% from a year ago. Customer margin loan balances were 111% higher than in 2010. Customer credit balances were up 50% compared with a year earlier. Total customer accounts were 20% above year-ago levels.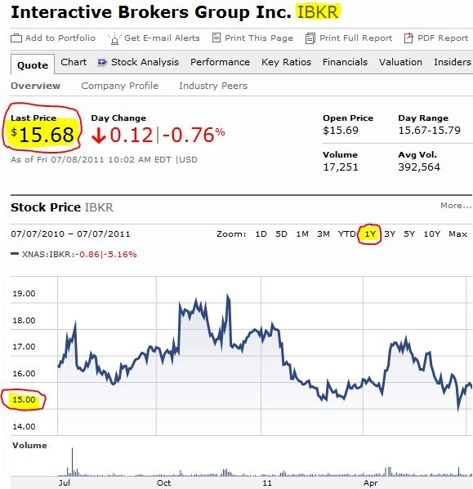 Click to enlarge
While I can't forecast the timing, I believe these shares can once again rise to more than $20 on the first hint of better news. It's not inconceivable that the company could simply go private again while the market is undervaluing it, and a bid wouldn't need to be much above current levels to get a fairness opinion.
I'm a buyer of shares and a seller of LEAP puts out to January 2013. They have some odd strikes for that month due to the adjustment for the $1.79 special dividend from last December. Here are the ones that look best to me right now.
Put Premium

'If Put' Price

Margin of Safety*

Sell Jan. 2013 $15.71 puts

$2.15 /share

$13.56

13.5%

Sell Jan. 2013 $18.21 puts

$4.00 /share

$14.21

9.4%

* margin of safety = % the 'if put' price is < today's $15.68 quote
These options trade thinly. Use limit orders and show some patience to get filled at the suggested prices.
Disclosure: I am long IBKR.
Additional disclosure: I am short IBKR options