By: John Critchley and Christopher Yip
The market bulls finally took charge last week, pushing the market higher into the holiday weekend and breaking the market's three-week losing streak. Many market watchers breathed a sigh of relief, but even with the bulls storming forward, some large headline tech companies are struggling to recoup losses from early 2011. Nokia (NYSE:NOK) has been bleeding away ever so consistently after it announced its deal to use Microsoft (NASDAQ:MSFT) OS on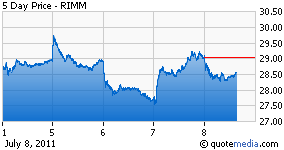 mobile phones back in February. Much akin to Cisco's (NASDAQ:CSCO) technical trend, both stocks have been gapping down every few months, crashing through multiple levels of support, and wreaking havoc for investors' portfolios. Research in Motion (RIMM) is now joining the trend, shedding 58% since it made its high of the year back on February 18, when it tagged $70.54.
The outlook for RIMM seemed bleak at the beginning of 2011, but with a sliver of hope as the continuous delayed release of its tablet, the "PlayBook," sparked rumors that it was adding last minute features. But two months after the release date, it is becoming clear that the "PlayBook" is already played out. The first generation Apple (NASDAQ:AAPL) iPad had been released a full year earlier, absorbing the majority of the tablet market. Other tablets including Samsung's Galaxy and HP's (NYSE:HPQ) Slate dived in right after Apple jumped in head first with a blue ocean strategy and together, saturated the tablet market. RIMM's outlook should now be readjusted as "dire." With corporate offices agreeing to use mobile phones and email services other than just BlackBerry, and no new product release until the end of August, RIMM's once reliable revenue source is being threatened. The gun smoke on the mobile battlefield is clearing up and it is becoming quite vivid that the two remaining giants are Google's (NASDAQ:GOOG) Android and Apple's iPhone.
RIMM, however, still has a hand in the business of mobile phones, for now. It paid $770 million as its share for the purchase of hundreds of Nortel patents tied to technology and R&D in the realm of 3G, 4G, and wireless networking. Other buyers in the consortium included Apple, Microsoft, Sony (NYSE:SNE), EMC, and LM Ericcson (NASDAQ:ERIC), which together paid $4.5 billion for the patents. A bid that out weighed Google's stalking horse bid of $900 million by five-fold and is now leaving Google's Android developing team somewhat short handed. Many speculate that this technology will boost the entire mobile and networking market, rather than giving any one company a competitive advantage. If this turns out to be the case, and the playing field remains leveled, RIMM will still have problems holding on to its market share. Others believe that because Apple shelled out $2 billion, making it the largest payer in the consortium of six companies, it will have the right to Nortel's most advanced technology, related to 4G and LTE networking.
Regardless of which scenario turns out to be true, RIMM has much work to do in order to convince consumers and investors that its products are still attractive. Emails from ex employees point blame at RIMM's internal hierarchy, corporate structure, and style of management. RIMM's response to the emails was all the more disturbing, dodging the main issues at hand and failing to admit any fault of its own. From the technical perspective, RIMM's MACD and stochastics are positive, pointing higher with the possibility of closing the gap down from 34.6. But whether you believe RIMM management is brewing up a secret recipe for success or recklessly destroying the company, we want to present to you two plays that will reflect your intuitive sentiment:

Options Plays
With RIMM's collapse following earnings and continued weakness, the 30-day implied volatility of the options is still quite elevated. The 30-day implied volatility is trading around 46.70%, significantly higher than the 52-week implied volatility low of 31.14% hit late last year.
Let's take advantage of these elevated implied volatilities to either initiate a brand new short position or to speculate on a bullish turnaround in RIMM.
Trade idea #1 -A Bearish Options Play
This may be an opportune time to initiate a bearish position through some put plays as the elevated implied volatility across the board in RIMM options creates opportunities in the options marketplace.
To let our bearish view time to play out, let's go out to the October '11 options. With RIMM earnings tentatively set to be released on September 15, (a day before Sep expiration), the purchase of these October options allows us to definitely participate in any post earnings underlying activity.
The play: To take advantage of the extremely elevated downside implied volatility skew and to benefit from any continuing downward selling momentum in RIMM.
a) Buy October 27-21 put spread for $ 1.53. Receiving about 6.7% in Implied Volatility skew ( buying 48.1 IV vs. selling 54.8 IV)
To finance this spread:
b) Let's sell the October 32 calls @ 1.81 This is approximately a 46.3% Implied Volatility.
Net credit: $.28
Why sell the October 32 line? There are two reasons:
There is a camp of investors and speculators that believe in the RIMM turnaround story and therefore the upside call options are still quite bid.

By selling the October 32 line at 46.3% IV, you are only 'giving' up a

1.8% discount to the October 27 puts.

Normally, one would see a more pronounced skew (difference) between the OTM (out-of-the-money) puts and calls.

Let's take advantage of this anomaly.
If your bearish view is incorrect, you still may be able to get away with being short some upside calls as you only start to feel some real pain if RIMM rallies nearly 12% between now and October expiration.
Risk: You will be Short the stock over $32. An 10.3 % upward move in RIMM over the next 3 months.
Trade idea #2- A Bullish Options Play
For the true believers and bottom fishers who view this recent selloff in RIMM as a tremendous buying opportunity, there is a downside implied volatility skew that allows for a compelling upside speculative play.
In order to accomplish this, let's again go to the October '11 options.
Trade idea -
The play: To capitalize on the reverse upside call implied volatility skew.
a) Outright Buy Oct 30 calls @ 2.52 Buying 46.4 IV is not expensive for 7 weeks of upside plus an earnings release. This implied volatility purchase may appear to be much higher than the nearer term July& August options priced in the low 40's, but remember there is earnings announcement premium factored (already baked) into these options.
To finance this purchase:
b) Let's sell the October 25 puts @ 1.34 This is approximately a 49.89% implied volatility. You are selling implied volatility in these puts at a skew premium to your call purchase. This is very normal and standard option pricing behavior. Let's take advantage of the downside-implied volatility skew in these options to lessen the debit of our call purchase.
Net debit: $1.18
Risk: You will have RIMM stock put to you @$25. In other words, you will be long and own the stock at $25 if RIMM trades below $25 and you are assigned the puts. A 13.8% downward move in RIMM over the next 3 months.
Stay tuned………
Notes: Prices quoted where the prices at time of submission and do not reflect current market
Disclosure: I have no positions in any stocks mentioned, and no plans to initiate any positions within the next 72 hours.
Disclaimer: We are not liable for any trading decisions made by any reader. NO advice is given or implied. The information offered in this article is for demonstration purposes ONLY and should not to be either construed as an offer or considered to be a recommendation to buy or sell any options .
Your use of this information is entirely at your own risk. It is your sole responsibility to evaluate the accuracy, completeness and usefulness of the information. You must assess the risk of any trade with a professional broker, or financial planner, and make your own independent decisions regarding any trades mentioned herein. This is not a solicitation to buy or sell any options, or to purchase or sell any credit spreads. Trading options only carries a high degree of risk, is not suitable for all traders/investors, and you may lose all of your premium money invested in the options. If you have never traded options before, we strongly recommend that you read a little background information made available by the government. Only you can determine what level of risk is appropriate for you. Also, prior to buying or selling an option, a person must receive a copy of Characteristics and Risks of Standardized Options.
Past performances DO NOT guarantee future results. Please consult with your own independent tax, business and financial advisors with respect to any trade. We will NOT be responsible for the consequences of anyone acting on this purely demonstration material.