I. Company Overview
Per Google Finance: Target Corporation (TGT) operates Target general merchandise stores with an assortment of general merchandise and food assortment. Its expanded food assortment includes some perishables and some additional dry, dairy and frozen items. In addition, it operates SuperTarget stores with general merchandise items and a full line of food items. Target.com offers an assortment of general merchandise, including many items found in its stores and a complementary assortment, such as extended sizes and colors, sold only online. It operates two segments: Retail and Credit Card. The retail segment includes all of its merchandising operations, including its integrated online business. The credit card segment offers credit to qualified guests through its branded credit cards, the Target Visa and the Target Card. In addition, it offers a branded Target Debit Card (collectively REDcards).
II. Capitalization
Target has a very attractive capital structure. The company has a moderate level of debt at 2.1x EBITDA (1.9x net of cash) and an enterprise value of 6.8x EBITDA. The moderate level of debt should not create much pressure in the servicing debt and allow for enhanced equity returns as the weighted cost of the debt is fairly low at sub 5% (estimated).
Click to enlarge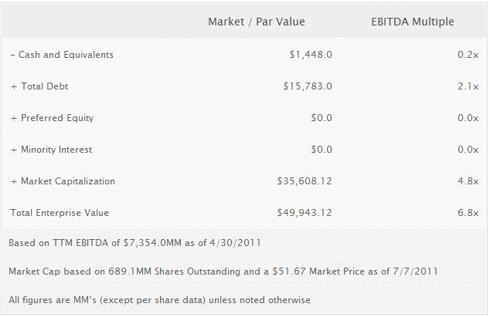 III. Historical Operating Results
Click to enlarge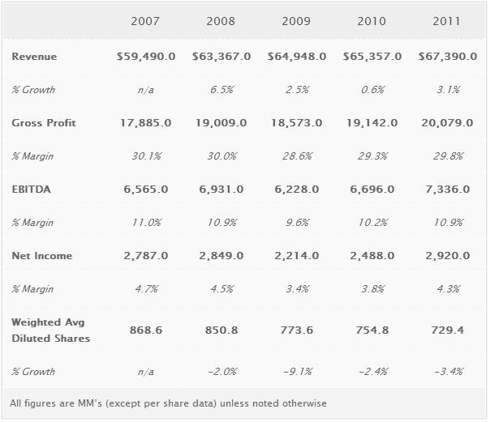 Target's top line performance has grown every year (including through the great recession in 2009) and when coupled with the company's stable gross margins have driven the increase in gross profit from $17.9B to over $20.0B in 2011 (FYE 1/29/2011). Correspondingly, Target's EBITDA has expanded from $6.6B in 2007 to 7.3B in 2011 (an 11% increase).
Click to enlarge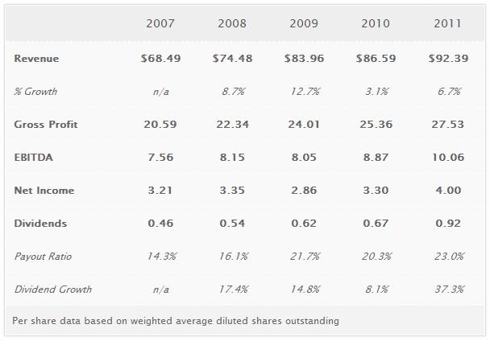 Since the end of 2007, the company has been actively pursuing a stock buyback program that has reduced the number of share outstanding from 869MM to 729MM in the past five years. Performance on a per share basis has the compounding effect of improved company performance and reduced shares outstanding resulting in an EBITDA per share growth from $3.21 to $4.00 (a 24.6% increase as compared to a 11% increase at the company level). The company's dividends per share have been growing rapidly as well from $0.46 per share in 2007 to $0.92 in 2011 (doubling over the period) with only a modest increase in the payout ratio from 14.3% to 23%.
IV. Projections
Click to enlarge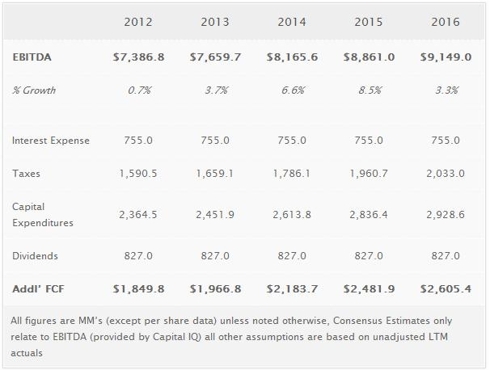 The consensus estimates for Target are moderate and very achievable, in my opinion, projecting the growth rate at 0.7% to 8.5% through 2016 at the EBITDA line. When you factor in inflation and growth in the population, there is little real growth that needs to take place to achieve these numbers. Under the consensus case the company is projected to have significant additional free cash flow available to reinvest in the business, repurchase shares (always assumed for ease in modeling), or increase the dividend.
Click to enlarge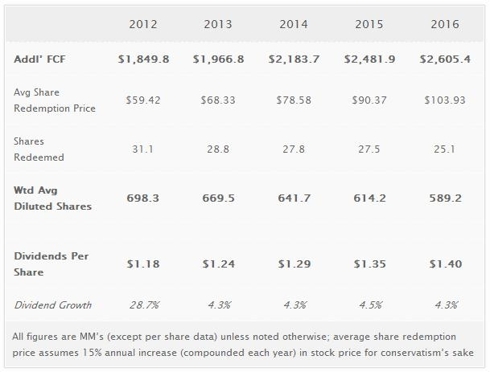 The share redemptions are assumed to be at a 15% annually compounded price. I believe that this is structured very conservatively. If the weighted average redemption price exceeded this threshold, the investor would have ample opportunity and time to re-evaluate the position and consider selling off the position for a gain from today's price. The company's share redemptions would allow for an increase of more than 4% annually in the dividend by the share redemptions alone. Additionally, the company's payout ratio would decline as the dollar amount of dividends paid would not be increasing while the company earnings (using EBITDA as a proxy) would be increasing.
If the company performs inline with the consensus estimates and pays dividends/redeems shares as outlined above, the company would achieve the IRR/cash on cash returns below based on the outlined Terminal EBITDA Multiples.
Click to enlarge


V. Conclusion
Target has a lot of compelling characteristics including decent current yield of 2.3%, a very low payout ratio under 25% of earnings, a recent history of double digit dividend growth, and a high IRR assuming a moderate and achievable consensus case with no expansion in the valuation multiple. Target would be a good addition to any diversified portfolio and fits in nicely with dividend growth portfolios.
For a more detailed company description and a financial analysis for a flat case and downside case, click here.