Despite the recent rally in the equity markets, the leading indicators put out by the Economic Cycle Research Institute ("ECRI") continue to point to a weakening economy. Investors should regularly visit the Businesscycle.com site to review the changes in the weekly indicators. Click to enlarge: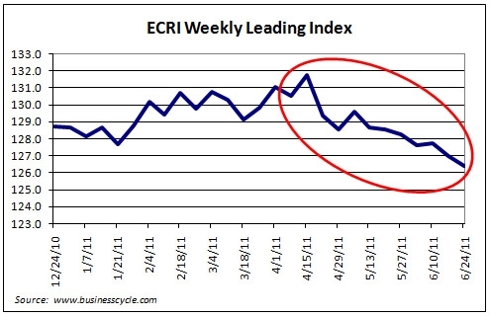 Click to enlarge

Investors concerned about a weakening economy and choppy economic recovery should consider investing in mortgage REITs, which benefit from low interest rates and a steep yield curve.
Below is a list of large mortgage REITs that investors should consider: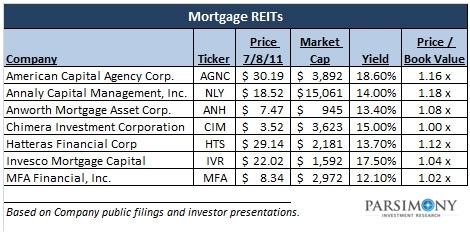 In general, we think interests rates will remain low for the foreseeable future (next 12-24 months). As such, we believe mREITs offer investors an extremely compelling risk/reward profile (the mREITs on the list above have an average dividend yield of 14.9%). However, we caution investors to watch interest rates very closely if invested in the space.

Annaly Capital (NYSE:NLY) and MFA Financial (NYSE:MFA) remain our two main REIT holdings due to their strong management teams and proven ability to manage their portfolios in any interest rate environment. However, we also have a small position in American Capital Agency Corp. (NASDAQ:AGNC).
We continue to believe that the best strategy for investing in this space is to own a portfolio of mortgage REITs to diversify your risk. That said, the following REITs are currently on our watchlist and we are following them very closely: Chimera Investment Corp. (NYSE:
CIM
), Anworth Mortgage Asset Corp. (NYSE:
ANH
), Hatteras Financial (NYSE:
HTS
), and Invesco Mortgage Capital (NYSE:
IVR
).
Disclosure:
I am long
NLY
,
MFA
,
AGNC
.