In the last few months, Exxon (NYSE:XOM) has underperformed the overall market by 5%. Given the likely continued high price of oil for the foreseeable future, this might be an ideal time to acquire a core position in one of the best run oil majors in the world (click to enlarge image):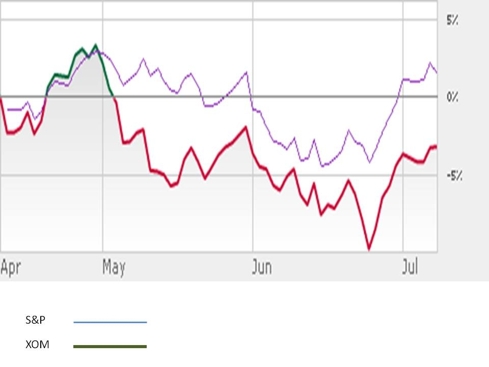 Click to enlarge
8 reasons to own Exxon at $82
Analysts have consistently underestimated Exxon's earnings power with oil selling at recent levels. It has easily beat earnings estimates each of the last four quarters and consensus estimates for 2011 and 2012 have risen in the last ninety days

XOM sells in the bottom half of its five year valuation range based on P/B, P/E, P/S and P/CF, so its valuation is hardly overextended

Exxon has a pristine AAA rated balance sheet. It provides a 2.3% dividend yield and has raised its dividend an average of 8% a year for the past half decade. Given Exxon's growing earnings and low payout ratio, dividend growth should be at least as robust over the next five years

Exxon has greater earnings stability that most majors which contributes to its very low beta of .5. This stability might prove useful should the markets prove more turbulent over the summer

Exxon is doing a great job of growing production. It increased production over 13% in 2010 thanks to its acquisitions of XTO Energy and Qatar LNG

Exxon is a fantastic downstream operator. It has one of the best cost structures in the industry and it has complex refineries that allow it feedstock and product flexibility

Its upstream business has a great collection of long lived assets. It had reserve replacement of over 200% in 2010

It is priced under analysts' estimates at $82 a share. Credit Suisse has a price target of $95 on Exxon. S&P is at $103 and UBS' price target is $96. My own price target range is 11-12 times its projected 2012's consensus EPS of approximately $9 a share, or $99 to $108.
Disclosure: I have no positions in any stocks mentioned, but may initiate a long position in XOM over the next 72 hours.