According to several resources, including ICIS and a report from Sina (NASDAQ:SINA), polysilicon prices have bottomed out recently, supported by strong demand from Europe and Asia. CIS reported that after setting lows, polysilicon prices rebounded strongly in Asia over the last several weeks. The trend is expected to continue. The Sina report on China indicated polysilicon prices have been rising since June, noting that both GCL-poly (HK:3800) and LDK Solar (NYSE:LDK) are seeing the trend.
The report also mentioned that the Chinese market is stronger than expected due to the early kickoff of the nation's 12th five year plan. The 12th five year plan prioritizes development of this nation's renewable energy for the next five years, starting in 2011.
The solar market rebound was not expected by Wall Street. Jesse Pichel of Jefferies & Co. has been repeatedly telling investors that panel and poly prices will go down for the rest of the year. He has downgraded the sector several times recently based on his prediction. However, Goldman Sachs has a more bullish view on the sector. Goldman has a $175 price target on First Solar (NASDAQ:FSLR).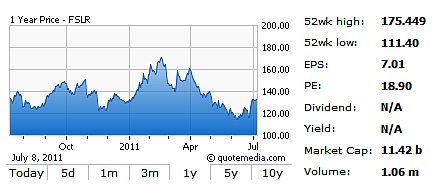 In the last few months, solar stocks have been hit hard by negative comments from analysts who fear the decline of module ASP in the sector. The strong polysilicon rebound may just signal that these fears are overblown and that the sector is due for a value appreciation.
A detailed analysis can be found in my previous article here. I wrote about why some solar stocks are attractive for value investors. The extreme negative view by some analysts may indicate that the cyclical sector is worthy of a second look. Especially when 'short master' Jim Chanos starts to show his position in First Solar (FSLR) on TV and yet the stock rallies, as we have seen recently. The following table lists the PE's that some of the solar stocks are trading at for the moment. The lower the PE, the better valuation.
| | | |
| --- | --- | --- |
| Company | price($)* | Trailing PE |
| FSLR | 132.6 | 18 |
| LDK | 6.71 | 2.5 |
| SPWRA | 19.86 | 18 |
| STP | 7.98 | 5 |
| HSOL | 5.90 | 4 |
| YGE | 7.92 | 4.5 |
| TSL | 20.51 | 7 |
| JKS | 25.59 | 8 |
* based on 07/08/2011 closing price.

Disclosure: I am long LDK.

Additional disclosure: long: SINA FSLR LDK HSOL STP TSL JKS