In previous articles, I mentioned a few guidelines I'd been keeping in mind when making speculative options buys:
Start small (since options often expire worthless).
Avoid out-of-the-money-options (instead, try to get ones with some intrinsic value).
Avoid nearby expiration dates (to avoid theta burn and give positions more time to work out).
Buy options at a discount to model estimates of their fair market value.
I've been making occasional bullish and bearish bets to increase the chances that some bets will make money whatever direction the market takes over the next several months. I've also been trying to take advantage of relatively low volatility when buying options. I had held off on looking for new speculative options bets as the Chicago Board Options Exchange Market Volatility Index (VIX) hovered over 20 recently but with it under 16 Friday, I took another look.
Bets for Friday
I placed a few limit orders for puts and calls Friday, and got a fill on one of the puts. More on that one below, but first a recap of my modus operandi here and a reminder about the difference between speculative options buying and hedging.
Looking for Speculative Options Bets
For the bearish bets, I've been starting by scanning for relatively lightly-traded (average daily volume over the last month of 250k shares or less), optionable stocks that look weak technically and fundamentally. The idea behind looking for relatively thinly-traded stocks is that the options traded on them are more likely to be thinly-traded, which increases the chances that they might be inefficiently priced. Then I look for in-the-money puts on them several months out, and compare the current bid-ask prices for them with the estimated fair market value of them via the Black-Scholes model.
If I find one where the most recent bid is significantly below the Black-Scholes fair market value estimate, I'll place a small limit order for it, with the limit price set at a 20%+ discount to the fair market value estimate.
For the bullish bets, I've been doing the reverse: Scanning for stocks that look strong technically and fundamentally and look for in-the-money calls priced below the Black-Scholes estimates of their fair market value.
Examples
Prior to today, I used this method to purchase puts on The St. Joe Company (NYSE:JOE), Northern Dynasty Minerals, Ltd. (NYSEMKT:NAK), Motricity, Inc. (MOTR), Neutral Tandem Inc. (NASDAQ:TNDM), Midas Group, Inc. (NYSE:MDS), BioCryst Pharmaceuticals (NASDAQ:BCRX), Omeros Corporation (NASDAQ:OMER); and calls on Honda Motor Co Ltd. (NYSE:HMC), Hitachi, Ltd. (HIT), Coherent, Inc. (NASDAQ:COHR), IXYS Corporation (NASDAQ:IXYS), II-VI Incorporated (NASDAQ:IIVI), ASM International N.V. (ASMI) and Superior Industries, International, Inc. (NYSE:SUP). I noted these purchases (and sales, in the case of the ones I've exited already -- NAK, MOTR, HMC and HIT) at the time on the Short Screen message boards.
Hedging vs. Betting
If I were hedging, I would enter the symbol of the stock or ETF I was looking to hedge in the "symbol" field of Portfolio Armor (available in Seeking Alpha's Investing Tools Store and as an Apple iOS app), enter the number of shares in the "shares owned" field and then enter the maximum decline I was willing to risk in the "threshold" field. Then Portfolio Armor would use its proprietary algorithm to scan for the optimal puts to give me that level of protection at the lowest cost.
On rare occasions (I've seen it happen once, so far) the optimal puts presented by Portfolio Armor might be in-the-money; in most cases, however, they will be out-of-the-money. Since I'm making a directional bet in the cases below, though and not hedging, I bought slightly in-the-money options. This makes sense for directional bets (when you are willing to pay more to reduce the odds against your bet) but would be sub-optimal in most cases for hedging (when you want to get a certain level of protection at the lowest possible cost).
A Bearish Bet on Friday
Citi Trends, Inc. (NASDAQ:CTRN), based in Savannah, Georgia, retails clothing and accessories, primarily to African American consumers in the U.S. I had placed a limit order for puts in CTRN last month, but didn't get a fill then. This time I did.
[Click to enlarge]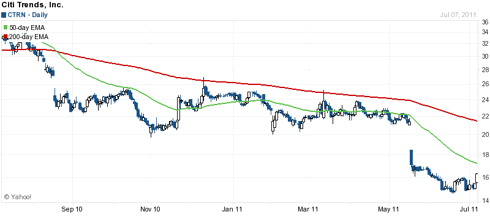 Click to enlarge
Zacks Investment Research ranks Citi Trends, Inc. a short-term (1-3 months) strong sell.
VectorVest also rates Citi Trends, Inc. a sell.
CTRN was trading at $16.44 late Friday. At that price, the estimated fair market value of its $17.50 strike, February 2012 puts, according to the Black-Scholes model, was $3.72. I got a small order filled at $2.95.
Disclosure: I am long puts on JOE, TNDM, MDS, BCRX, OMER, CTRN and SRDX; and calls on COHR, IXYS, IIVI, ASMI and SUP.