The market is volatile due to economic numbers that are extremely unpredictable. The S&P 500 has shot up and down over the last two months, touching its 200 day MA and then recovering nearly to new highs. However, the VIX, a gauge of the cost of insurance, is presently near lows. With the latest disappointing jobs numbers on Friday, July 8th, it seems like a great time to buy some calls.
Historically, the VIX averages 18.5. It has shown weakness in its last two major down moves by reaching as far as 14.5. Obviously these lows are irrational exuberance from investors, because there has been no real fundamental positive changes in the world economy that can justify insurance costs being at post financial crisis lows. Unemployment numbers are jumping back and forth causing huge swings in equities.
The situation in Europe is not gone, not by a long shot. Greece's problems aren't fixed, they are temporarily being dealt with. While Ireland, Spain and Portugal are still looming time-bombs, among other problems that the Euro isn't prepared to handle. The major problems in the markets won't be dissolved for months, at least.
The VIX offers an interesting swing trade in the meantime. The calls will help protect your portfolio against sudden downswings in stock markets, and possibly offer profitable trades. Stocks haven't shown us any reason to believe their recent strength is sustainable. IWM, which led the last major rally, hasn't made new highs and looks to be waning over the last few days; while the financial sector seems to have its feet stuck in the mud.
The end of QE2 is another reason the VIX should be inflated. No one can really predict the effects of the Fed actions. Smart asset managers will no doubt start buying into the VIX raising its value with large long-term protective positions.
Currently the fear index is resting near 16.00. This presents a good entry point for a swing trade and long-term portfolio protection. If history is correct, then the index should move towards 18.5, increasing the value of calls. There's no reason to think positive news next week will be big enough to push the VIX to new 52-week lows, but it does seem likely that a few poor news days in a row could help it explode upward. I won't recommend any specific calls, but I do feel 6 months out is necessary to avoid time decay.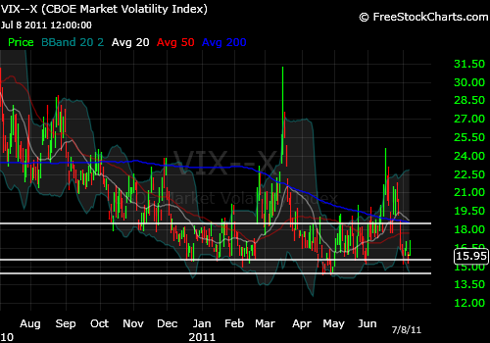 Disclosure: I have no positions in any stocks mentioned, and no plans to initiate any positions within the next 72 hours.