Deere & Company (NYSE:DE), the maker of agricultural, construction, and forestry equipment, is positioned to be a steady grower heading into the future through at least 2020. Its bold green and yellow colored tractors, mowers, backhoes, etc. will be in continued demand as the world recovers from the financial crisis and returns to steady growth.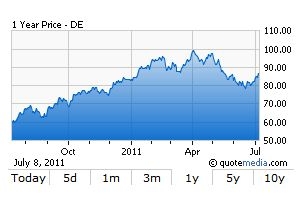 According to the USDA, global economic growth is expected rise at a 3.4% average growth rate through 2020. This economic growth supports continued long term demand in the world's food, global agriculture trade, and U.S. agriculture exports. As income growth rises in developing countries, a rise in food consumption and feed use will continue.
The populations of developing countries are dominated by younger people, as compared to more developed countries. This younger population increasingly consumes more food of diverse types, contributing to increased agricultural demand. Deere's diverse array of equipment will continue to be in demand to maintain this international growth.
Furthermore, the value of the dollar is expected to fall over the next decade, leading to increased U.S. exports. Deere will benefit from this as its equipment remains priced attractively in dollars compared to other currencies.
Deere is currently trading at $85, well below its 52 week high of $99. With its 5-year PEG ratio at 1.23, and the stock price trading at 4.8 times book value per share, I feel that the stock is attractively priced in the $80 - $85 range. Deere is projected to grow earnings at 10.8% for the next five years, and DE's dividend currently yields 1.9%.
Since stock market gains are directly related to gains in earnings, investors in DE should experience total gains of 12.7% per year. By 2020, expect the stock price to be in the upper range of $200 - $250; this would be a total of 135% - 194% gain for the nine year period.
Disclosure: I have no positions in any stocks mentioned, and no plans to initiate any positions within the next 72 hours.