According to the United States Council for International Business, US multinationals contribute greatly to the domestic economy and I fervently agree. I recently interviewed the CEO of H&M Industries LLC of San Antonio, Texas, Robert Hight, regarding his company's current business. H&M supplies tape and other maintenance, repair, and operations [MRO] products to several foreign subsidiaries of major US multinational corporations which include; Ford (NYSE:F), Alcoa (NYSE:AA), Baxter (NYSE:BAX), General Electric (NYSE:GE), Johnson & Johnson (NYSE:JNJ), and Intel (NASDAQ:INTC). Mr. Hight stated:
Business has definitely picked up. We are experiencing strong organic growth supplying the foreign operations of these companies. We've also seen an uptick in new accounts and orders.
With the prospects of a domestic slowdown looming, these multinationals are must haves for your portfolio prior to earnings. These companies' bottom lines are underpinned by strong emerging markets on the cusp of a multiyear secular growth curve. Eventually, the US economic recovery will be spurred on to healthier growth by these multinational companies. Tim Seymour, Emerging Markets Subject Matter Expert on CNBC's Fast Money recently stated,
U.S. job numbers stealing the thunder from emerging markets this morning but the real fireworks could come from China over the weekend.
You can get more detailed emerging market information from Tim at emergingmoney.com.
The United States Council for International Business promotes open markets, competitiveness and innovation, sustainable development and corporate responsibility, supported by international engagement and prudent regulation. The following is a short excerpt (pdf) of a study performed regarding US multinationals' contribution to the domestic economy followed by a brief review of each company highlighted in this article.
U.S. multinational companies strengthen the American economy through a combination of their domestic activity and their international engagement. Strong U.S. multinational companies that are able to compete effectively in foreign markets will be better positioned to help lead America out of recession. The ability of U.S. multinational companies to stem job losses in the United States and eventually return to hiring more American workers depends on the health, vitality, and competitiveness of their worldwide operations. The strength of the American economy is driven by the productivity and competitiveness of the companies operating in America. Innovative and efficient companies in the United States that profitably create goods and services, in full partnership with their workers and their broader communities, are the foundation of a globally competitive U.S. economy that can deliver productivity growth and rising standards of living. U.S. multinational companies enhance the American economy by their capital investment, their research and development, and by supporting good-paying American jobs.
Company Reviews & Key Statistics
Baxter International Inc. (BAX) through its subsidiaries, it develops, manufactures and markets products for people with hemophilia, immune disorders, infectious diseases, kidney disease, trauma and other chronic and acute medical conditions worldwide. The company was founded in 1931 and is based in Deerfield, Illinois.
A global presence and infrastructure is one of Baxter's key strengths. In 2010, nearly 60 percent of Baxter's sales and workforce were outside the United States. With manufacturing facilities located throughout the world, Baxter's philosophy of manufacturing locally allows the company to better manage production, costs and pricing.
Baxter has a significant presence in Europe, Middle East and Africa, with manufacturing and research facilities in more than a dozen countries including Austria, Belgium, Czech Republic, Germany, Ireland, Italy, Malta, Poland, Saudi Arabia, Spain, Switzerland, Tunisia, Turkey and the United Kingdom. The Latin American region includes Baxter manufacturing and distribution facilities in Argentina, Brazil, Chile, Colombia, Costa Rica and Mexico. In Asia Pacific, Baxter has had a significant presence for more than 40 years. Given the vast geography and dynamic development of the diverse markets, Baxter Asia Pacific operates in the structure of five sub-regions namely Japan, China, North Asia, Australia/New Zealand and India/Southeast Asia.
The company is trading below analysts' estimates. BAX has a median price target of $65 by 16 brokers and a high target of $72. The last up/downgrade activity was on Jan 18, 2011, when Barclays Capital initiated coverage on the company with an Equal Weight rating.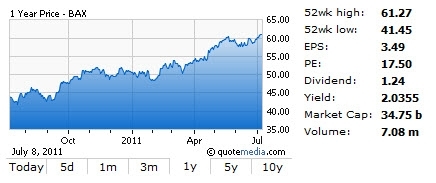 Ford Motor Company (F) primarily develops, manufactures, distributes and services vehicles and parts worldwide. It operates in two sectors, Automotive and Financial Services. Ford Motor Company was founded in 1903 and is based in Dearborn, Michigan.
Ford Motor China recently announced wholesale sales of 274,510 units for the first half of 2011, a 14 percent increase from the same period last year. In June, Ford sold 44,442 units, an 11 percent increase from June 2010. Ford car sales beat the downward market trend in June and again boosted its UK leadership with increased sales and share, compared with June 2010. The Ford Fiesta and the Ford Focus were once more the number one and two bestsellers in June, and for the year to date, with the Ford Transit continuing its 46th year as the best-selling commercial vehicle [CV] in the UK.
The company is trading below analysts' estimates. Ford has a median price target of $19 by 14 brokers and a high target of $22. The last up/downgrade activity was on Oct 14, 2010, when Deutsche Bank upgraded the company from Hold to Buy.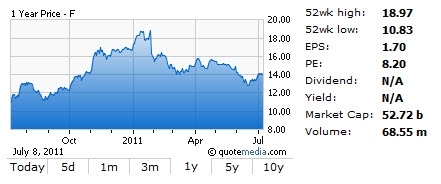 General Electric Company (GE) operates as a technology, media and financial services company worldwide. Its Energy Infrastructure segment produces gas, steam and aero derivative turbines; generators; combined cycle systems; and renewable energy solutions, as well as provides water treatment services and equipment. The company was founded in 1892 and is based in Fairfield, Connecticut.
With its accelerated growth rate and migration of population to urban areas, China is a market of tremendous opportunity for GE - particularly for GE's infrastructure businesses. GE's "Company to Country" strategy for China means localizing its business to China, building on local capabilities and developing local resources. GE has long been a vital part of the Southeast Asian economies. Today GE is supplying cutting-edge technology to hospitals in Malaysia; helping to build the infrastructure of Indonesia; providing clean energy and water solutions to the Philippines; building aircraft engines in Vietnam; and much more. Eastern Europe is growing at three times the global rate. GE has been a part of that growth, providing new technologies to build the region's infrastructure, and investing $52 million to build a Global Research Center in Munich, Germany. Russia has been one European country in which GE has made significant investments. GE is one of the largest foreign companies in Russia, operating multiple businesses including an equipment fleet with more than 1,500 large units.
The company is trading below analysts' estimates. GE has a median price target of $24 by 15 brokers and a high target of $30. The last up/downgrade activity was on Jan 28, 2011, when Argus upgraded the company from Hold to Buy.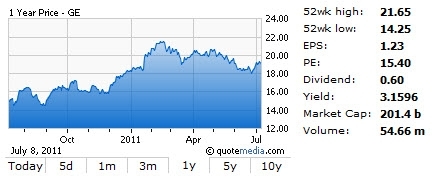 Alcoa, Inc. (AA) engages in the production and management of aluminum, fabricated aluminum, and alumina. The company operates in four segments: Alumina, Primary Metals, Flat-Rolled Products, and Engineered Products and Solutions. It operates primarily in the United States, Australia, Spain, Brazil, the Netherlands, Norway, France, Hungary, Italy, the United Kingdom, Russia and Germany. Alcoa, Inc. was founded in 1888 and is based in New York, New York.
Alcoa is partnering with the Global Reporting Initiative [GRI] to develop the next generation of corporate sustainability reporting guidelines that will shape the way corporations around the world define, deliver and measure their sustainability performance. The GRI Guidelines, initially launched in 1999, are part of the world's most widely used sustainability reporting framework. Through this new partnership, Alcoa will serve as a participant and sponsor of The Global G4 Consortium, advising GRI during the development of the next iteration of GRI Guidelines to help ensure they address the most important challenges – present and future – in the corporate sustainability reporting field.
The company is trading below analysts' estimates. SPN has a median price target of $20 by 11 brokers and a high target of $28.10. The last up/downgrade activity was on Apr 12, 2011, when BMO Capital Markets downgraded the company from Market Perform to Underperform.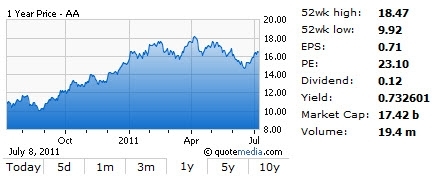 Intel Corporation (INTC) engages in the design, manufacture, and sale of integrated circuits for computing and communications industries worldwide. Intel Corporation was founded in 1968 and is based in Santa Clara, California.
Intel Corporation recently announced its board of directors has approved a 16 percent increase in the quarterly cash dividend to 21 cents per share (84 cents per share on an annual basis), beginning with the dividend that will be declared in the third quarter of 2011. The announcement is the second dividend increase in the past 6 months. Intel previously raised the dividend 15 percent in November 2010. Intel's dividend payout has steadily increased at a 33 percent compound annual growth rate [CAGR] since 2003, compared to the Standard & Poor's (S&P) 500 growth rate of 6 percent over the same period.
The company is trading significantly below analysts' estimates. INTC has a median price target of $26 by 37 brokers and a high target of $31.50. The last up/downgrade activity was on Apr 20, 2011, when FBR Capital upgraded the company from Market Perform to Outperform.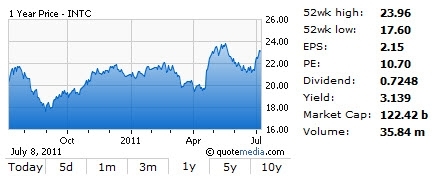 Johnson & Johnson (JNJ) engages in the research and development, manufacture, and sale of various products in the health care field worldwide. JNJ has more than 250 operating companies in 60 countries employing approximately 115,000 people. JNJ's consumer products, prescription medicines and medical devices and diagnostics impact the state of health care for patients, doctors and nurses around the world. The company operates in three segments: Consumer, Pharmaceutical and Medical Devices and Diagnostics. The company was founded in 1886 and is based in New Brunswick, New Jersey.
JNJ Company Global Highlights:
The world's sixth-largest consumer health company
The world's largest and most diverse medical devices and diagnostics company
The world's fifth-largest biologics company
The world's eighth-largest pharmaceuticals company
The company is trading below analysts' estimates. JNJ has a median price target of $70 by 15 brokers and a high target of $90. The last up/downgrade activity was on Jun 17, 2011, when Morgan Keegan initiated coverage on the company with a Market Perform rating.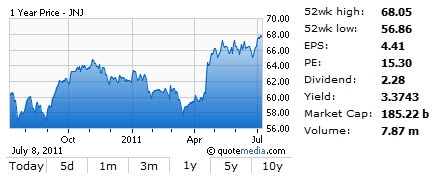 Disclosure: I am long F.