If you wear Aeropostale (NYSE:ARO) clothing, that's a personal style choice. But from an investment perspective, the company's glory days look numbered. We give the firm credit for taking advantage of the last global downturn by offering appealing, low-cost alternatives to quasi-brand-conscious teens who were strapped for cash. Kids traded down to Aeropostale and sales for the firm went up. But now the consumer apocalypse is over. In our view, this means a bumpy road ahead with little hope of continued success.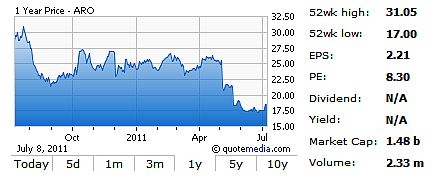 The competition is heating up as buyers trade back up in a slowly improving economy and new competitors play the same cost game as Aeropostale. This means that its greatest differentiator - low cost - is becoming less effective. Further, we don't see a spectacular catalyst for the firm or a strategy to fend off high- and low-end brands. It looks like Aeropostale faces a multi-pronged attack from Abercrombie & Fitch (NYSE:ANF) on the high end and names like H&M or American Eagle Outfitters (NYSE:AEO) on the lower end. We give Aeropostale a PASS, given increased competition and because it lacks a feasible strategy to substantially increase top line growth in an improving economy.

Fierce Competition in a Booby-Trapped Industry

Brands such as H&M and Forever 21 are making moves, taking market share, and heating up the low-cost, trend-conscious space. For Aeropostale, this means increased competition not only from bigger and better branded names above it but also intense competition in its core markets as well. It looks to us like Aeropostale is between a rock and a hard place. This means Aeropostale could slowly lose market share to competitors.

We don't expect a "shock and awe" campaign from competitors- but that's the scary thing. Instead, we see them implementing careful, incremental strategies that won't raise the alarm for Aeropostale until the damage is done. Given all the available names in retail, we feel that Aeropostale is far from best of breed and that the most recent earnings report is a telling sign of things to come.

Merchandising missteps are pretty much industry booby-traps - like land mines. You can't see until you've stepped on it and the effects are inescapable. Recently, the firm hit one of these land mines with a women's assortment that really didn't take off with its target market. Of course fashion – particularly teenage fashion – is a very fickle proposition. Given this reality, we don't know why the firm chose to hang onto this particular assortment for several quarters (to no avail) instead of minimizing its losses. Given the firm's sentimental attachment to the occasional "dud," we think the probability of another potential merchandising snafu is significant.

Running Low on Jet Fuel and Making Questionable Assumptions Abroad

It's not hard to realize why the retail industry is expanding beyond the U.S. market. The U.S. market is extremely competitive and saturated, and the overall economy still lacks the prior level of consumer "jet fuel." While we recognize the firm is finally catching up to the pack and getting serious about international expansion, its strategy looks a little dicey.

When we think of people buying multi-million dollar penthouses, traveling on chartered jets, and buying manmade private islands, we don't think of Aeropostale clothing aligning with that lifestyle. Targeting certain Middle Eastern and Asian countries (such as the UAE and Singapore) that are known for their extreme opulence is a little perplexing because Aeropostale targets the polar opposite crowd in the U.S. We think the better initial international growth targets would have been Brazil, India, or China given their population size and wider socioeconomic dispersion.

We think that Aeropostale is mistaken if it thinks it can just pick off the low end of these ultra-rich markets or easily tap rapidly growing markets such as Malaysia. Our reading of trend demographics shows that people in these regions are even more brand-conscious than Americans. Still, if the firm plans on branding itself in a completely different light, that would be genius. The right step for Aeropostale is to brand itself as a high-end retailer that sells its merchandise at "reasonable" prices instead of "affordable" prices. Unfortunately, we don't think this will be the case.

Conclusion

We realize that the firm is trading at an inexpensive valuation. But Aeropostale could be a "value trap" at this point. We remain concerned that the firm may be unable to sufficiently differentiate itself or compete effectively against other low-cost competitors in the U.S and abroad. Unless Aeropostale can pull out a giant white rabbit from its hat with its international expansion, Abercrombie & Fitch is the better investor choice for this industry (Check out our Abercrombie and Fitch article here).

Disclosure: I have no positions in any stocks mentioned, and no plans to initiate any positions within the next 72 hours.