Stocks hit the ground running the past trading week, which was shortened by the holiday. Technology shares were in the bright spot in the last days, with Apple (
AAPL
) and high beta flier Netflix (
NFLX
) leading the charge.
Last Thursday's action was spurred by an encouraging job report from ADP and strong June same-store sales in the retail sector. Retail stocks surged Thursday on the news, but it is notable that June comps benefitted from heavy promotions. Also significant, is the lack of guidance by retailers regarding Q2 earnings, as very few raised their forecasts.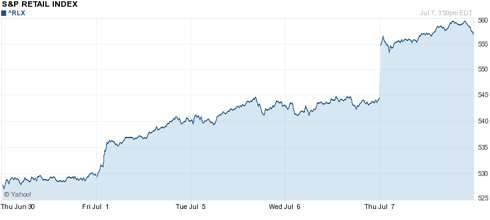 As for the jobs report, the ADP report is anecdotal, and Friday's shockingly dismal payroll numbers underscore how muddled the labor picture is. In fact, the June unemployment rate rose to 9.1% from 9% in May. This pushed the Dow lower by 140 points on Friday, but it regained some footing to close the session down 62 points.
Other concerns:
"Chicken" politics over the debt ceiling
Potential inflationary data in next week's CPI report
Rising business inventory
Worrisome inflation data coming out of China
Q2 earnings reports begin to roll-out in earnest in the coming week, and investors will want to pay attention to management commentary about their views for the second half rather than what they did in the last quarter. In a CNBC story on June 8, Wells Capital Management strategist James Paulsen said, "They're going to be looking out the front window, not the rearview mirror."
As we wrap-up the first trading week of Q3, it is encouraging to see net-asset-values rising, but it is our view that whatever "positive" news might be coming out in the near-term is likely already baked into stock prices.
Fundamentals do matter, really! Hedge funds, as Jim Cramer recently pointed out:
...have turned stocks into an asset class. In short, they've commoditized equities, trading them like timber or corn, and they've done so by pouring untold amounts of money into S&P 500 futures.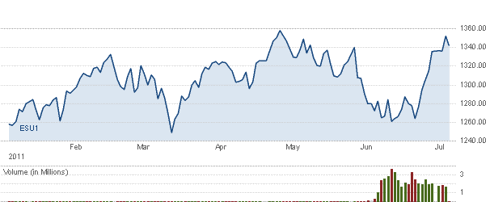 Cramer adds:
See, individual stocks are too small to handle the cash these funds are throwing around, so they turn to the S&P, or big exchange-traded funds, instead. The drawback to this strategy is that when the market takes a nosedive, the hedge funds sell their positions en masse, and that brings down the entire S&P.
Cramer makes a good point, but we do remain convinced that average retail investors who track the cash-flow components in a company's earnings have a greater chance to profit from directional price movements of individual equities regardless of the "non-fundamentals" in the market.
Hedge funds might very well exacerbate market movements, but when you have consumer product stocks such as Green Mountain Coffee (
GMCR
) trading for 121 times earnings or a Netflix (
NFLX
) selling at 97 times free cash flow, the S&P 500 Sept.11 futures chart above takes on a more ominous visage.
At the end of the day, preserving profits are just as important as making them.
Disclosure:
I have no positions in any stocks mentioned, and no plans to initiate any positions within the next 72 hours.
Additional disclosure:
Sources: CNBC