Company

Ticker

Weekly

Percentage

Shares Traded for the week

Current Price

Sirius XM Radio

(SIRI)

Unchanged

181,096,871

$2.22

Level 3 Communication

(LVLT)

Rose 2.7%

104,181,248

$2.59

Cisco Systems

(CSCO)

Fell 0.3%

207,948,636

$15.74

Research In Motion

(RIMM)

Rose 0.17%

78,925,105

$28.98

Oracle Corp

(ORCL)

Rose 2.69%

97,570,249

$33.94

Sirius XM Radio (NASDAQ:SIRI)- Price Target $2.75
Sirius stock went unchanged for the week, as it opened at $2.22 and closed on the same price on Friday on 181 million shares. I indicated that in today's market, this is a "win". I made a bold prediction recently and offered Sirius investors some optimism. Circle it on your calendar. As Sirius XM currently sits at $2.22, on July 25 the stock will hit a new 52 week high. After the market closed on Friday, Sirius received a welcomed surprise. The headline read as follows: Sirius XM Radio Inc. to Join the NASDAQ-100 Index Beginning July 15, 2011.
Level 3 Communications (NASDAQ:LVLT) - Price Target $3.00
Level 3 closed up for the week at 2.7% on 104 million shares traded. If ever one is glances at a chart and it inspires mountain climbing instead of skiing down the Alps as the chart below does, then that stock is doing pretty well. But to say that Level 3's stock has been doing "pretty well" would be the understatement of understatements. In fact, I'm not sure that there is a hotter equity out there at the moment, and there are no signs of letting up.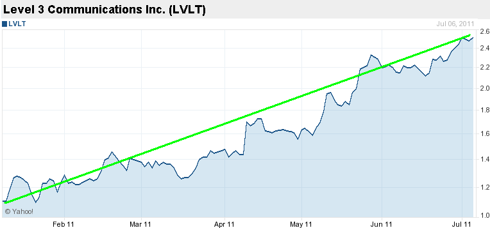 Click to enlarge
Since reaching an intra-day low of $1.94 on June 20, the stock has now reached a new high of $2.67 (as of this writing) for an impressive 37% gain in a span of two weeks. It seems Level 3 seeks to set new highs every third trading session, as good news after good news continues to fuel the surge. I am now realizing how conservative my $3.00 target has been, as the stock now sits only a modest 12% away from my goal. In remarkable fashion, the company is slowly and meticulously addressing investor concerns; one of which has been surrounding its debt. But clearly management is demonstrating that it has a plan in place to manage the debt and is committed towards cleaning the company's books.
Oracle (NASDAQ:ORCL) - Price Target $40
Oracle rose 2.69% for the week on just under 100 million shares. Since bottoming out at $30.65, Oracle investors are once again rejoicing with the stock now up almost 10% to just under $34.00 -- ever since I asked what is wrong with the company? Many readers have steadily reminded me, nothing! Oracle had experienced some difficulty in convincing investors that its poor showing in hardware sales during its recent earnings announcement was nothing to be concerned about.
We have previously discussed Oracle's leading business applications and leading database software solutions services; a part of its portfolio of offerings that continue to acquire market share each quarter. These will continue to face much stronger demand for their products, particularly with the company's increasing integration in business software, hardware, platforms and use. As I noted previously, it has specifically targeted both Hewlett-Packard (NYSE:HPQ) and IBM among its biggest rivals, and it appears to be a race Oracle is suited to win.
Cisco Systems (NASDAQ:CSCO) - Price Target $20
Cisco ended down for the week on 0.3%. The question with Cisco remains, is it a value trap or a value play? It is tough to not value the company; one with such strong fundamental standing. The stock price neither reflects its market share status nor fundamentals. If we look deep into the numbers, we can see a company that trades at attractive valuation multiples. It stands solidly with a market cap of $87 billion as well as 58 billion in EV, and trades at a modest forward P/E of 9. How can a company with $43 billion in cash not be considered-- especially one that has amassed almost $10 billion in free cash flow each year? One can argue that there is no other company who has been able to leverage its balance sheet better than Cisco.
Cisco's challenge continues to be its perception. Over the past several months, investors have sold off portions of their holdings as a way to minimize their exposure in the stock while they try to assess what is going on within the company. If the company can wisely reinvest its capital to create more innovative ways to compete, I feel investors-- patient or not-- will be rewarded handsomely. At the current level that the stock is trading, I see an opportunity for those who are looking for value, and those willing to be patient to realize some significant gains.
Research In Motion (RIMM) - Price Target $20
Shares of RIMM rose for the 0.17% on just under 80 million shares traded. I wrote earlier this week about how I thought that the rumors of our death were no exaggeration. This is even though the management of the company continues to tell investors otherwise. Since the company's recent earnings announcement, investors have been unsure of what to make of the company and its stock.
Research In Motion reported earnings after market close (June 16th) and the stock traded at $35.33 in regular session. The following day the stock closed at $27.75 for a loss of 21%. But the disaster did not end there, as the following Monday (June 20) the stock reached $25.82. Since reaching that level the stock has climbed 12% to where it now sits at $28.98. The question investors are now asking is, has RIMM bottomed out? Investors who are looking for value really want to believe that it has, but this is where the mistake is being made.
While the stock has climbed 12% from its low of $25.82, I can't help but wonder if that was not the "head-fake" of the year. Though Research In Motion's management may be correct that the "rumors of RIMM's death have been exaggerated" based on their inability to execute, I continue to think that they will fail in their attempt to avoid their fate. The stock remains a short and will be below $20 by year's end. If it isn't, it will be a remarkable story.