TARP warrants on the Hartford Financial Services Group (NYSE:HIG), have a number of advantages as a way to express a bullish opinion on the stock. They provide low cost leverage, dividend adjustment, defined downside risk, convexity (of a sort), and favorable interest rate sensitivity. While similar to options, the warrants have the added advantage of long life, expiring on 6/26/2019, and a lot can happen in eight years.
This article starts with a brief discussion of the bullish case for HIG, following up with a longer discussion of the investment characteristics of the TARP warrants. For risk tolerant investors, the warrants offer potential double digit returns for protracted periods of time.
The Bullish Case
The primary attraction is that HIG is cheap on common valuation metrics: With shares closing Friday at $26.27, P/B stands at 0.57, P/E checks in at 7.54. Formerly under ratings pressure, the company has stabilized its outlook and even managed a modest dividend increase. As mentioned by Bret Jensen, Doug Kass has been investing in Life insurers, to include HIG. In the image below you will find my thinking on valuation:
click on images to enlarge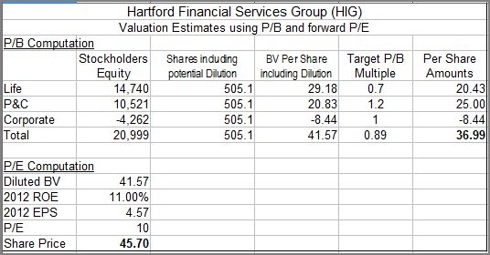 The Hartford is a multi-line insurer, combining a stable and profitable P&C operation with a troubled Life and Annuity business. As P/B multiples recover toward pre-crisis levels, the P&C portion of the business should command a multiple in the 1.2 area, similar to what I expect for Travelers (NYSE:TRV) and Chubb (NYSE:CB). Combined ratios have stayed under 100 for many years, reflecting stable underwriting profits, and the outlook for Commercial Lines P&C has been improving of late.
The Life operation is hampered by equity exposure arising from guarantees on variable annuities. Meanwhile, the company has discontinued the writing of new business in Europe and Japan. The Japanese variable annuity business, a sore point, is in runoff. While peers such as Prudential (NYSE:PRU) and MetLife (NYSE:MET) may eventually trade at P/B ratios of as high as 1.4, similar to what prevailed prior to the financial crisis, The Hartford's Life operation can be expected to lag leading me to estimate a 0.7 multiple. These two targets average to a P/B of 0.89, leaving room for over 50% share price appreciation.
Management has put forth a goal of 11% ROE for 2012, this is still substantially less than the 14% or 15% the company was able to achieve pre-crisis. Those returns were fueled by excessive risk-taking which the market discounted, typically applying a P/E in the 9 to 12 area. A lower ROE in a financial business may be a sign of less leverage and risk, which would suggest a higher P/E.
In any event, applying the 11% ROE to a diluted BV of $41.57 develops earnings of $4.57, and that is in line with analyst estimates for 2012. Applying a P/E of 10, consistent with moderate growth, a valuation of 46 is suggested. Averaging that with the 37 derived from P/B, a price target of $41.50 emerges. I'm investing in HIG on the basis that shares will eventually recover to the $40 area, most likely in a two to four year time frame.
TARP Warrants
Nakedvalue contributed a very good discussion of TARP warrants here on Seeking Alpha titled "TARP Warrants: Hidden Value Among the Mega-Banks", and I recommend the article for additional background on the subject.
HIG's TARP warrants have a strike of 9.79 and expire on 6/26/2019. The dividend adjustment threshold is relatively low, at .05 quarterly, and the company has since doubled the dividend to $0.10. Average volume stands at 24.6K, with bid/ask spreads running 2 or 3 cents, providing adequate liquidity. Ameritrade (my broker) lists them under the symbol HIG+. Using an options calculator, delta is 1.00, implying the warrants will track the stock dollar for dollar.
Dividend Adjustment
The prospectus for the warrants is available at the SEC website, under the symbol HIG, and includes a convoluted description of the adjustments to be made to the warrants in the event of dividends in excess of the $0.05 quarterly that was in effect when they were originally issued to Treasury.
As an example, the way I read it, if HIG declares a $0.10 dividend with the shares trading at $26, the adjustment would be (26-.05)/26 X 9.79 = 9.77, reducing the strike by .02. The effect is not large, but it does give the investor some of the benefits of the dividend. Investing is a game of inches and fractions of an inch.
Convexity
Convexity is a bond term, but can be used to describe the price behavior of the warrants in the event the shares declines substantially. Using an options calculator, and an implied volatility of 55% (the 52 week high), if two years from now HIG is trading at $9.79, the warrants would still have a value of $3.93. As such, the warrants would lose less value, in dollars, than the shares.
Implied volatility usually increases as share prices plummet. During the financial crisis, implied volatility for HIG, which had a near death experience, was over 200% for two months total, spiking as high as 300%.
Interest Rate Sensitivity
The value of a call increases as interest rate assumptions increase. Using an options calculator, and looking out two years, an increase of the interest rate from 1.7% to 5% would increase the value of the warrant by $0.80. Again, the effect is not large, but it does favor the investor, given today's low interest rates.
Investment Returns
Having developed a target P/B of 0.89, and assuming as a midrange outcome that HIG can increase book value 5% per year, it's possible to compute the internal rate of return on the HIG+ warrants, depending on the number of years required before the share prices reach the target P/B. Here's a spreadsheet doing the computations.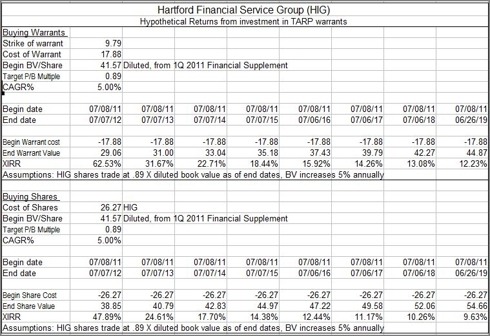 If it takes HIG five years to reach a P/B of $0.89, the investor would receive an annualized compound return of 15.9%, assuming book value increases 5% per year. To this could be added whatever dividend adjustments are made, any gains due to increases in interest rates, and residual time value, not included in the computations.
For the sake of comparison, the same scenario is applied to buying the shares. Again allowing five years to reach target P/B, the return is still a respectable 12.4%, to which could be added a dividend currently standing at 1.5%.
Strategic Considerations
HIG's beta is 3.0, and recently it has shown a strong correlation with the S&P 500. That makes sense, because equity markets have a strong effect on their book of variable annuities. In fact, management qualifies their guidance for 2011 by referring to an assumed year end level of 1,375 for the S&P 500. The warrants provide leverage on this already volatile situation. In point of fact, HIG+ can be expected to behave along the lines of a 3X ETF on the S&P, but without the well known disadvantages of the multiple ETFs.
With that in mind, HIG+ may be suitable for those who are interested in short term risk on/off type trading.
The warrants are also suitable for risk tolerant value investors, in that they reduce capital at risk, track the stock closely, and provide low cost leverage. Because of the volatility, it's important to avoid becoming a forced or panicky seller, as selling these at a bottom could do serious damage to your account.
Given the considerable uncertainty about market conditions going into the shoot-out on the debt ceiling, and the predictable behavior of HIG+ under risk off conditions, a procedure of scaling in at set intervals might be considered, in the interest of getting in at progressively lower prices.
Covered Calls?
Regrettably, the warrants will not be accepted as underlying for the purpose of selling covered calls. Ameritrade (my broker) and most likely others will consider any calls written against the warrants as being naked, leading to maintenance or margin requirements.
Nevertheless, I plan to sell calls against my warrant position, if and when the stock recovers to about the $30 area, probably Jan 2012 or later calls at $32 or better. The thinking is, the margin requirements aren't that large and would only increase in a rising market. I would normally be raising cash at that point and wouldn't get squeezed by the supposedly naked calls. The warrants are coverage, whether the broker accepts them or not.
A Digression: The Undemanding Investment Thesis
Investors vary in how demanding they are with respect to the selection and performance of their picks. Some growth investors will only buy stocks that are in an uptrend, making 52 week highs, first in their industry, increasing margins, increasing EPS, and are increasing revenues. These growth investor set close stops, and they bail at the first hint of imperfection or under-performance.
As a value investor, I have come to appreciate the merits of an undemanding investment thesis. If the investor can anticipate good profits without asking the company involved to maintain heroic out-performance, or the market to provide yet another greater fool, he is ahead of the game. Being undemanding about the time frame is equally helpful.
Looking at a company that trades under book value and is earning profits on a regular basis, it's not asking too much to look for shares to trade up to book value at some future point in time. On the time frame, instead of looking forward to earnings, or within 3 months, or by the end of the year, it's nice to say "whatever."
An investment in HIG TARP warrants meets the undemanding criterion. After all, the investor is only asking the company to do what everyone agrees it can do, earn 4 per year and increase book value at some measured pace. As far as market perceptions, all that is required is that a profitable company trade within 10% of book value. If not next year or the year after, at least within 4 or 5 years.