Companies tend to reserve summertime Friday nights after the stock market closes for bad news they hope investors will miss. Because the NASDAQ OMX Group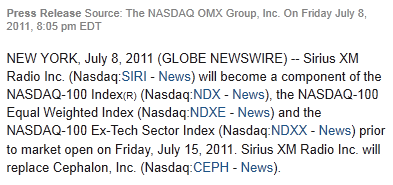 (NASDAQ:NDAQ) actually penned the press release, Sirius XM (NASDAQ:SIRI) likely had little, if any control over its timing. Nevertheless, releasing news of Sirius' inclusion in the Nasdaq 100 index at 8:05 p.m. Eastern Time on a Friday evening only adds to the surprise and intrigue of what might rank as one of the most important developments in Sirius XM's history to date.
I will not get into predicting where SIRI will go on this news. But heading into a near-certain, historically-supported, pre-earnings breakout, this news can only add fuel to the fire. In this article, I make mention of some key work that helps shed light on where the stock might go beginning Monday morning. Then, I discuss exactly what it means when a stock gets included in an index fund.
Brandon Matthews, over at SatWaves, thinks SIRI might be "sporting a $3.00 handle early in the week and a $4.00 handle the next." He outlines a bevy of reasons to back up his contention including index fund managers buying up shares to rebalance their tracking portfolios, a run for the exits by shorts on the news and the consequences from a share lending agreement Sirius XM entered into with banking giant UBS (NYSE:UBS):
[Mattews] told you about the condition of the share lending agreement with UBS on the converts. At $2.00 per share, UBS is on the hook with Sirius XM for $400 million. At $3.00, it will cost them $600 million, and at $4.00, it will cost UBS $800 million if it cannot produce the lent shares.
In an earlier article, Matthews explained the ins and outs of this deal, noting:
If the loaned shares are simply returned, it will be equivalent to a share buyback of 202 million shares, which reduces the float and increases the value of existing shares, making it a win-win on the back end for current shareholders.
You cannot overstate the magnitude of this confluence of events. Talk about a pre-earnings riot that, all of a sudden, has little to do with earnings. There's no telling where this stock goes out of the gate this week and over the next month.
Several readers have emailed me asking exactly what this news means from a concrete standpoint. Practically speaking, what does it mean when a stock becomes part of a major index? First, know that an index simply includes a group of stocks on the basis of some set of characteristics.
For instance, most investors have heard of the Dow Jones Industrial Average. The "Dow," long part of pop culture, simply contains 30 significant and actively-traded U.S.-based stocks, as selected by the editors of The Wall Street Journal. You can invest in mutual funds and exchange-traded funds (ETFs) that basically aim to mimic the performance of the Dow by holding its 30 stocks in proper proportions.
Other indexes have more stringent criteria in relation to the stocks they include. Some only track transportation stocks, agricultural stocks or stocks from a particular part of the world. The NASDAQ 100 index, for example, contains the top 100 non-financial stocks of the NASDAQ, on the basis of market capitalization. The guidelines for initial and continued eligibility are pretty straightforward. As with the Dow or any other index, investors can share in the fate of the NASDAQ 100 by purchasing shares of mutual funds or ETFs that seek to emulate its performance.
An investment in the PowerShares QQQ Trust ETF (NASDAQ:QQQ) represents one of the most popular ways to play the NASDAQ 100. While you can buy into funds that seek returns that correlate inversely with an index by shorting it, you can also get into funds that look to double or triple an index's performance. For instance, the ProShares Ultra QQQ (NYSEARCA:QLD) and the ProShares UltraPro QQQ (NASDAQ:TQQQ) strive for returns equal to 200% and 300%, respectively, of the NASDAQ 100's performance on a given day.
Obviously, to track an index like the NASDAQ 100, fund managers need to buy the stocks that make up the index. It's a passive process, no doubt, and that's actually a positive. For all intents and purposes, there's no human touch involved. Stocks gets weighted in a fund like QQQ on the basis of their market cap, just like they do in the NASDAQ 100 index QQQ tracks.
On the basis of its $8.76 billion market cap, according to Yahoo! Finance, Sirius XM would have about a 0.33% weighting in QQQ, using data from QQQ's holdings, as of July 8th. This puts it right in between O'Reilly Automotive (NASDAQ:ORLY) and Dollar Tree (NASDAQ:DLTR). The former has a $9.02 billion market cap and 0.34% weighting, while the latter has a $8.54 billion market cap and 0.32% weighting. Apple (NASDAQ:AAPL) commands the heaviest weighting at 12.54%, followed by Microsoft (NASDAQ:MSFT), Oracle (NYSE:ORCL), Google (NASDAQ:GOOG) and Intel (NASDAQ:INTC) at 8.56%, 6.47%, 5.07% and 4.61%, respectively.
Based on the July 8th weightings and the above-mentioned numbers, Sirius XM would sit in approximately 73rd place out of the NASDAQ 100 stocks, as tracked and weighted by the QQQ ETF.
You can view the complete list at the PowerShares website.
Not only will this news impact Sirius XM stock, it will also profoundly affect SIRI options activity Monday morning. I analyze the situation and provide some color here on what to look for prior to the open of the stock market on Monday morning.
Disclosure: I am long SIRI.