The current rally bolstered many investors' optimism about the future. Careful investors could have seen this coming, as three strong companies showed the rally was coming before it began. Lululemon (NASDAQ:LULU), Domino's Pizza (NYSE:DPZ), and Microsoft (NASDAQ:MSFT) made the move upwards before the general market did. Therefore it is valid to say these three companies led the overall market higher.

Lululemon has historically led the Nasdaq (IXIC) as Lululemon is one of the big winners in recent history. Recently Lululemon has led the Nasdaq down, then back up close to a 3 month high. Beginning on May 25th, Lululemon's share price began a solid 14.8% slide that halted June 7th. The Nasdaq began this same slide on May 31st and ended June 17th.

Accordingly, Lululemon began to rise to present levels 12 days before the Nasdaq began moving upwards. This move has consisted of an almost 50% gain since June 8th. While the Nasdaq has gained 10% beginning June 20th on that same run. This shows Lululemon is a very good precursor to the Nasdaq Index. For instance, investors can spot future downward trends by watching Lululemon. This has more or less been true over the past year. There are some instances where Lululemon has fallen and risen at the same time as the Nasdaq, but most of the time Lululemon has led the Nasdaq.
Furthermore, investors of Nasdaq companies can get a head start on any potential downward movements by watching Lululemon. Since Lululemon has been going above and beyond expectations recently, investors can be assured the rally will continue for at least a few more days. With that said, it is important to note the Nasdaq may fall one or two days without Lululemon falling, but we will not see a sustained drop in the Nasdaq until Lululemon begins a downtrend. Similarly if Lululemon falls about 5% in a 3-5 day span, we should be seeing a rough 1.5-2% dip in the Nasdaq.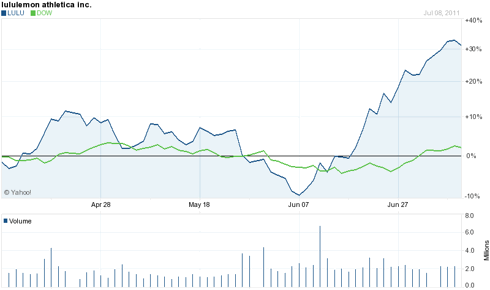 Domino's has led the Dow Jones Industrial Average (DJI) during this past run as well. While Domino's and the Dow Jones began a slide on May 31st, Domino's started the run back to new all time highs a few trading days sooner. Domino's began this 13% run on June 10th, while the Dow began a 6.4% run beginning June 15th.

Unlike Lululemon, Domino's has slowly progressed upwards for almost the entire year. As Domino's continues to grow, the share price will eventually reach a fair valued level and daily 52 week highs will no longer occur. As a side note, Domino's is up about 53% since I began recommending the company earlier this year. Nevertheless, Domino's is important to watch because when the share price falls investors know the market is in serious trouble. It is difficult to show Domino's has led the market downwards due to the fact that the share price has continuously moved upwards since the fourth quarter of 2008.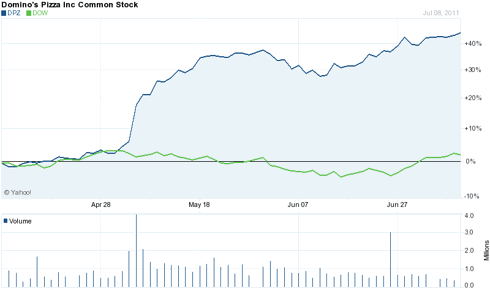 Microsoft is one company I have recommended staying away from in the past, but over the past three months Microsoft's share price has led the market down, and more recently led the market up. Microsoft began a downward move beginning April 28th through June 10th. During this run the share price fell 9.2%. In turn, the Nasdaq began to slide May 2nd, but the Nasdaq did not see sustained downward momentum until May 10th. This downward move may have been in accordance with the market, but Microsoft began the move a handful of trading days sooner.

Similarly, Microsoft began the recent upward move June 10th while the Nasdaq began the move June 17th. It must be noted Microsoft's share price may have made a 9.5% move; but this move only brought the share price back to where it started. This can be said about the Nasdaq as well. More importantly Microsoft is a leader in the market. The share price may not move leaps and bounds like Lululemon and Domino's but the company does make moves before the respective index. Which means just as previously mentioned, investors need to keep an eye on Microsoft as the share price can tell investors when a downward move is upcoming.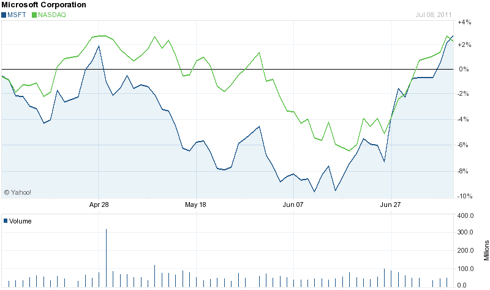 Investors who watch market leaders can put themselves in a position to catch upward and downward momentum before it is too late. The three companies above have been good indicators of which direction the market will go for a long time. Therefore, even if these companies are not on an investor's buy list, all three ticker symbols should at least be on an investor's watch list.


Disclosure: I am long DPZ.