The stock market survived its first week without QE2. In fact, it performed quite well. After the Fed's latest stimulus plan came to an end on Thursday, June 30, stocks as measured by the S&P 500 were up in three out of five trading days and have advanced in total by roughly +2%. Such strong performance right out of the gates must clearly mean that the stock market is now ready to stand alone without support of the Fed's daily QE2 injections, right? Not so fast I'm afraid. Instead, the stock market is following a pattern that is strikingly similar to the end of QE1.
The stock market also showed initial strength emerging from QE1. Although April 26, 2010 is widely noted as the day the markets turned after the end of QE1, the Fed's first stimulus program actually ended several weeks earlier on March 31, 2010. Stocks initially performed exceptionally well after the end of QE1, posting a +4% advance that included gains in 14 of the first 17 trading days.
Overall, stocks followed a nearly identical path in the first week of trading post QE1 and post QE2.
Click to enlarge: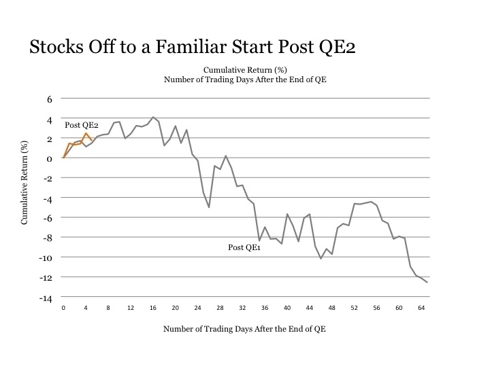 Click to enlarge
Fed balance sheet trends are also showing some initial similarities. As discussed in my recent post, Where Will Stocks Go After QE2? The Fed's Balance Sheet Holds the Key, a primary driver that helped move stocks higher in the first few weeks of April 2010 following the end of QE1 was the fact that the Fed's balance sheet continued to expand. But in the very first week after the end of QE1, the Fed's balance sheet remained fairly steady with a net expansion of just $419 million. This time around, the Fed showed a net balance sheet expansion of nearly $5 billion over the past week ended Wednesday, July 6. This data, however, includes the final day of QE2 when the Fed purchased $4.9 billion in Treasuries. As a result, it appears that the Fed kept the balance sheet otherwise steady in the first few days after QE2. This is an item that will merit close attention in the coming weeks.
Treasuries provide a leading indicator for stocks post QE, and the initial signals confirm that trouble may come sooner than later for stocks post QE2. At the end of QE1 on March 31, 2010, the 10-Year Treasury yield stood at 3.83% and peaked two trading days later at 3.99%. Treasuries then began a rally that continued for the next several months with the 10-Year Treasury yield falling below 2.50%. And it's worth noting that this Treasury rally began more than three weeks before stocks rolled over in late April 2010. What stopped the Treasury rally? The beginning of QE2 in early November 2010. This time around, the 10-Year Treasury yield was 3.16% at the end of QE2 on June 30. But despite this lower absolute level in yields, we've seen Treasuries rallying once again right out of the gate, as yields are already back down at 3.02%. And just like last time, this Treasury rally has come amid a rising stock market.
Click to enlarge: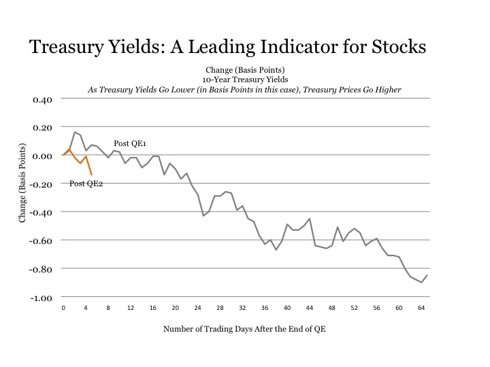 Click to enlarge
So stocks have generally rallied in the initial days following the end of QE2; this is certainly not a surprise. Nor would it be a surprise to see stocks continue to rally further in the coming days, particularly given the fact that trading volume remains light and the Fed is on deck for at least $2.5-$3.5 billion in Treasury purchases to offset maturing agency/MBS next week.
But the seeds have been sown for an eventual market correction, and the subsequent downside could be severe. And one needs not look far to find the risks that could serve as the catalyst to send markets lower. Stocks are now 40% overvalued relative to historical long-term valuations, economic data has been deteriorating long before Friday's abysmal jobs report, the European sovereign debt situation remains tenuous at best and the debt ceiling debate remains a game of political chicken still awaiting resolution.
Fortunately, the opportunity set for investors is not limited to stocks, as a variety of non-stock asset classes are set to perform well in such an environment. Beyond Treasuries (IEI, IEF, TLT) already discussed above, these include gold (NYSEARCA:GLD), non-financial preferred stocks (T, OTC:APRDM, NEE, DRU, XCJ), investment grade corporate bonds (NYSEARCA:LQD) and high quality defensive stocks from the food, household products and utilities sectors.
Even these more defensive positions merit close attention. For example, if the European debt situation were to dissolve into chaos or, perhaps more significantly, if the current debt ceiling debate extends too long and somehow results in a dislocation for the Treasury market, moving to cash for the short-term until the dust settles may be the best option.
We live in interesting times, and it appears that the next few weeks should not disappoint in this regard. As a result, keeping a close watch will be particularly important as we move through the coming days and weeks. Stay tuned.
Disclosure: I am long GLD, LQD, ALM, FGE, XCJ, DRU, IEI, IEF, TLT, LNT, WR, PG, CL, CLX, KMB, GIS, CPB, TAP, XLU.
Disclaimer: This post is for information purposes only. There are risks involved with investing including loss of principal. Gerring Wealth Management (GWM) makes no explicit or implicit guarantee with respect to performance or the outcome of any investment or projections made by GWM. There is no guarantee that the goals of the strategies discussed by GWM will be met.