By RJ Towner

Collective Brands Looks More Like a Turnaround Than a Value Trap
We have initiated coverage of Collective Brands (NYSE:PSS) at a fair value of $24 per share based on our discounted cash-flow process. The company reported a miserable first quarter, and the stock has languished since, creating an excellent buying opportunity for long-term investors, in our opinion. Legendary investor Peter Lynch made quite a bit of money betting on turnarounds, and we think Collective Brands is the quintessential turnaround candidate. We think the stock is unfairly beaten down, providing considerable upside to patient investors. We are adding the firm to our Best Ideas List.
click to enlarge images

Click to enlarge
Source: Valuentum Securities Inc.

Click to enlarge
Source: Valuentum Securities Inc. (in millions of USD)
Company Background
Collective Brands adopted a new business model in 2007 when Payless Shoes acquired Stride Rite. The Payless segment of the store consists of over 4,400 stores, with nearly 3,800 in the United States and a growing international presence in South America and China. Payless Domestic has traditionally done about $2 billion in sales, while Payless International grew to nearly $460 million in 2010. The Payless segment is also vertically integrated, as the company produces its own styles and brands, unlike competitors Kohl's (NYSE:KSS) and Shoe Carnival (NASDAQ:SCVL).
In addition to the Payless segment, Collective operates PLG (Performance Lifestyle Group) Retail and Wholesale. PLG consists of children's footwear brand Stride Rite, athletic brand Saucony, Sperry Top-Sider and Keds. Though the retail business consists primarily of Stride Rite stores, both stand-alone and located within Macy's (NYSE:M), Collective has started to roll out its first Sperry stores to capitalize on the brand's recent success.
Same Store Sales Numbers Have Been Dismal in the United States, But We See Positive Signs for the Future
There's no hiding the fact that Payless stores have struggled mightily since 2008. Payless Domestic has posted 5 straight quarters of negative same store sales, as well as 5 straight quarters of falling revenue. In the first quarter of 2011, sales fell nearly 9% and operating profit fell from $49 million to $13 million. Although then-CEO Matthew Rubel went into a painstaking explanation of the poor quarter--all the way down to the specific demographics responsible-- the market felt this was no aberration and the stock sold off to the low-$12 range.
Rubel has since resigned, and Collective is now searching for a new CEO. Ultimately, we feel Payless Domestic is in the midst of a turnaround. Rubel did an excellent job of turning a discount store with an 80's logo into a more fashion-centric low-end player. Payless has struck licensing deals with fashion-forward brands like American Eagle and continues to produce more aesthetically-pleasing footwear. We do, however, think that since the segment has been damaged by its low-end customers' lack of employment and high gas prices, domestic sales will continue to languish for most, if not all, of 2011. Additionally, high input costs will eat up gross margins as the company maintains lower price-points to retain customers. However, as under-productive Payless stores close and the economy continues to recover, we think revenue growth will accelerate coupled with nice margin expansion.
A Cold Canada Stunted International Growth, But Look For That to Return as Well
An excruciatingly cold winter across the Northern United States and Canada became a scapegoat for management in the first quarter. However, they reported positive same store sales growth in Latin America, and struck a major licensing deal for their Airwalk brand in China, which we view as positive. Since the majority of its international stores are located in Canada, where the economy continues to outpace the United States, we are not very worried about the poor first quarter. In absolute terms, sales fell by only $2.5 million.
PLG Wholesale: The Crown Jewel of the Business
Unlike the struggling Payless side, PLG is making strides in direct-to-consumer retail, but even more so in wholesaling. Driven by the explosion in popularity of the Sperry brand, wholesale revenues have increased upwards of 15% the last several quarters. Better offerings and diversified price-points in its product lines have helped Saucony and Sperry catch fire. Though increased input prices have limited margin expansion, we think the wholesale business still has plenty of room to grow both domestically and internationally. We would not be shocked to see this segment approach $1 billion in sales within the next 5 years (it was $667 million in 2010).
Additionally, PLG has begun pursuing direct-to-consumer selling strategies with its opening of the first Sperry stores and selective Stride Rite stores. This is responsible for some of the increased selling expenses the last few quarters; however, such a strategy could prove to be rather profitable over the long term and give Collective even better control of its expanding product lines.
Some Headwinds Do Remain, But Some Safety Exists
It's possible the economy could decelerate in the third and fourth quarter, which would hurt low-end Payless consumers even more. Further, secular tailwinds in running shoes (Saucony) and the recent growth in Sperry could come to a halt, which would cause deterioration in the firm's results.
However, based on our discounted cash-flow process, we think Collective is worth $24 per share. Even under our downside scenario, we think the firm is worth $17 per share, offering the conservative value investor a fairly sizable margin of safety (the firm's stock is currently trading at about $15 per share at the time of this writing). We think this margin of safety is more than sufficient to account for the risks associated with the company, including its search for a new CEO.
In all, we think positive news will set Collective's stock back on an upward trajectory. It currently trades at less than 25% of our 2011 sales forecast, a discount to competitors' and its historical 50% of sales level. We outline our projections for Collective Brands' business, and offer up our DCF Model Template for interested value investors.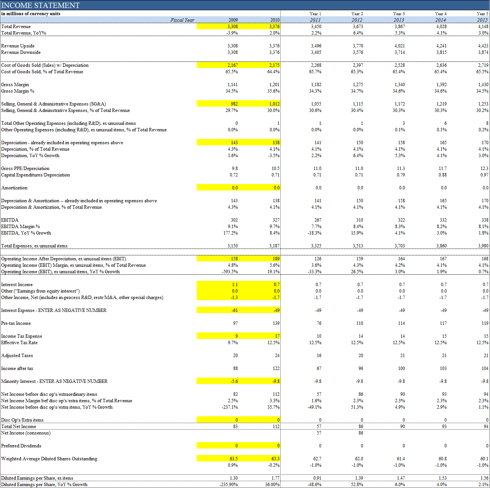 Click to enlarge
Source: Valuentum Securities Inc.
Disclosure: I have no positions in any stocks mentioned, and no plans to initiate any positions within the next 72 hours.