I am hoping to make this a regular column. I believe one of the most undercovered sectors of the market is foreign ADRs. As more and more direct investment flows outside the United States, I think this area deserves more attention. In accordance, I plan to focus on one ADR per week. This week's selection is China Mobile (NYSE:CHL).
China Mobile Limited, an investment holding company, provides mobile telecommunications and related services primarily in the Mainland China. It offers various services comprising local calls, domestic long distance calls, international long distance calls, domestic roaming, and international roaming.
The company also provides voice value-added services, including caller identity display, caller restrictions, call waiting, call forwarding, call holding, voice mail, and conference calls; customer-to-customer messages and corporate short message services; and mobile Internet access services. In addition, it engages in other data businesses, which primarily include multimedia messaging services; color ring services that enable users to customize the answer ring tone from various selection of songs, melodies, sound effects, or voice recordings; and mobile reading, mobile gaming, mobile video, mobile payment/wallet, mobile TV, mobile market, and Internet data center services.
Further, the company offers telecommunications network planning, design, and consulting services; roaming clearance services; technology platform development and maintenance services; and mobile data solutions, and system integration and development services, as well as operates a network and business coordination center. Additionally, China Mobile Limited sells mobile phone handsets and devices.
As of March 31, 2011, it served approximately 600.8 million customers.
8 reasons to own China Mobile at $47
1. The largest mobile operator in the world is selling at around 11 times 2012's predicted earnings.
2. China Mobile is currently hovering at the very bottom of its five year valuation range based on P/B, P/E, P/S and P/CF.
3. CHL has shown remarkable growth over the past half decade. It has averaged approximately 19% annual growth in both earnings and revenues over the last five years.
4. As impressive as that growth in earnings and revenues is, China Mobile's growth in dividends is even more so. CHL has averaged a 24% increase to its dividend payments over the past five years. It now yields 3.9%.
5. It has a solid AA- balance sheet that gives it great flexibility to continue to increase its dividend. It has a low beta of .6 and is priced at approximately 6 times operating cash flow.
6. There have been many rumors recently about China Mobile carrying the iPhone. If these rumors turn out to be true it could significantly improve CHL's revenue growth as well as be a huge event for Apple (NASDAQ:AAPL) given the hundreds of millions of China Mobile users. One more reason to own Apple as well.
7. CHL is down approximately 15% from its recent highs from late last year. It also seems to have strong technical support in the $44 to $46 range (see chart, click to enlarge).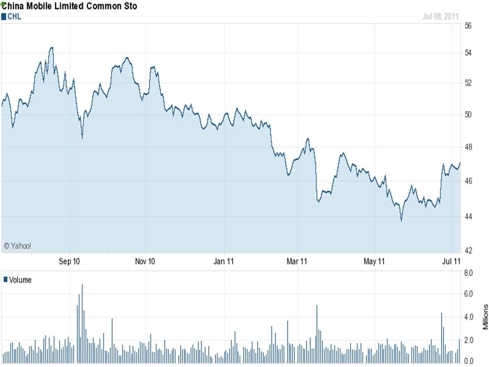 Click to enlarge
8. Mobile phone penetration is approximately 59% in China, much lower than the 90% rate in the United States. This leaves plenty of room to play this secular trend. China Mobile seems undervalued at $47 a share given its growth rates, valuation and solid dividend yield. S&P has a price target of $53 on China Mobile.

Disclosure: I am long AAPL, and might go long CHL in next 72 hours as well.