As long-time followers of Johnson & Johnson (NYSE:JNJ) know, the firm is a steady, established company that has pursued somewhat of a defensive strategy in light of the global economic situation, which continues to muddle along in the US. J&J has pulled back on capital expenditures and R&D, while cutting overhead expenses, amounting to material operating savings. Operating margins have improved from about 26.6% in 2008 to over 27.5% in 2010, and we think there is further room for expansion in coming years.
We believe these operating improvements to be a low risk measure to improve the bottom line, and with expansion into international markets, the firm should continue to experience decent sales growth in all three of its business segments: Consumer products, medical devices and diagnostics, and pharmaceuticals. International growth will continue to be the key driver behind J&J's operations, as shown historically in the chart below.
[Click all to enlarge]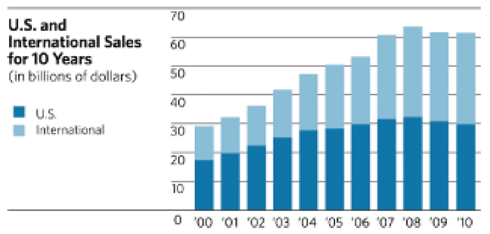 Click to enlarge
Image Source: J&J's 2010 10-K
Recent lawsuits -- including those related to DePuy's artificial hips -- and voluntary recalls in the OTC business should not disrupt these growth expectations too much, and its recent acquisition of Synthes provides further expansion opportunities. We think J&J's shares are worth about $70 each based on a discounted cash-flow basis, and we offer up our DCF valuation model template for interested investors.
The consumer products segment (24% of 2010 sales) continues to face some headwinds due in large part to voluntary recalls and a temporary shutdown of its McNeil Consumer Healthcare manufacturing facility. Total domestic sales decreased 13.8% in its first quarter from the same period a year ago.


Click to enlarge
Image Source: J&J's 2010 10-K
Although this division continues to face stiff competition in the domestic market from private label competitors (as consumers look for lower-priced options), and from branded foes such as Pfizer (NYSE:PFE) and Novartis (NYSE:NVS) that are capitalizing on the recalls, we believe such trends, while a major headache, are not tragic to the firm. In fact, we fully expect the company to regain lost ground in coming years, particularly with its flagship OTC Tylenol. Still, brand repair will be paramount, but we don't expect recent rapid market share gains from Pfizer's Advil and Novartis' Maalox to be sustainable.
In adddition, we think the international market remains quite promising for consumer products growth over the long haul. In the first quarter of 2011, for example, total international sales in its consumer products segment expanded 5.9% from the same period a year ago. We believe J&J will look to its faster-growing markets for further expansion – Western Hemisphere (excluding the United States), Asia Pacific, and Africa – where it's recently experienced double-digit growth (including currency).
J&J's Acquisition of Synthes
MD&D (40% of 2010 sales) has shown modest growth (3.3% increase in the first quarter versus the prior year), and is being driven worldwide by diabetes care, including LifeScan's blood glucose monitoring products, and vision care, which includes Vistakon's disposable contact lenses.


Click to enlarge
Image Source: J&J's 2010 10-K
The MD&D segment as well as the pharma segment face increased regulatory pressure, both in the US and worldwide, from government and insurance companies. This could pressure margins due to lower pricing growth and increased rebates, making efficiency initiatives paramount. J&J's recently-announced acquisition of Synthes, which makes devices to treat bone fractures and trauma, should fit well with its DuPuy segment. We believe Synthes' focus on emergency-related devices will add to J&J's overall defensive characteristics, making it a go-to stock should the global market economy falter. Though we aren't too excited about the purchase price for Synthes (over 11x EBITDA), we do expect the combined entity to achieve its targeted synergies in coming years. The $21 billion-plus deal is expected to close next year.
Pharmaceuticals Division Boasts a Strong Pipeline
J&J holds a strong position in pharmaceuticals (36% of 2010 sales), and its focus on R&D should keep its pipeline robust for years to come. Though R&D funding has been pulled back slightly from 2007 highs (about $7.7 billion), the $6.8 billion spent in 2010 is still more than double the roughly $3.2 billion spent in 2000, and we're anticipating higher R&D spending in 2011 from last year.


Click to enlarge
Image Source: J&J's 2010 10-K
While the loss of patent protection in June for its treatment for bacterial infections, Levaquin (which accounted for 2% of 2010 sales), could cause sales of the drug to potentially be cut in half relatively soon -- as was the case with Topamax, which lost exclusivity in 2009 -- we believe recently-launched products will fill the void. Two of the firm's new launches are Stelara for psoriasis, and Simponi for rheumatoid arthritis, which are achieving incredible growth rates.
Additionally, J&J may also benefit from more favorable trends in the FDA's drug-approval rate, which according to The Wall Street Journal, has increased significantly in 2011. Peers such as Merck (NYSE:MRK), Bristol-Myers Squibb (NYSE:BMY), Human Genome Sciences (HGSI), and GlaxoSmithKline (NYSE:GSK) have had notable approvals this year, and such a favorable trend has also revealed itself in the recent FDA approval of the anticoagulant Xarelto, which was developed by J&J and Bayer AG (OTCPK:BAYZF). Other new potential opportunities for J&J span treatments for advanced prostate cancer, hepatitis C, and HIV, all of which we are monitoring closely.
J&J's Valuation Compelling in the Low $60s
J&J will announce its second-quarter results July 19, and we expect continued growth in international sales as well as some recovery in domestic OTC/Nutritionals. We hope to receive more information on the firm's acquisition program and more detail on the Synthes integration. Should J&J encounter any hiccups along the way, we'd consider adding it to our Best Ideas List under $60 per share, which would reflect a reasonable margin of safety and a dividend yield of about 4%. Our fair value estimate for the company is $70 per share.
Disclosure: I have no positions in any stocks mentioned, and no plans to initiate any positions within the next 72 hours.