Computer Sciences Corp. (NYSE:CSC), a technology company operating within the information technology services industry, currently generates free-cash-flow of $1.01 billion on a trailing 12 month basis. The last trading session valued the business (enterprise-value) at $6.60 billion, hence returning a robust free-cash-flow-yield of 15.3% (click to enlarge image):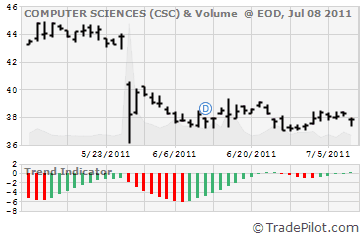 As a result, the company qualifies within my "fundamentally undervalued" watchlist. I look there (as a starting point) for specific stocks with a minimum 10% free-cash-flow-yield, backed up by additional metrics in favor of the investment. In comparison to competing businesses within the same industry, CSC currently offers significant "relative" undervalue. This is based on the noted high free-cash-flow-yield, supported by a low PEG ratio of 0.93 (also of note the forward P/E ratio of 7.33), a price/book ratio of 0.78, an analyst mean target price of $43.85, and insider transactions (company management purchasing the stock) up over 71% in the last 6 months.
I am entering long CSC, hedged by a dollar-neutral short S&P pair trade, a non-directional market-neutral position, in anticipation of the company outperforming the S&P index (NYSEARCA:SPY) over the next 8-12 weeks. CSC is currently trading at $37.82 per share, around 4.73% above its 52 week low.
Disclosure: I have no positions in any stocks mentioned, but may initiate a long position in CSC over the next 72 hours.