With contributions from Derryl Hermanutz
Sometimes you are stunned by "experts" missing the obvious. Case in point is a recent NY Fed study Did Trade Finance Contribute to the Global Trade Collapse? Their conclusion:
This spike suggests that the relative importance of supply shocks hitting exports was larger than that for domestic sales. We can reject an alternative interpretation of these results—that the spike might be the effect of a dollar depreciation. In fact, the trade-weighted dollar appreciated against other currencies in the fourth quarter of 2008. Moreover, it turns out that the relative price increases depicted in the chart were also present in other countries. European exporters also raised their prices relative to prices of domestic producers, and even Japanese exporters—who saw their export values decline by 50 percent during the crisis—raised their prices relative to their domestic prices.

Our findings underscore the role played by financial crises in understanding the forces that cause downturns in real economic activity. While it is difficult to say exactly how important these supply shocks were for the world as a whole, we now have an important indication. Our results suggest that about one quarter of the decline in Japanese exports may have been due to credit tightening arising from deteriorating bank health. Applying this conclusion more broadly suggests that a key way in which financial crises cause recessions and spread them globally is by rapidly cutting off trade-related finance, which quickly shuts down all types of "Main Street" activities here and abroad, including the making, buying, selling, and transporting of huge volumes of imports and exports.
Hello! Most everything – including my brokerage account – correlates to the financial crisis, as the crisis was the cause of this recession. But to imply that there is some extraordinary relationship between credit and trade misses the point – trade and recessions correlate, period. Compare the 2001 to the 2007 recession.
click to enlarge images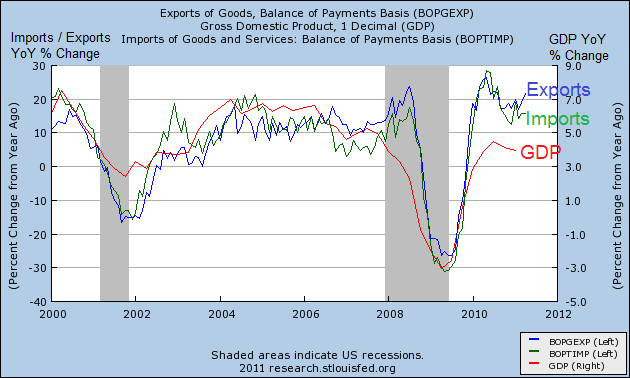 The rather mild 2001 recession (which was not accompanied by a financial crisis) had an export and import contraction of 15%, while the deep and powerful 2007 recession (accompanied by the September 2008 financial crisis) had a contraction of 30%. The news is that trade itself is an indicator a recession is underway. The size of the trade contraction correlates to the size of the recession.
GDP measures spending. A recession occurs when spending on consumption and investment decreases. Some catalyst leads consumers to reduce their spending, retailers and wholesalers and shippers and importers/exporters to reduce their orders, producers to reduce their output, and investors to reduce their maintenance, upgrades and expansions. Imports are just one category of economic activity that gets reduced in a downturn, where spending is reduced to essentials. Insofar as imports are non-essential purchases, imports may take more of a hit than domestic purchases.
Did credit play a part? The backbone of trade is a system of money orders called "letters of credit". In practice, this is not credit but a bank guarantee saying the "money is in the bank", akin to a certified 'post-dated' check. When the goods are received by the importer the money is transferred to the exporter's account. Except for the biggest multinationals this letter is issued against money the bank has locked down. Credit, as the word is commonly used – plays a small role in the majority of international trade.
Where "credit" in trade usually comes into play is from funding which has been arranged through the IMF, World Bank, or the various government sponsored export-import banks. Again, this is a very small part of global trade – and because of the government sponsorship, there was little effect on the 2007 trade contraction. Consumer, business and investor credit were all impacted by the financial crisis, reducing everybody's capacity to spend borrowed money. There was no "special" impact on import/export finance as Amiti and Weinstein would have us believe.
The question posed by Amiti and Weinstein, "Did Trade Finance Contribute to the Global Trade Collapse?", is based on a lack of knowledge of the way that trade is actually conducted by importers and exporters. An exporter will not ship goods until he has in his hands the importer's letter of credit guaranteeing that "the money is in the bank", to be released upon receipt of the shipment. Money that was already in place and committed to paying for imports that were already ordered was not affected by the financial crisis and consequent credit freeze.
International trade is not "financed", it is essentially prepaid. The Amiti-Weinstein arguments based on a collapse of non-existent trade finance are moot.
Economic News This Week:
Econintersect's economic forecast for July 2011 indicates the soft patch will continue. This is based on "less good" data, not data suggesting the economy is falling off a cliff.
This week the Weekly Leading Index (WLI) from ECRI declined from a downwardly revised 1.9% to 1.8%. This level implies the business conditions six months from now will be approximately the same compared to today. This index is eroding and clearly in a downtrend. If the current trend holds, this index will be in negative territory shortly. A negative reading in this index is indicative of a contracting business cycle – and depending on the duration and magnitude of the negative number, may also be suggesting a recession is underway.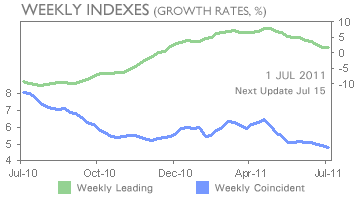 Initial unemployment claims fell 14,000 to 418,000 and remains elevated. The real gauge – the 4 week moving average – fell only 3,000 due to backward revisions. Because of the noise (week-to-week movements), the 4 week average remains the reliable gauge. Historically, claims exceeding 400,000 per week usually occurs when employment gains less than the workforce growth.

We are continuing to see weak May 2011 data – and now almost tragic June employment data. Much of the information that has attracted attention comes from business surveys and Econintersect does not count surveys as data, nor believes they accurately forecast or reflect current economic conditions. The business opinion surveys lead the real hard data by 1-2 months. The elevated initial unemployment claims is a unusual development at this point in a "recovery".
Weekly Economic Release Scorecard:
| | | |
| --- | --- | --- |
| Item | Headline | Analysis |
| May Consumer Credit | Growing | Now growing at an annual rate of 1% if student loans are excluded |
| Oil Bubble? | | Andrew Butter suggests the equilibrium range for crude oil prices |
| June BLS Jobs | Little Growth | Tend to believe ADP's better data may be closer to the truth |
| May Wholesale Sales | Down | With sales at record levels, what does being down mean? |
| Ireland & Argentina | | Pablo Schiaffino and Jose Luis Machinea compare the two financial crises and possible solutions |
| June ISM Services | Down | The internal items are conflicted |
| May Manufacturing Sales | Up | It is up MoM, but in a YoY downtrend |
| G20 | | Barry Eichengreen looks at global imbalances and the prospects for a solution |
| China | | Michael Pettis investigates the duress of small and medium business enterprises |
| Consumer Metrics | | Rick Davis reports current consumer situation |
| China GDP | | Michael Pettis digs into GDP and concludes it is overstated |
| Demographics | | Rick Davis suggests immigration may be a solution to the USA aging population |
| Greece Debt | | John Lounsbury suggests the planned roll over debt is default |
| Greek Taxation | | Andrew Butter looks at tax avoidance – Greek style |
| Free Markets | | Derryl Hermanutz says government interference in health care & housing have inflated costs |
| Greek Deals | | Michael Hudson believes a national referendum is necessary to bind future governments to an austerity program |
| Forecasting the Market | | Chris Turner looks optimistically and pessimistically at P/E ratios |
| TED Spread | | Michael Haltman reviews how to assess when financial crisis is underway |
| Crisis du Jour | | Jeff Miller looks at the worries facing investors |
| Auction Rate Securities | | John Lounsbury updates a largely ignored scandal |
| BRICS | | Frank Li shares his views of the positive & negatives for each economy |
| China Debt | | Michael Pettis examines if China has US style debt issues |
| Spain | | Dirk Ehnts looks at the under 24 unemployment rate of over 72% |
Bankruptcies This Week:
None, but the following press release was issued by Bankruptcydata.com:
Half-way through 2011, BankruptcyData.com reports only 41 public company bankruptcies, with combined pre-petition assets totaling just $8 billion. This represents a further reduction from the already low 53 filings we saw in the first half of 2010.

George Putnam, III, Publisher of The Turnaround Letter, attributes the continued reduction to readily available capital-even for those companies experiencing financial distress. BankruptcyData.com reveals an even more striking reduction in the total asset figures of bankrupt publicly-traded companies, down to just $8 billion thus far in 2011 compared to 2010′s $42 billion half-year total. The 2010 asset count was pushed upwards, in part, by the high number of financial industry bankruptcies, which often report higher pre-petition assets than other industries.

To date, 2011 has seen only two billion-dollar bankruptcies: Borders Group, Inc. and TerreStar Corporation. By this same time last year, there had already been seven bankruptcies with pre-petition asset figures greater than $1 billion (all but one of which heralded from the banking and finance industry). 2011′s reduced filing counts are even more striking when compared to the figures BankruptcyData.com reports for just the first six months of 2009: 122 public bankruptcies, $368 billion in assets, an average filing size of $3 billion and a staggering 28 billion-dollar Chapter 7 or Chapter 11 bankruptcies.

Putnam comments, "We do not expect this decline in bankruptcy filings to continue too much longer. There is a tremendous amount of corporate debt that will need to be restructured over the coming quarters." While many pundits agree that an inevitable resurgence in U.S. Bankruptcy Court activity is on the horizon, a specific timeline is evasive. Putnam explains, "That depends on how much longer the easy credit for troubled companies remains available."

Disclosure: I have no positions in any stocks mentioned, and no plans to initiate any positions within the next 72 hours.