One year ago I wrote an article recommending what I called a 'sleeper stock' that had "...the potential for eye popping gains."

This was an under the radar stock that was miniscule in size, but was well worth bringing to readers' attention. That's because it's much more likely that a sub-$100 million market cap company will triple, or more, in size than a company worth $5 billion.

In that article I wrote:
What do I mean by sleeper stocks? Those that don't have super compelling business descriptions - the kind of companies that you begin to read about only to find that you've slipped off the couch and into a deep sleep on the floor. But these companies are waking up to prospects of future growth - so get vertical again...
I want to give readers an update on this stock's performance since it has done exceptionally well over the last year. The company is Northern Technologies International Corporation (Nasdaq: NTIC). It competes in the less than sexy packing & containers industry.

However, the stock price performance has been pretty attractive, having risen 93 percent over the last year, from $9.84 to $19.03.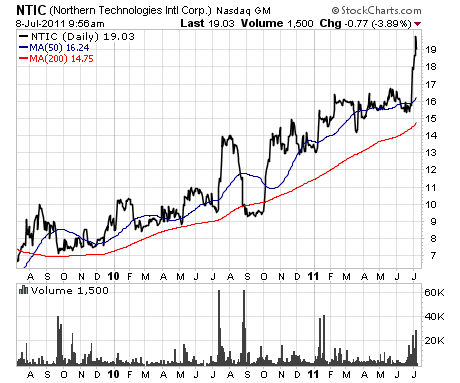 Northern Technology International Corporation makes protective coatings and eco-friendly polymer resin compounds. It's a tiny company - the market cap is still only $83 million.

A year ago the stock traded on very thin volume of only around 2,000 shares a day - today it trades around double that number. However, this is still exceptionally thin volume and accounts for a lot of the stock's volatility. So be aware that share price volatility is the norm, and if you purchase shares don't do so at the top of the stock's trading range, like where it is right now.

Currently, I'd recommend putting the stock on your watch list for a purchase price below $17. If history is any guide, it will retreat to that level on thin volume and offer investors a more attractive entry price.

Despite its tiny size the company has international exposure, an attractive thing for investors who want revenue diversity in their micro cap investments. In 2010, 31 percent of sales came from outside of the U.S.

Over the last twelve months, revenues have grown by an impressive 93 percent to $17.7 million, and net income has increased by 21 percent to $3.65 million.

Looking forward, the one analyst covering Northern Technologies expects 2012 revenues of $22.7 million and net income of $4.9 million. Those projections imply 21 percent revenue growth and 21.5 percent net income growth. If the company meets or exceeds expectations, I believe the stock price will continue trading in its upward (albeit volatile) channel and reward investors who can stomach the erratic behavior of such a thinly traded stock.

Check out Northern Technologies and consider if the stock is right for your portfolio. It isn't going to wow the crowd at your next cocktail party - but frankly who cares.

You can keep it to yourself and enjoy the fact that you're investing in stocks that make big returns - not just those that make for great conversation.