[Click all to enlarge]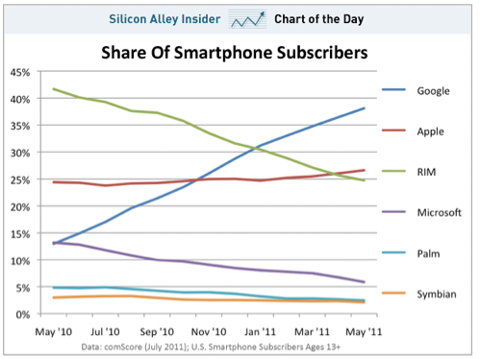 Click to enlarge
The market did not perform exceptionally well at the beginning of the last earnings season after a series of disappointing earnings from the first five companies. These five companies will once again set the stage, and with the rate of increase that the market has had over the past two weeks, these companies will need to say and report top-notch earnings and forecasts or we may have a disaster on our hands over the next couple weeks. These five reports will cover materials, the consumer, technology, and finanicals.
Alcoa (NYSE:AA): The first earnings report of the season is Monday after-hours. Alcoa will be announcing Q2 results that are expected to show a 22% increase in revenue as well as a solid increase in EPS from 0.13 to 0.34. While the company's ability to beat earnings is important, what may be even more important for the aluminum producer is its discussion of what it sees for the rest of the year. How will demand and pricing be for Q3 and Q4? How will AA and other American producers continue to deal with Chinese aluminum, and what effect has the Japanese crisis had on demand? Overall, investors are skeptical coming into this earnings season as the economy has slowed, so if Alcoa can comment that it sees good growth coming in the rest of the year and surprise the market, it will kick off things in the right way.
Click to enlarge
Citigroup (NYSE:C) and JP Morgan (NYSE:JPM): Two financial companies will also kick off the first week, and there are no two more important financial reports than Citigroup's and JP Morgan's. Last earnings season was not strong for financials, and they have been on a downward spiral ever since. The issue for financial companies continues to be a lack of revenue growth and lack of foresight into what is next for financial companies. This quarter seems to be more of the same for the financials. Citigroup expects an earnings increase to 0.97 from 0.90, but is also looking at a drop in revenue of nearly 10%. Even JPM is expecting a 1.5% drop in revenue, but it's looking at another increase of earnings per share from 1.05 to 1.22. Overall, the financials remain distressed with government regulations, lack of new loans, and decreasing revenue. The bad news seems to be priced into the stocks at this point, but another weak round of earnings could lead to more weakness. At the same time, positive conversation of "some" revenue growth would be beneficial to this group of stocks.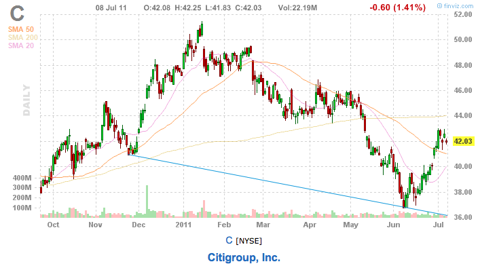 Click to enlarge
Google (NASDAQ:GOOG): The tech giant was another source of weakness for the market in its last earnings report. The company is expected to report a nearly 29% increase in sales as well as an increase in EPS from 6.45 to 7.86. The company has been another market underperformer since its last earnings report. The company has been under fire due to the large amount of spending that has occurred under new executive Larry Page. The company has developed recently Google+, which is supposed to rival Facebook. The company, additionally, has continued to grow market share in the mobile business. Yet the company needs a catalyst to jumpstart the stock again. Google+ is most likely a short-term hype. Talk about the operating system that it's developing would be crucial, and it needs investors to believe that all this spending is going to be something that can eventually pay off big time.
Click to enlarge
Yum Brands (NYSE:YUM): While not a market mover by any means, YUM can give us a crucial look into the consumer, better than any other company reporting this week (other than Marriott (NYSE:MAR)). The company, which runs KFC and Taco Bell, is looking to improve revenues by nearly 5% and see a small jump in EPS from 0.58 to 0.61. It's the first major company that can gauge the spending capacity of the average consumer. A strong report from it about the quarter and about what it sees for consumers moving forward will definitely be important for other food services companies. Additionally, a report of weakness could be very bad for the market, as it may foretell that consumer spending was not nearly as well off as expected.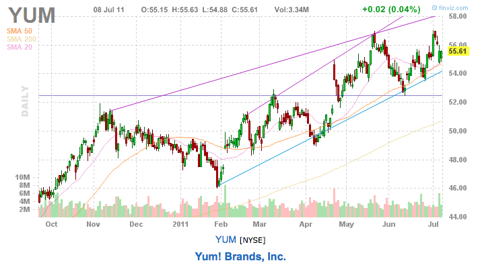 Click to enlargeDisclosure: I have no positions in any stocks mentioned, and no plans to initiate any positions within the next 72 hours.