Any investor that regularly generates annual gains north of 15 percent is likely to be extremely pleased with his returns. After all, the long term average gain of the market is around 10 percent, and beating the market on a regular basis has been proven to be nearly impossible.

So you are wise to question ANY strategy that claims to regularly outperform the market.

But one simple small cap strategy has returned an average 18 percent gain annually for the past 11 years. Better yet, this strategy requires purchasing only one stock, and doesn't require that investors have their money in the market all year round.

This isn't some exotic trading strategy either. And there is no smoke and mirrors type trick to what I'm suggesting. Quite the opposite in fact - it simply requires investors buy one single stock on June 20th and sell it on April 1st. Doing so resulted in a 9.6 percent return last year, and a 78 percent return the year before.

The stock is Callaway Golf (NYSE: ELY). Here are the adjusted returns (the company pays a small dividend) for the period I analyzed over the last 11 years for this stock.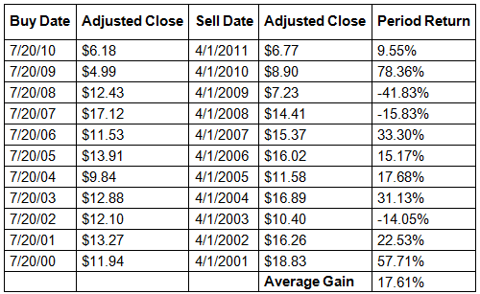 I stumbled across this strategy last year when a summer intern, Ken, was working with our company. Ken was a golfing enthusiast, and while discussing small cap strategies that could beat the market during the summer months Ken suggested we look at golfing companies. One thing led to another, and we realized that we had a simple strategy that had recently worked seven years out of ten - with an 18 percent average gain.
Last year's 9.6 percent return was slightly below average, but didn't pull the now 11 year average down more than a rounding adjustment from 18 percent.
Sometimes you have to look at what has worked in the past if you're going to have investing success in the future. And while one of the arguments against pattern investing is that efficient markets quickly erode repetitive opportunities, some patterns like this one still work - most of the time.
I'd argue that this pattern has not yet broken, and it is worth allocating some money toward Callaway's stock right now.
For those of you who, like me, aren't pure technical or pattern traders, it's a wise idea to look at the fundamental reasons for investing in Callaway. And there does appear to be some fundamental rationale for why this pattern continues to play out.
Historically, Callaway reports stronger earnings in the first half of the year. Then as product demand decreases, earnings reports grow weaker in the third and fourth quarter. With few attention-grabbing events for the rest of the year, investor interest wanes and the stock price tends to move lower.
That appears to be the fairly regular pattern, and while seasonality is something that many companies (and stocks) have to overcome, it appears that trading it with Callaway can be profitable.
However, there are a few developments that could shake this pattern up. At least, that's what long-term investors are hoping.
To be blunt - the company hasn't been doing well. In fact, its market cap has dwindled from around $2 billion to just $415 million over the last four years. The culprit has been flat, and now projections for slumping, sales. In the last couple of years while sales have decreased net income has turned negative.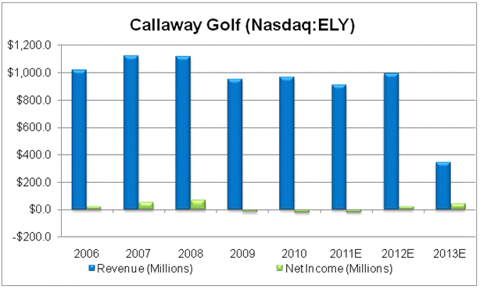 Usually, when dividend paying companies consistently lose money, they stop paying the dividend. Given that Callaway still pays a $0.04 dividend, it would be wise for new investors to question how long this will go on for.
Despite the rough patch (honestly, no pun intended), there may be cause to be a buy and hold investor in Callaway right now. With the stock badly beaten down, a number of recent management changes, and plans for job cuts and cost reductions, Callaway's stock may be a value investors dream.
I'm out of space today, but I'll go into greater detail on Callaway's turnaround effort in a follow-up article.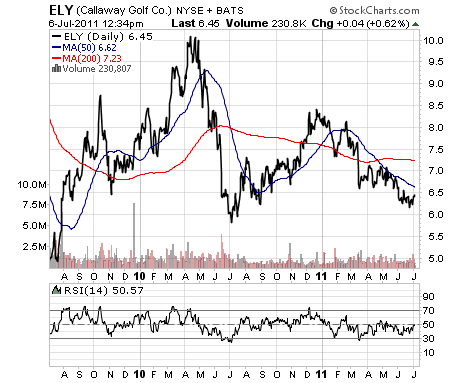 For now, remember that July 20th is only 9 trading days away, and Callaway's stock is trading around $6.45. The current price means the stock is just below where it was trading as of the last theoretical 'sell' date.
Beyond any fundamental rationale - and purely based on the stock's historical pattern of delivering an average 18 percent annual gain, now looks like a fairly low risk time to buy.