Microsoft: Over-Hated, Under-Valued, and Set to Outperform
After starting off as one of the fastest growing and most dominant companies of all-time, Microsoft (NASDAQ:
MSFT
) has stagnated tremendously over the past decade and has left many investors and highly-respected analysts wondering if growth and innovation will ever be achieved again. Microsoft has fallen from growth company status to a large, dead-in-the-water technology company with few believers. Many even think the company will spiral down as it loses against Google (NASDAQ:
GOOG
), Apple (NASDAQ:
AAPL
), and the long list of competitors looking to steal customers and market share. But after years of poor stock performance, failed product initiatives, lackluster growth, and plummeting investor faith in the company, Microsoft's tremendously appealing valuations, extremely low expectations, high-potential partnerships, promising new ventures, and exciting new growth opportunities on numerous fronts may catapult the company back into the spotlight as it recaptures its once-dominant position and sees its stock price outperform its peers.
Early Growth
Microsoft was far more dominant at its beginnings than both Google and Apple:
[Click all to enlarge]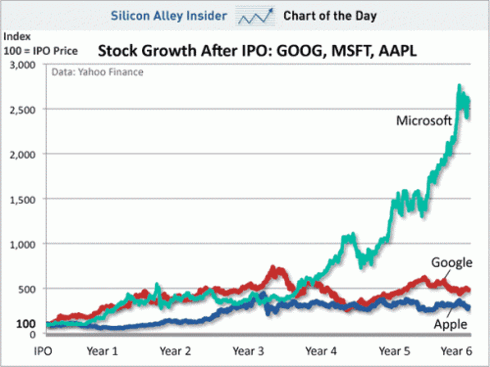 Microsoft's early performance was over 2000 percent greater than both Google's and Apple's early stock performances. Microsoft grew so rapidly and dominated to such a massive degree that its market cap reached $600 billion by late 1999. Though at the height of the technology bubble, the $600 billion market cap it had reached in 1999 is nearly double of Apple's current $332 billion market cap and far higher than Exxon Mobil's (NYSE:XOM) $400 billion market cap.
Stagnant Growth
Unfortunately, Microsoft lost more than half of its market cap when the tech bubble collapsed in 2000-01, and has failed to recapture such dominance since.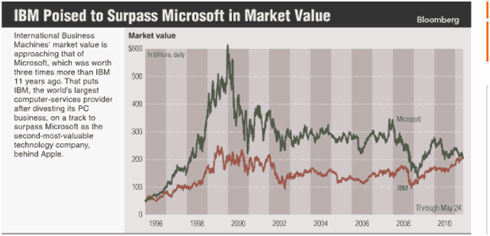 And while the broader market (S&P 500) is up approximately 30 percent over the past 10 years, Microsoft is flat and even negative (around -5 percent) over the same time.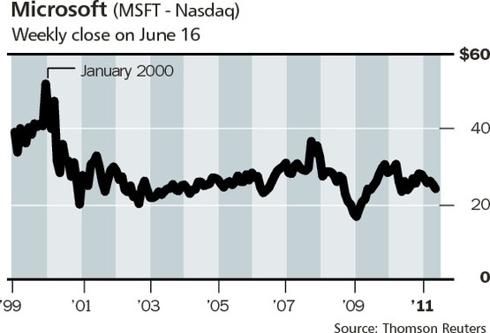 Compare Microsoft's flat performance to that of its long-time comparison,
IBM
: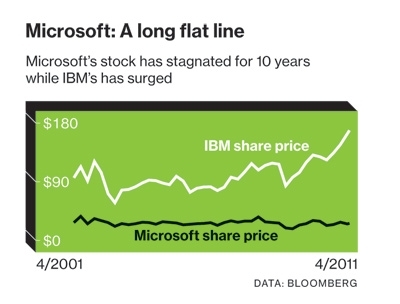 With such terrible performance, and a dead stock for 10 years, it is no wonder investors have both forgotten about and avoided Microsoft for some time now. It is still considered one of the premier large-cap stocks out there, but with no excitement or stock performance to go with it, Microsoft has lost a lot of its appeal. It has even been called a "value trap" – a stock that seems to be a great buy based on value, but never sees the stock price increase enough to justify buying it. In other words, it may look like a great investment but it never turns out to be.
Reasons for Microsoft Hating
Other than the stagnant stock growth which has resulted in a lost decade for Microsoft, the company has lost favor amongst investors for a wide range of reasons – from losing to competitors to failed product initiatives to poor management.
Perhaps two of its best-known rivals, Google and Apple, have seen tremendous gains over the past five years at the expense of Microsoft. Google and Apple have entered into smart phones, operating systems, cloud computing, internet search, music, social networking, and even document programs. Microsoft not only competes in many similar market segments, but it also lags behind these companies in successful product lines and innovation over the past few years.
It is also officially losing to Apple after Apple took over as the company with the bigger market cap and higher net income for the first time ever: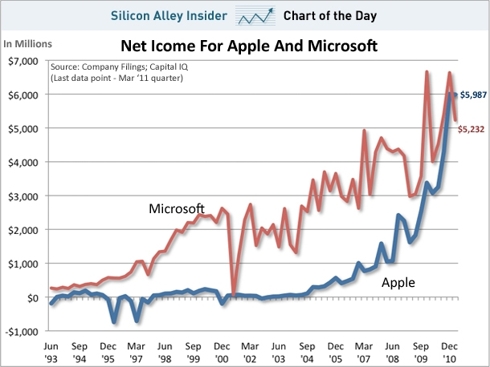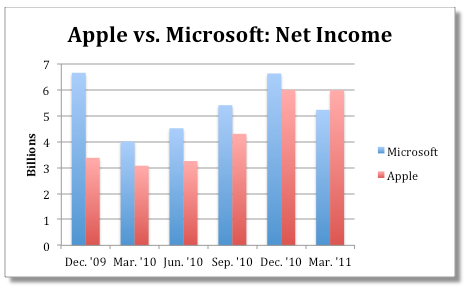 Source: CNN Money.
Microsoft has also launched a few failures, the most notable being the Zune music player which was doomed from the outset as it challenged the completely-dominant Apple iPod. The Zune will no longer be produced, but the failure of Microsoft to innovate – and its persistence in following other companies rather than leading – has been one of its biggest threats.
Much of the blame for Microsoft's failures has been directed at CEO Steve Ballmer for missing the huge opportunities in internet search and mobile phones, among other things.
Microsoft has attempted to enter and catch up to its competitors in search and mobile phones, but is still considerably behind. Its share of smart phone subscribers is still far behind Google (GOOG), Apple (AAPL), and Research in Motion (RIMM):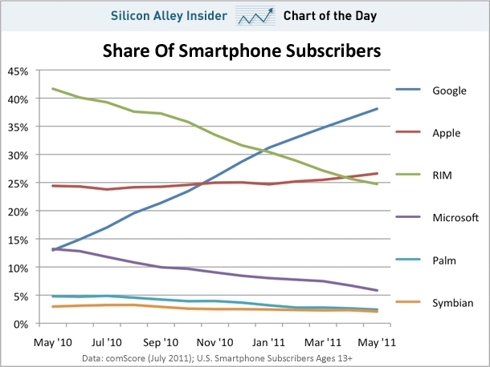 Comparing its dominance 10 years ago to its current position, we can also see how Microsoft's hold on the market has weakened: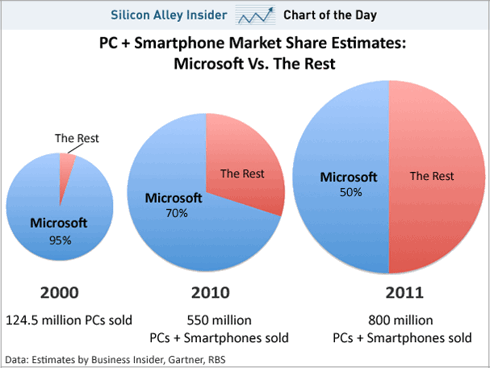 The company has also lost big in its online attempts: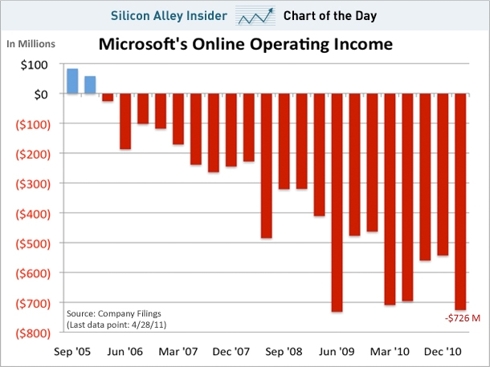 Microsoft's failures and stagnant performance have been the source of much discontent and distrust over the company's future. Many lay the blame on poor strategic choices, stronger competition, failure to innovate, and ineffective management.
In late May, hedge fund manager David Einhorn
called for the replacement of Ballmer
, claiming that, "His continued presence is the biggest overhang on Microsoft's stock." While Ballmer's supposed ineffectiveness may or may not have caused Microsoft's stagnation, he did triple revenues and EPS since he took over when Bill Gates stepped down in 2000.
Though partially incomplete, here's Ballmer's legacy since 2000: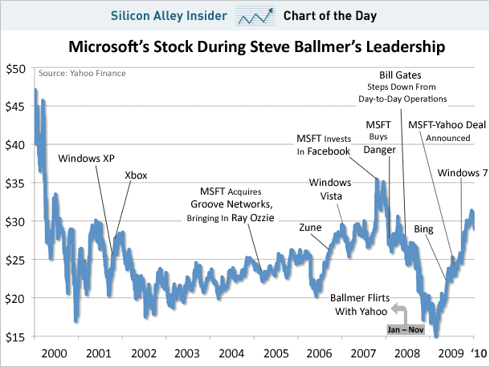 Reasons to Buy Microsoft
1. Highly hated. From an investor's psychological and behavioral point of view, Microsoft looks like it has a lot of disbelievers, avoidant investors, and extremely low expectations. When expectations are so low, and many investors have essentially given up on the company and the stock, it is time to buy. If Microsoft can gain momentum in any of its segments or new initiatives, or if it improves in company or stock performance, it could attract a lot of attention. Any decent news or stories about Microsoft could highly boost sentiment and in turn the stock price.
2. Undervalued. Perhaps one of the best values around, Microsoft's financials are outstandingly appealing:
Extremely Low P/E ratio. With a P/E ratio near 10, Microsoft is selling at an insanely low valuation – compared to ratios of 15 for Google, 17 for Apple, 85 for Netflix (NASDAQ:NFLX), and 94 for Amazon (NASDAQ:AMZN). With average P/E ratios near 15-20 for the market historically, Microsoft is not only trading at a discount to the overall market, but is selling at a bargain in comparison to its competitors and its individual parts.
Value-model confirmation. According to investment models based on value-investment legends Peter Lynch, Benjamin Graham (Buffett's mentor), and others, Microsoft looks like a strong buy at these levels: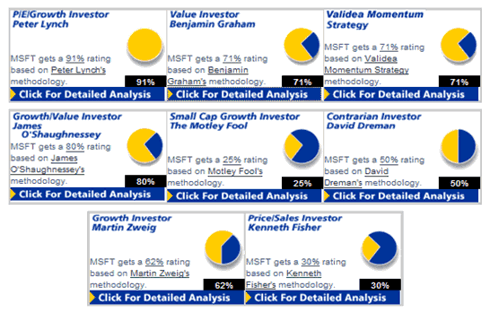 Source: Nasdaq
Not only are the valuation models confirming Microsoft as a buy, but well-known value investor Whitney Tilson of T2 Partners also showed his support of a Microsoft growth story:
Value investor Whitney Tilson of T2 Funds has been a longtime Microsoft supporter. In his 2010 yearend letter to investors, Tilson wrote that the stock's valuation was "insanely low." In February he told his investors he was adding to his Microsoft stake. He took issue with what he called the "consensus view that Microsoft is a fading giant," saying "there is no current evidence to support it. Microsoft's market share in its key business areas is stable or rising, and sales, margins, and profits are growing nicely. We think there is robust growth in store for Microsoft."
EPS growth. Microsoft stock has struggled, but the company's earnings per share have grown tremendously over the past two years. If EPS continues to rise, we can expect the stock price to start catching up.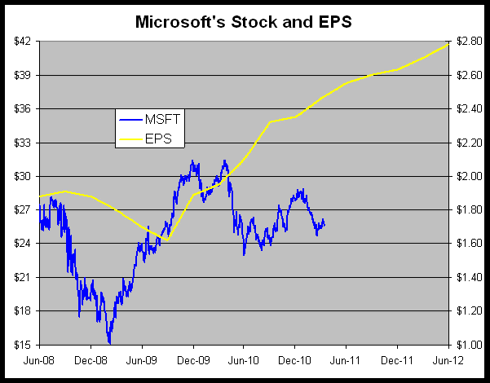 Source:
Crossing Wall Street
Yet while much of the above is highly striking as negative news for Microsoft and may cast a large shadow over the future of the company, there are a number of reasons that are starting to make Microsoft look like a huge value play and a big potential comeback story.
3. AAA rating. Microsoft recently had its AAA rating confirmed by Moody's. A strong financial backbone with a high rating is yet another reason to place some trust in a company.
4. Huge cash position. With nearly $50 billion in cash, Microsoft has huge potential for growth through acquisitions and new initiatives, the ability to pay out higher dividends to its loyal shareholders, and the strength to endure an economic downturn. With nearly $6 per share in cash and investments, Microsoft's cash position is not only a value investor's dream – it is one of the necessary requirements for new ventures and future growth.
5. Dividend. Paying out a 2.4% dividend, Microsoft at least provides investors with an income throughout this stagnant period. We expect the stock price to move higher, but the dividend definitely helps increase returns. Moreover, that huge cash position could one day turn into a higher dividend payout.
6. Big potential across multiple sectors. Microsoft has its hands in a large range of products and services, all of which have a chance to raise big profits in the future:
Windows. Starting with its best-known and most successful product, Windows provides Microsoft with a dominant entry point into the PC world. Windows generates income, cash, and -- though it is currently facing some PC weakness and upcoming competition against Google and others – may provide the company with more opportunities in the future. Just compare Windows 7 sales to the entire catalog offered by Apple.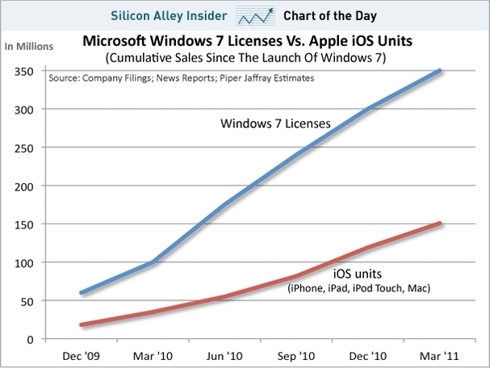 Windows 7 has sold more than iPhones, iPads, iPods, and Macs combined.
Bing. Though still far behind Google in the internet search space, Bing offers Microsoft some decent opportunities as it teams up with Facebook and Baidu (NASDAQ:BIDU). Google failed in China, and with Microsoft now set to handle the English language searches for Baidu, the partnerships with Facebook and Baidu not only connect Bing and Microsoft to hundreds of millions of new users, but may even help Bing challenge Google to a much greater degree while simultaneously boosting revenues.
Xbox. After years of losing money on the Xbox, Microsoft has been seeing growing income from the gaming division – totaling over $1 billion over the past year. Though that one billion only makes up a small portion of the broader company, the increasing growth in the division and the opportunity ahead make the Microsoft story look even brighter.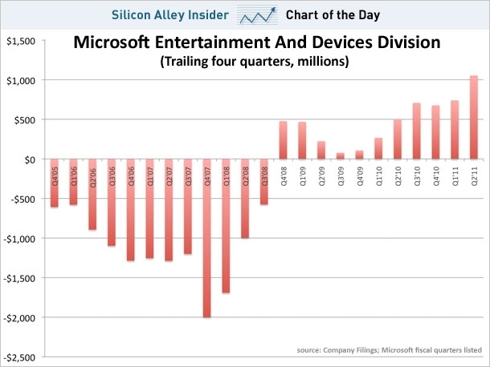 Smart phones. Though Microsoft is still far behind the competition of Apple and Google, its smartphone division offers some hope as the smart phone market should grow 49% this year, according to IDC. Moreover, though I find it hard to believe Microsoft will outdo the iPhone or the Android, the growing market for smart phones puts Microsoft in a position to benefit. IDC has even made a surprising bet that Windows Phone 7 will beat the iPhone by 2015. I wouldn't say I completely believe that will happen, but there are definitely some good future opportunities for Microsoft in this space.
7. Promising New Initiatives. Many investors have given up on Microsoft because they think it stands far behind the competition in internet search, smartphones, and innovation among other things. But investors may be ignoring the numerous new initiatives the company is currently undergoing, which could highly boost earnings and future growth:
Skype. Recently buying Skype for $8.5 billion, Microsoft may have made an extraordinary acquisition that will generate much higher revenues than originally expected by investors. Not only does Skype offer big potential for Microsoft's existing businesses – from video conferencing to voice communication in videogames; but according to Cown analyst Gregg Moskowitz the deal "makes strategic sense given Skype's large customer base of 170 million active monthly users, high growth rate and potential to enhance other Microsoft products and services."
The Skype buyout has not only allowed Microsoft to
bring its video calling service
to "select Android phones with a downloadable app that allows two-way video chat with Skype users on other platforms including iOS, Mac or Windows (Seeking Alpha, Market Currents)"; it has also allowed it reach the entire Facebook user base.
In a partnership with Skype,
Facebook announced on July 6
that it will now offer a new video calling feature. The video-call feature will take the already-dominant video-calling Skype (currently 300 million minutes of video per month) from a 170 million customer base to a potential 900+ million customer base with the addition of the 750 million Facebook users.
Microsoft's strong ties with Facebook, now through both Bing and Skype, stand as extremely promising future opportunities. With these strong connections in internet search and its recent acquisition to the most dominant social-networking site around, the 750 million person user base could add some very significant revenues to Microsoft's balance sheet in the upcoming future.
Conclusion
After years of underperformance, failure to innovate, and plenty of investor frustration, Microsoft may be staging a comeback which will see continued growth, market-leading innovation, and increasing stock price. With many investors and institutions pessimistic about the future of Microsoft and downbeat on any considerable future growth, the extremely low sentiment bodes well for a Microsoft comeback. The high pessimism, low expectations, and very appealing valuations make Microsoft an extremely interesting buy at current levels.
Its strong earnings growth and huge cash position give it the opportunity to increase dividends, buy out other companies, increase its competitiveness, and continue to grow. And its huge new partnerships and initiatives across a wide range of sectors – from Skype/Facebook to Bing/Baidu, Bing/Facebook, Bing/RIMM to Nokia and Toyota – put Microsoft at the top of the list of companies with huge potential catalysts for growth in the future.
It is no wonder outgoing Google CEO Eric Schmidt
said
in late January that in terms of rivals, Microsoft is number 1, as "has more cash, more engineers, more global reach."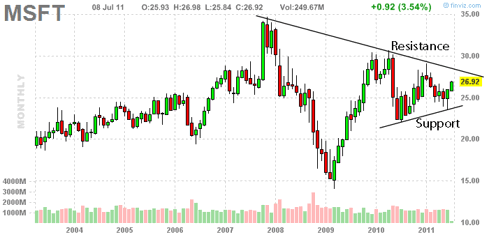 With such low expectations and such huge potential opportunities in the future, Microsoft looks like it is setting up for a renewed run to the top – or at least a move away from the bottom. If the stock can stay above $23 (currently near $27), its future looks good. If it can break above $28, I expect a much bigger move.
Disclosure: I have no positions in any stocks mentioned, but may initiate a long position in MSFT over the next 72 hours.