As long-time followers of Valuentum know, we're not too fond of airline stocks. Essentially, we view them as merely a speculative bet on the trajectory of economic growth and the direction of jet fuel prices. But while the price of black gold remains largely out of airline executives' control, it's hard not to like the economic growth prospects of the Brazilian air travel market, which has been on a tear during the past several years thanks in part to heavy discounts on fares offered by low-cost carriers such as Gol (NYSE:GOL). Plus, the 2014 World Cup and the 2016 Olympics, both to be held in Brazil, will serve as temporary and abrupt stimulants for air travel demand toward the middle of this decade. The "Gol Effect" as outlined below is quite remarkable ... and all of this expansion is despite the country's strained air travel infrastructure.
[Click all to enlarge]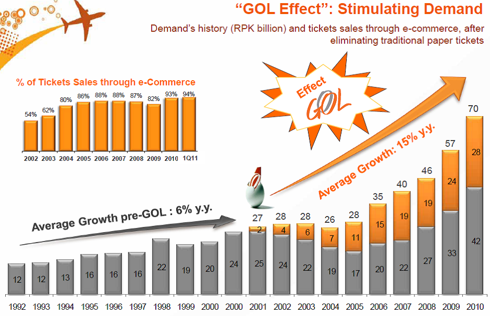 Image Source: Gol's 1Q Conference Call Presentation
The lower fares that have caused this tremendous growth have also shifted the way many Brazilians travel, with air travel now a more popular choice than bus travel -- a major shift from just a few years ago. We expect this trend to continue.



Image Source: Gol's 1Q Conference Call Presentation
Brazil's air travel market should continue to advance at a double-digit pace during the next few years, and Boeing's (NYSE:BA) estimates for long-term growth in Latin America aren't too shabby either (Source: Boeing's Current Market Outlook, 2011-2030):
The region's economy is projected to grow strongly over the next 20 years, spurring Latin American air traffic growth to exceed the world average. Traffic within the region is expected to grow at a rapid pace, most quickly within South America, where growth will average 7.0 percent per year. By 2030, South America will have the sixth largest internal traffic flow among the regions covered in the Current Market Outlook. Total traffic carried by Latin American airlines will grow 6.9 percent annually.
Expecting Further Consolidation in the Brazil Air Travel Market
Last Friday, Gol, which is the second-largest Brazilian carrier, announced that it is pursuing merger negotiations with the fourth-largest player in the Brazilian market, Webjet. We'll be looking to see if such activity stimulates Brazil's largest carrier TAM (NYSE:TAM) to take a stab at hooking up with smaller peers, if its proposed deal with Lan Airlines (NYSE:LFL) falls apart. That deal is expected to close early next year. It's also possible that if the merger agreement between TAM and Lan Airlines is blocked, Lan Airlines may pursue Gol as a partner.
Azul Brazilian Airlines -- which was founded by former JetBlue (NASDAQ:JBLU) executive David Neeleman -- OceanAir, Trip Linhas, and Rico Linhas are other potential acquisition candidates in this region. None of these probable takeouts owns more than 5% of market share in Brazil, so we're not talking about huge tie-ups. However, rolling up these smaller carriers will add to TAM's and Gol's dominance of the Brazilian air travel market and help to shut out encroaching competition, which has been advancing considerably in recent years. Gol and Tam owned over 90% of the Brazilian market as recently as 2007. Now, they own about 82%.



Image Source: Gol's 2010 20-F
Boeing's Current Market Outlook also speaks to potential consolidation within Latin America in the future:
Airlines have been consolidating to expand their businesses across the region. During 2010, Avianca and TACA completed their merger, and LAN and TAM announced their merger into LATAM. Opportunities may exist for further consolidation in the region over the next 20 years. These more competitive airlines will allow Latin America to have a more substantial stake in the airline market. Today, Latin American airlines account for 48 percent of the traffic to, from, or within Latin America. By 2030, that number will grow to 61 percent.
Net-net, we view consolidation in the Brazilian air travel market among participants as a positive to that region's industry, allowing competitors in Brazil to better manage fares while still stimulating demand in the region. Notably, we don't expect any transaction activity from the US domestic majors -- AMR Corp. (AMR), US Airways (LCC), etc. -- in this region as a result of ownership restrictions. We think Brazil is a great long-term growth opportunity for airlines and the consolidation story compelling, but we maintain that long-term equity investors are better suited investing their money in a place other than the airline industry.
Our Best Ideas in the Airline Sector
As outlined in our Best Ideas List, which we deliver to our subscribers every month, a long-dated put option on the Guggenheim Airline ETF (NYSEARCA:FAA) is the best way, in our opinion, to play the sector at this time. We think the uncertain global macro situation coupled with rising crude will make for a tumultuous environment during the coming months. Our ideas are backed by rigorous discounted cash-flow analysis, and our process is extremely transparent. We make available our discounted cash-flow valuation template here for interested investors, a process we believe is the best way to look at airline stock valuations. At current levels, we're not seeing much valuation upside to Brazilian operators, but given the prospects for consolidation, we're growing more constructive on the region.
Disclosure: I have no positions in any stocks mentioned, and no plans to initiate any positions within the next 72 hours.