Sprint (NYSE:S) purchased booth Boost Mobile and Virgin Mobile for one reason: to eventually go head to head with MetroPCS (PCS) in the low end market while focusing on the middle market with the Sprint brand.
There is a considerable amount of pent up demand for smart phones with quality in the prepaid, low cost market and Virgin Mobile just hit the ball out of the park. Below is the Motorola (NYSE:MMI) Triumph, which will be released July 16th.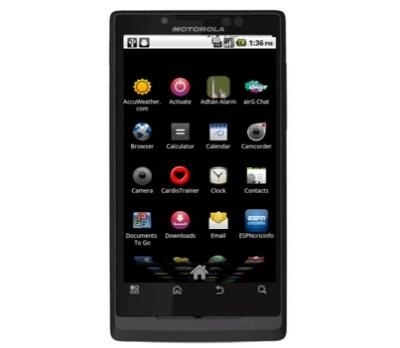 COSTS:
For $60 per month, one gets unlimited 3G and unlimited texting and calling. The phone is expected to sell between $200 and $400, but will surely come down several months after its initial release. Further, for even more budget concerned buyers, there is an unlimited data/texting 1,200 minutes per month option which costs only $40 per month or 300 minutes per month and unlimited data and texting for only $25 per month.
FEATURES:
Doing a search on Youtube shows many videos showing the features of this phone and the features are many. The phone has a 720p video camera in it, a large 4.1 inch screen, a 5 megapixel camera with led flash and stock android 2.2.
The 3G coverage at Virgin is fairly good and it is currently covering significantly more area than the new MetroPCS 4G network. For those looking for an excellent phone, a decent network, a good initial and monthly price and want it now, this is the best choice on the market, although technically the phone comes out July 16th.
MOBILE PHONE MARKET:
This hurts MetroPCS the most because they are the current leader in the prepaid market. But nobody can dispute the fact that MetroPCS has been very slow to bring high quality phones to market. This has opened an opportunity for aggressive prepaid competitors to steal market share and it appears Virgin Mobile finally did it right.
All in all, I have to award this phone the number one value in the entire mobile phone market. It is smack dab in the middle in network quality, but on the high end for phone quality, but on the low end for price.
This is going to force MetroPCS to either take a large hit in its highest end market growth, or it will drop prices on both the Samsung (OTC:SSNLF) Craft and Samsung Indulge. Even that will not work instantly though because there are still large markets which MetroPCS' 4G network cannot reach, including my own. This all comes on the heels of a massive attack on this market from AT&T's (NYSE:T) T-Mobile. Last month T-Mobile announced a massive sale to go after the high end prepaid level market. The sale was to offer a free Mytouch 4G which normally costs $200.
For a more head to head comparison of Virgin Mobile and MetroPCS, it is best to have equal phones. Both companies sell the LG Optimus. The only difference between the phones is that Virgin's model runs at 3G while Metro's doesn't. MetroPCS charges $50 per month and $100 up front for this phone. Virgin charges $150 up front and $60 per month, but includes 3G. Additionally, with 1200 minutes, one can pay only $40 per month for the Virgin.
Sprint doesn't release detailed earnings information for each of its brands, but from Sprint's most recent quarterly earnings report some insights can be gained:
"Prepaid churn for the first quarter of 2011 was 4.36 percent, compared to 5.74 percent for the year-ago period and 4.93 percent for the fourth quarter of 2010. The year-over-year and sequential improvements in prepaid churn were primarily a result of the predominance of Boost Monthly Unlimited subscribers on CDMA and Assurance WirelessSM customers, who on average have lower churn than that of Virgin Mobile customers. Prepaid churn also benefited from improvement in churn for Virgin Mobile customers both year-over-year and sequentially.

Wireless service revenues of $6.6 billion for the quarter represent an increase of approximately 3 percent compared to the first quarter of 2010 and the fourth quarter of 2010. The year-over-year improvement is primarily due to higher postpaid and prepaid ARPU, an increased number of prepaid subscribers as a result of the Boost Monthly Unlimited offering, additional market launches of Assurance WirelessSM and the re-launch of the Virgin Mobile brand, partially offset by net losses of postpaid subscribers since the first quarter 2010. Sequentially, wireless service revenues increased primarily as a result of higher postpaid and prepaid ARPU and growth in prepaid net subscribers."
ANALYSIS:
What we can see from all of this is that Sprint is managing a massive brand and it hides the details of its prepaid segments. The bottom line though was clear and that is that prepaid subscriber growth is saving the company. Boost Mobile in particular had significant growth. It is my opinion that Sprint has created two competing brands with Boost Mobile and Virgin Mobile, which compete only with each other and MetroPCS and the Cricket brand of phones. When Boost Mobile begins to take the lead, then Sprint releases another phone from Virgin Mobile. When Virgin takes the lead, Sprint releases a new Boost Mobile phone. The Motorola Triumph is the perfect example of this. The earnings report showed that Boost Mobile accounted for most of the revenue growth last quarter and that was primarily due to its superior phones being offered, namely the Motorola i1 and especially the Samsung Galaxy.
CONCLUSION:
Buy the Motorola Triumph! It offers the perfect combination of what you need and what you can afford. No need to get ripped off at Verizon (NYSE:VZ) or AT&T or be disappointed with MetroPCS quality. As a result of my conclusion, there is a strong case to buy Sprint equity as well, especially in the short term. Once the MetroPCS 4G network has significantly better reach, things will likely swing back towards MetroPCS, but time is of the essence and until that time it is Virgin Mobile which is the new leader of the bunch.
Below you can see how each of the big telecom company stocks has performed year to date. MetroPCS is the clear leader and that is why most companies' newest products are targeting their territory. The lower end market is where the growth is going to be for a long time unless the economy improves dramatically. With signs of a double dip re-emerging, Verizon (VZ) looks more vulnerable than it has in a long time.
Disclosure: I have no positions in any stocks mentioned and no plans to initiate any positions within the next 72 hours.