I have a fairly focused stock portfolio. On a regular basis, I review my holdings to sell, buy, add additional shares, or do nothing. My portfolio is based upon dividends. Thus I typically have incoming money to add to the portfolio. Here are the top-10 dividend stocks I currently own, in order of preference.
1. American Capital Agency Corp. (NASDAQ:AGNC)
American Capital Agency continues to outperform the S&P 500. Since 2008, AGNC has returned a total annualized rate-of-return of 27.5%. When compared to the S&P 500 return of .4% over the same time period, the differences are accentuated and crystal clear.
AGNC's business
model
is to borrow Treasury Bills at low yield rates, and invest the proceeds in higher yield paying agency-mortgage obligations. Government Sponsored Entities (GSEs) include organizations such as Fannie Mae, Freddie Mac, and Ginnie Mae.
The business model has continued to shine as Treasury bill and Treasury bond rates have
declined
dramatically over recent years. Agency-mREITs perform extremely well when interest rates are decreasing. The rational is
short-term
borrowing rates have an inexpensive yield curve, which reduces the rate at which mREITs borrow funds.

Secondly, the agency-MREITs long-term agency debt paper rises in an inverse relationship to the longer-term mortgage yields. For example, A 20-year GSE bond, with a stated yield of 6% is worth a premium as the typical 20-year GSE bond is now offered at 3.97%. An investor is inclined to pay more money for a bond yielding 6% than a similar bond, same duration, with a 3.97% yield.
AGNC's
ex-dividend
date was June 21st. Investors will receive the quarterly dividend of $1.40 payable on July 27th.
AGNC was
able
to complete a $1.2-billion
secondary
due to the demand for AGNC shares. The $5.60-annual dividend equates to a current 18.5% annual dividend yield based upon a $30.20-stock price. AGNC remains my top selection due to the high dividend yield based upon the current Treasury interest rate environment.
Click to enlarge: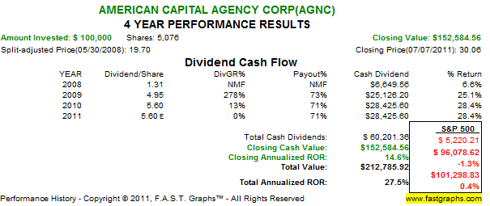 2. Hatteras Financial Corp (NYSE:HTS)
My second choice is also in the agency mREIT sector. My investing style is to focus upon what sectors are outperforming the overall stock market and provide significant dividends. Hatteras has outperformed the S&P 500 by a 15.3% rate-of-return vs. the S&P 500-rate of return of .8% over the same time frame. HTS's SEC
S-11
initiated Hatteras's initial public offering.
Investors can identify Hatteras's mission on page
7
of the recent 10Q, to capture the yield curve difference on agency backed mortgage securities. HTS is externally managed by an experienced agency-MBS firm:
Atlantic
Capital Advisors LLC.
Click to enlarge:

HTS has paid
$1.00
-per quarterly share for the past 3 quarters. HTS's ex-dividend date was June 27th and dividends will be paid on July 22nd. Based upon an annual dividend payment of $4.00, the stock provides a 13.73% annual dividend yield. HTS is currently trading at $29.13-per share.
Click to enlarge: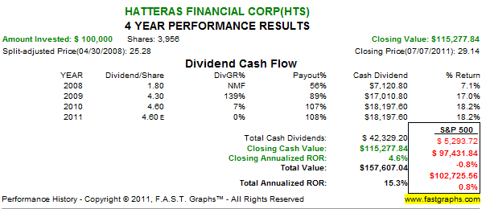 3. Cypress Sharpridge Investments (NYSE:CYS)
Cypress
Sharpridge Investments is right in line with the agency mREIT sector. Once investors receive their first few mREIT dividends, they realize that they are getting back a significant percentage of their return of capital.
CYS's 3-year total annualized rate-of-return of 17.0% underperformed the S&P 500's 23.2% return. The S&P 500 experienced a significant upside over the past 3 years.

CYS has an explicit, clean, understandable business model. The management team appears to own all the requirements for running a sound and honest mREIT
machine
.
Click to enlarge: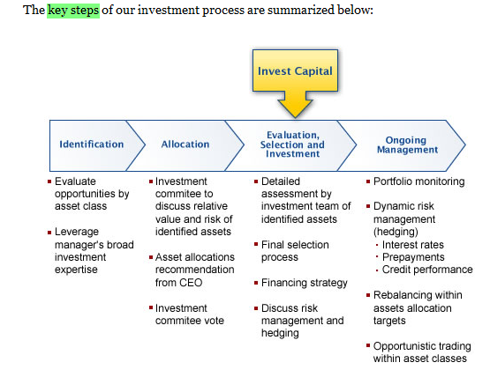 CYS's Chief Executive Officer, Kevin E.
Grant
, has extensive experience from Fidelity Investments. CYS is focused upon agency-Mortgage Backed Securities (MBS). The team is focused, driven, and experienced.
CYS's
ex-dividend
date was June 22nd. The 60-cent per share dividend will be paid on July 27th. Based upon an annual $2.40-annual dividend, the annual yield is 18.28% based upon a $13.13-per share stock price.
4. CVR Partners, LP (NYSE:UAN)
CVR
Partners is the latest entrant into the fertilizer space. As investors who follow fertilizer
prices
recognize, fertilizer prices keep going up across the board.
CVR Partners is narrowly focused upon a specific fertilizer
niche
market: production and marketing of urea ammonium nitrate (UAN) and ammonia fertilizer products.
The world's
population
continues to grow. There is only so much farm land and a growing number of young mouths to feed. To increase the land productivity and obtain additional crop output, fertilizers are one central solution to enhance soil production.
CVR Partners recently came public in the past few months. The stock has not hit the radar of many dividend investors. Many dividend investors require 1 year, or at a minimum one quarter of results, for the stock to appear on their quantitative yield stock screens.
The stock has outperformed the market in its short lifespan. On an annual basis, the annualized total rate-of-return is 211.9%. This only points out the limited trading in UAN. The company is expected to announce quarterly results on August
4th
. UAN is anticipated to pay around $2.00-per share in annual
distributions
. These estimates were based upon lower fertilizer prices, so it is feasible the annual dividend amount and yield will be higher than originally planned.
Click on charts to enlarge: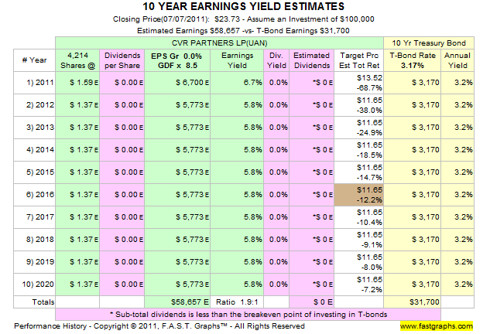 5. Gabelli Global Gold, Natural Resources & Income Trust (NYSEMKT:GGN)
GGN is one of my favorite closed end funds. This CEF provides protection against high inflation with ownership of gold, and natural resource securities. The Gabelli management team sells covered calls against the common stock positions, likely buy-write strategies, to generate income.
The fund pays 14-cents per share per month. This equates to an annual dividend of $1.68-per share. Based upon a $18.24 stock price, the annual yield is 9.2%. Potential investors can find out the daily net asset value (NYSE:
NAV
) by checking the symbol "XGGNX". Currently the XGGN price is $17.72. This means the
CEF
is trading at a 2.47% premium to NAV.
Investors are well served to recognize the wide swings in metals and natural resource prices. Gabelli is a strong institutional presence and investors are well served by receiving regular monthly dividend checks. I recommend adding "GGN" shares on discount to NAV. Here is a link to GGN's quarterly SEC reported
holdings
.
Click to enlarge: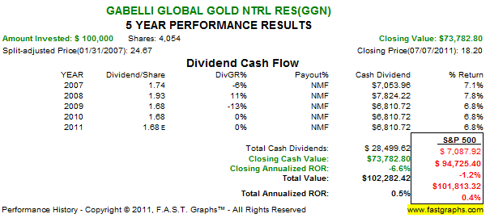 The SPDR Gold Trust is an accurate judge of the gold spot price. Investors can see the 20.7% increase in GLD ETF price vs. the SP500's .4% stock price over the same 5-year time period. In the future, the user can compare GGN's return compared to GLD's performance. Although the two are different, GGN sells covered calls and holds a significant amount of gold-company stocks.
Investors are well served by examining
Gold Trust Unit
(NYSEMKT:
GTU
) and
Central Fund of Canada
Limited (NYSEMKT:
CEF
) to find true physical ownerships for one's investment dollars. These funds own physical bullion which is kept in a Canadian bank vault. History has indicated that countries can make physical ownership of gold bullion inappropriate.
Click to enlarge:

6. StoneMor Partners LP (NASDAQ:STON)
Times are difficult. Job growth in the U.S. has primarily been limited to McDonald's (NYSE:
MCD
). As of July
8th
, McDonald's continued to be the core benefactor of more U.S. jobs. Based upon this sort of economic backdrop, the investor has to become defensive.
STON provides burial services, cremation services, and death planning services. These are mandatory needs required by society. STON pays a quarterly dividend of
58.5-cents
per quarter. This equates to an 8.4% annual dividend yield based upon a $27.84-per share stock price.
Click to enlarge: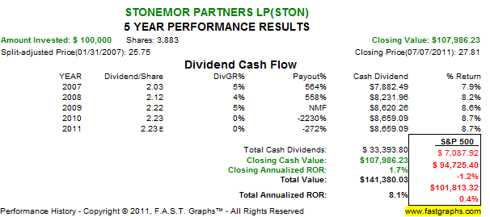 7. Enerplus Corporation (NYSE:ERF)
Enerplus is the grandaddy of Canadian monthly dividend oil energy producers. In July 2011, ERF announced their current
dividend
at 18-cents in Canadian currency. The ex-dividend date is July 6th and the payment date is July 20th.
ERF has actively been involved in reducing the debt on their balance sheet. ERF provided their annual report, SEC
40-F
, to represent the current business set-up after the alteration of tax status for Canadian Royalty Trusts.
ERF
continues to offer a 7% dividend yield based upon Canadian and U.S. oil receipts. The continual dividends in my brokerage account each month allow me to purchase or add new positions or to add new monies to current stock holdings.
Click to enlarge: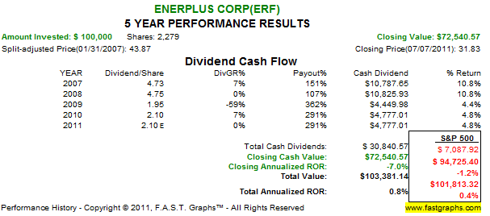 8. MV Oil Trust (NYSE:MVO)
MV Oil Trust is a dynamic way to invest in and benefit from ongoing high
oil
prices. Investors are well served to check out the present day West Texas Intermediate
prices
as supplied by the government. The WTI prices have been significantly higher over past years. MVO is off its hedges since the company began to trade as a U.S. Royalty Trust.
Investors should expect to receive high annual income proceeds during the initial years. Like BPT, MVO is a U.S. Royalty Trust that will pay significant
dividends
in future years. On the other side of the coin, however, U.S. Trusts have a limited life span.
Click to enlarge: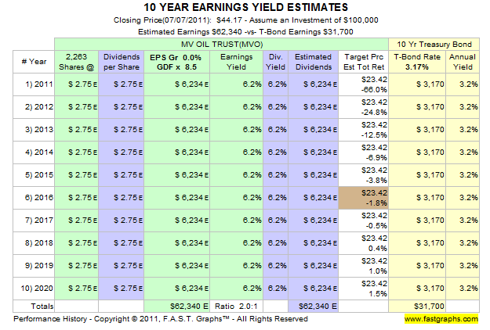 9. Anworth Mortgage Asset Corporation (NYSE:ANH)
Anworth
is in the agency mREIT business sector. Anworth was established in 1997 and is one of the older existing publicly traded mREITs. Lloyd McAdams, ANH's Chief Executive Officer, has held the CEO role since the company's 1987 formation.
Anworth, with a book value of
$6.92
-per share, is trading at approximately a 1.1x book value. Historically this is a fair valuation.
Anworth is a play on the favorable low yield borrowing rates and spread differential on buying longer-term MBS. Having a strong and experienced management team in our corner is one more positive reason to own ANH.
ANH currently offers shareholders a 13.39% dividend yield. This is based upon the 25-cent quarterly dividend and a $7.47-per share stock price. Click to enlarge: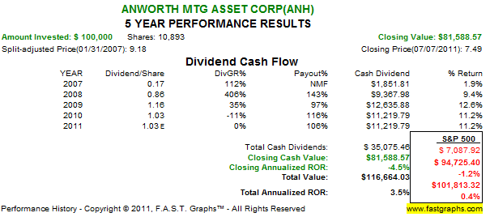 10. Collectors Universe Inc. (NASDAQ:CLCT)
As a coin collector,
CLCT
is one of my favorite stocks. The company is involved in hobbies that involve a significant number of coin and collectibles participants throughout the country.
Collectors Universe is the industry leader in providing third-party grading and authentication services for various types of collections. If a collector is considering buying an expensive coin, then the collector wants to ensure the coin is real and correctly graded. The better condition an item is in, the higher the valuation. CLCT provides these third party services for coins and for various types of collections. The company grades, for example, coins, trading cards, tickets, autographs.
Collectors Universe services offer the following brands: Professional Coin Grading Service (PCGS) for coin grading services, and Professional Sports Authenticator (PSA) sports card grading services.
The stock is cash-rich with over
$2.00
per share net cash. The company pays a 32.5-cents quarterly dividend. This equates to an 8.3% annual dividend yield based upon a $15.64-stock price. The company has a small cap valuation at $123-million.
Click to enlarge: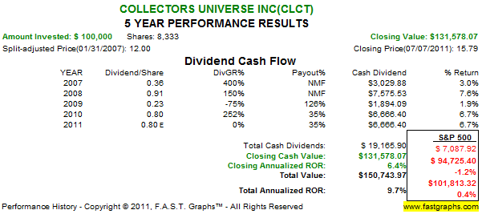 Disclosure: I am long AGNC, HTS, CYS, UAN, GGN, STON, ERF, MVO, ANH, CLCT.