Last week the debut of the First Trust ISE Cloud Computing Index Fund (NASDAQ:SKYY) – the first of its kind – attracted a lot of buzz in the media. It also received many critiques from analysts and investors.
Dana Blankenhorn questioned the viability of a cloud computing ETF. He opined that there is no need for an ETF to spread risk across the cloud computing industry, because "while cloud computing is relatively new, leadership is fairly established, and mostly with companies that are not pure plays in the field."
Still First Trust, the creator of SKYY, is confident with the growth prospect of SKYY. Ryan Issakainen, vice president and ETF strategist at First Trust, said "As businesses and consumers continue to migrate to a cloud environment, we believe there are significant growth opportunities for the companies involved in all aspects of cloud computing." He projected a 27% annual growth for the industry.
If SKYY is able to deliver hefty growth with good quality, it will be an appealing investment vehicle to investors. We took a look at quarter over quarter revenue growth of SKYY in the past three years and found that
SKYY delivered revenue growth more than twice of the technology sector (represented by XLK), and 10 times of the entire market (represented by S&P 500)
SKYY's growth was of much better quality than XLK and S&P 500
SKYY's special weight mechanism slightly boosted its growth numbers
The findings signify that SKYY has a brighter growth prospect if history is any guide.
Although earnings growth is more popular, we believe revenue growth is a better measurement for growth companies. Generally speaking, earning is revenue minus expense. For growth companies, expenses, such as capital expenditure to ramp up production and for technology advance and spending for research and development, are necessities for maintaining and improving their growth rates. More often than not, growth companies incur big expenses thus their earnings look ugly. Besides, revenue growth usually signals an increasing market share, or improved acceptance of new technologies.
Some investors would use annual data of past 10 years to average out the effect of business cycles. But high-tech industries are highly fluid and 10 years would be too long. Apple (NASDAQ:AAPL) introduced iPad less than two years ago and already changed the landscape of the entire industry. We believe three years is more appropriate. For the same reason, we use quarter over quarter numbers instead of annual ones.
Both XLK and S&P 500 (NYSEARCA:SPY) are market-weight. Thus we can simply sum up revenues of all companies to be the revenue of the ETF or the Index. But SKYY is a "modified" equal weight ETF and requires special treatments.
Within SKYY, companies are classified into three business segments:
Pure Play Cloud Computing Companies
Non Pure Play Cloud Computing Companies
Technology Conglomerate Cloud Computing Companies
Companies belonging to the same segment are assigned with the same weight, but weights vary among segments.
To account for SKYY's special weight mechanism, we first calculate per share revenue of each company, then multiply it by the number of shares held by the ETF. Finally we sum them up to be the revenue of the ETF. Because we don't have outstanding shares numbers for previous quarters, we approximate it with that of the current quarter.
We quantify the quality of growth by the Coefficient of Variation (CV), which is the standard deviation divided by the average. A small CV indicates a relatively small variation, thus a stable and predictable growth rate.
Quarter over Quarter Revenue Growth
SKYY

SKYY - MW

XLK

S&P 500

Q4'08

5.13%

5.27%

1.84%

1.95%

Q1'09

2.86%

2.23%

-1.18%

-2.63%

Q2'09

0.92%

0.62%

-2.07%

-3.46%

Q3'09

-0.06%

-0.46%

-2.19%

-4.76%

Q4'09

0.25%

-0.32%

-1.51%

-3.10%

Q1'10

2.56%

2.48%

2.17%

1.88%

Q2'10

3.79%

3.34%

3.35%

3.02%

Q3'10

4.35%

4.04%

4.08%

2.77%

Q4'10

4.41%

4.25%

4.57%

2.51%

Q1'11

4.32%

4.21%

3.06%

2.31%

Q2'11

4.39%

4.33%

2.84%

2.56%

Average

2.99%

2.73%

1.36%

0.28%

Stdev

1.85%

2.00%

2.58%

3.04%

CV

0.62

0.73

1.90

10.91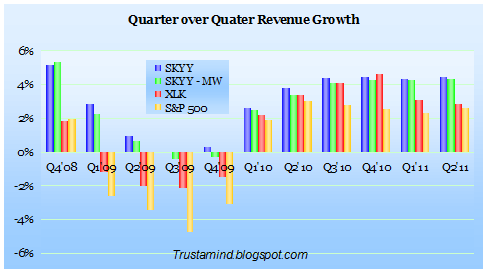 Column SKYY – MW lists the hypothetical revenue growth rates if SKYY is market-weight.
The data show that both SKYY and SKYY – MW delivered better growth rates than that of XLK and S&P 500. The average growth of SKYY and SKYY – MW were 2.99% and 2.73%, respectively, which were more than twice that of XLK at 1.36%, and 10 times that of S&P 500 at 0.28%.
Moreover, both SKYY and SKYY – MW saw growth rates higher than that of XLK and S&P 500 in almost all quarters. SKYY saw only one quarter of negative revenue growth. And at -0.06%, it was neglectable. SKYY – MW saw only two quarters of negative revenue growth, and both were less than 0.5% in magnitude. Their performance was superior, considering the severe negative revenue growth witnessed by S&P 500.
As for quality, the CV of SKYY and SKYY – MW were 0.62 and 0.73, respectively, much less than 1.90 of XLK and 10.91 of S&P 500.
If we exclude the negative swing from Q1'09 to Q1'10 – which was highly likely due to the aftermath of the Great Recession starting from late 2007 – both SKYY and SKYY – MW offered stable quarter over quarter growth rates around 4%. If we look at the latest four quarters, the quarter over quarter growth rates of both formed straight lines at above 4%. The straight lines showed that their growth rates were stable enough to even defy seasonality.
Between SKYY and SKYY – MW, SKYY's average growth rate was higher than that of SKYY – MW. And SKYY's growth rates were higher than that of SKYY – MW in almost all quarters. As for quality, the CV of SKYY was higher than that of SKYY – MW as well.
It appears that First Trust has done a good job of picking growth-oriented cloud computing companies because the market-weight version of SKYY already delivered a better growth rate with better quality than did the technology sector and the entire market. And its "modified" equal weight arrangement further boosted the growth rate as well as its quality. That said, historical data do not guarantee future performance.
Disclosure: I have no positions in any stocks mentioned, and no plans to initiate any positions within the next 72 hours.