In today's financial jungle, there are hundreds of alternative investment species, including many predatory beasts and some exotic birds and fish. With a wide array of investment products, the investment jungle can be a cold and dark environment with low odds for survival.
Many high-yielding mortgage REITs promise attractive dividends and extraordinary market returns. Another sought-after investment alternative are Equity REITs and today there are 123 small, medium, and large species with a combined market capitalization of around $410 billion (FTSE NAREIT All Equity REIT Index). Included in the index are several of the larger species of sub-sectors categories including Apartment REITs ($61.78 billion), Regional Mall REITs ($64.80 billion), and Office REITs ($51.99 billion).
Because of the historical retail failures associated with the latest recession, many of the Retail REITs have evolved into more efficient and focused fund managers. These Retail REITs tend to focus more on "safe haven investing" where high quality, densely-populated investment models are fundamental to survival.
Within the Retail Sector, there is a clever sub-sector that has evolved into a niche species with an uncanny ability to survive and, more importantly, achieve impressive results despite enormous tenant-driven difficulties. The FTSE NAREIT All Equity REIT "Free Standing" Subsector consists of four (4) REITs with a combined equity market capitalization of $7.39 billion and a current average dividend yield of the subsector of 5.76% (as of June 30, 2011) – the highest yielding sector or subsector within the FTSE NAREIT All Equity Index. (Source: www.nareit.com)
Rhino Investing
My favorite animal species is the rhinoceros and my favorite investment asset class is free standing retail. A few years ago, I read an article by the eminent British historian and author, Paul Johnson in which Mr. Johnson wrote:
Now, the rhino is not a particularly subtle or clever animal. It's the last of the antediluvian quadrupeds to carry a great weight of body armor. And by all the rules of progressive design and the process of natural selection the rhino ought to have been eliminated. But it hasn't been. Why not? Because the rhino is single-minded. When it perceives an object, it makes a decision--to charge. And it puts everything it's got into that charge. When the charge is over, the object is either flattened or has gone a long way into cover, whereupon the rhino instantly resumes browsing.
So in this Seeking Alpha article, I will attempt to compare qualities of the rhino to free standing retail investments and specifically to a REIT that I consider to be taking "charge"!
Agree Realty Corporation – A Rhino of a REIT

Founded in 1971 by Richard Agree, Chairman and CEO, and public since 1994, Agree Realty Corporation (NYSE:ADC) has been in operation for over 40 years (and has been public for 17 years). With a current market capitalization of around $214 million and total enterprise value of around $310 million, Agree Realty is considered a small cap Rhino with around 80 properties in its portfolio and over 3.8 million square feet in 17 states.
As a triple-net lease fund, Agree operates its investment platform with a variety of single tenant net lease tenants including many household names such as Walgreens, CVS, Best Buy, Staples, Chase Bank, AutoZone, Advance Auto Parts, and Dicks. As shown below, Agree has a majority (89%) of nationally recognized tenants. Click to enlarge: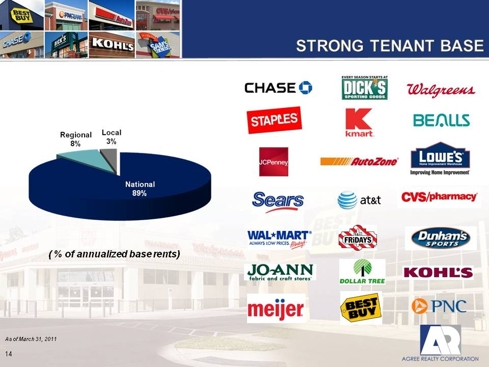 Because Agree operates as a REIT with a majority of high quality, single tenant assets, the company's portfolio has produced some historically attractive occupancy levels. As shown below, Agree has a 5-year average occupancy of 99% and current portfolio occupancy of 96% (as of April 2011). Click to enlarge: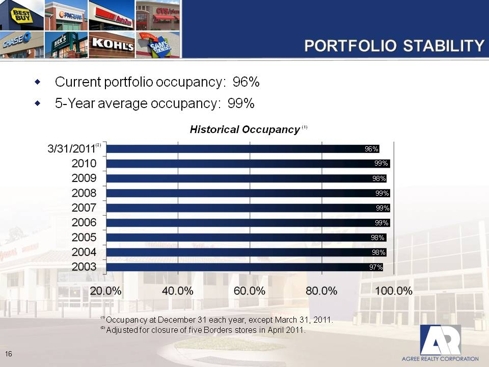 The company's asset pool has grown from 17 properties since its IPO (in 1994) to 80 properties today. As a public REIT, Agree has provided its shareholders with 17 years of consistent growth in assets and revenues. Click to enlarge: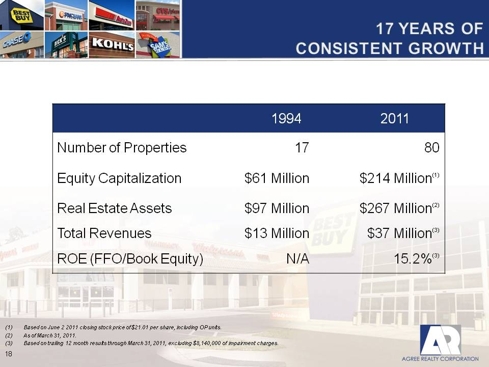 Of course, a fundamental characteristic of the Rhino and Net Lease investing is sustainability and clearly, both are well preserved with a focus on perseverance. Funds from Operations (FFO) is considered to be a widely accepted performance metric for REITs and the following chart illustrates the 17 year track record for Agree's FFO and Net Operating Income (from 2004-2010). Click to enlarge: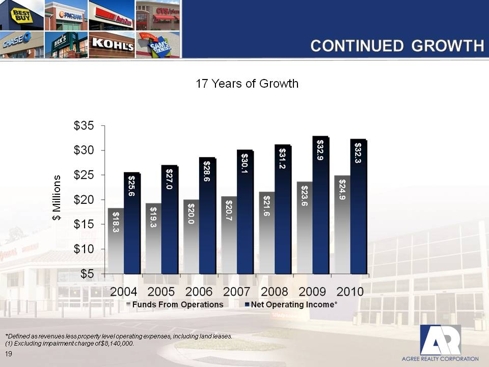 And going back to 1995 (when Agree went public), the net lease rhino REIT has provided consistent quarterly cash dividends. The attractive current dividend yield is 7.6% and that makes it one of the highest paying dividends in the Equity REIT index. Here is a chart illustrating the 17 year dividend history. Click to enlarge: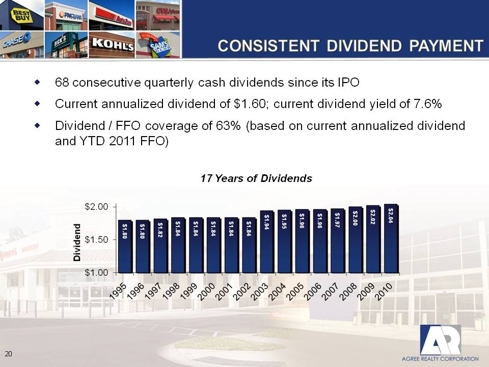 What Makes a Rhino?
As Forbes author Paul Johnson stated, the "rhino principle" can be applied to many business sectors as the entrepreneur (or REIT) should dismiss all other considerations from its mind, abandon all other activities and charge directly at that object, continuing to charge until the object has been secured. All kinds of qualities are needed to make a great businessman (or REIT). But aggressive single-mindedness is by far the most important." So, as it relates to Agree, the 40+ year old real estate company has (and is) focused 100% on "free-standing" investments and this strategy has enabled its investors to achieve some attractive results.
Agree's balance sheet has been a fundamental driver of the rhino investment strategy. With just under $95 million in debt, the company's debt to enterprise value is around 30%. In addition, Agree has just over 72% in fixed rate debt (vs. variable rate debt) and an average 7.5 years to maturity. See chart below, click to enlarge: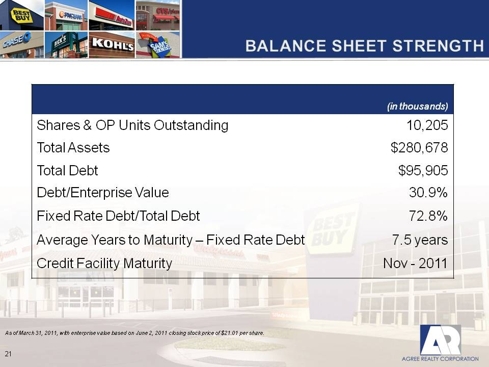 In addition, the REIT's total enterprise capitalization consists of around 10.205 million shares and units outstanding and around $95 million in total debt (This includes a secondary offering placed in April 2010 with 1.495 million common shares offered at $22.00/ share raising net proceeds of $31 million). Click to enlarge: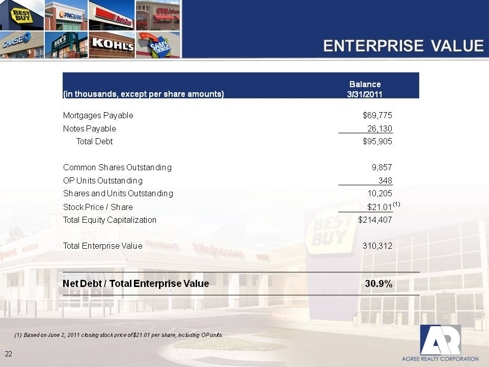 As referenced above, Agree has around 80 properties in 17 states and the majority of the company's assets are free standing retail properties. Unlike many other REITs, Agree has deep roots in development and, as a result, the rhino REIT has been able to provide its investors with superior returns. With long-standing relationships with many "best in class" tenants, Agree pre-leases its development assets and subsequently, provides investors with minimized development risk-adjusted returns. Because of its development capabilities, Agree has been able to boost its ROIC (return on invested capital) and consequently, provide opportunistic yield lift (as evidenced by the current 7.6% dividend yield). Agree has a solid development pipeline with completed and commenced projects leased to Walgreen's, Chase Bank, and Dick's. Click to enlarge: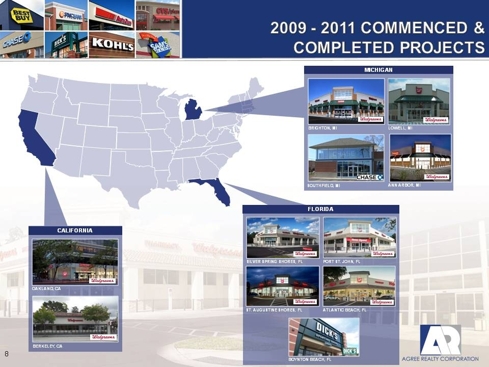 In addition, Agree has been actively pursuing opportunistic acquisitions. With its balanced development/acquisition model, the small cap REIT has been "rhino-focused" on achieving capitalization rates of 8% on average. In addition, the company's portfolio is balanced such that the average lease duration is around 21 years. These staggered lease expiration dates enables the REIT to mitigate against future lease-up risk. Here is a chart illustrating the company's future lease expirations. Click to enlarge: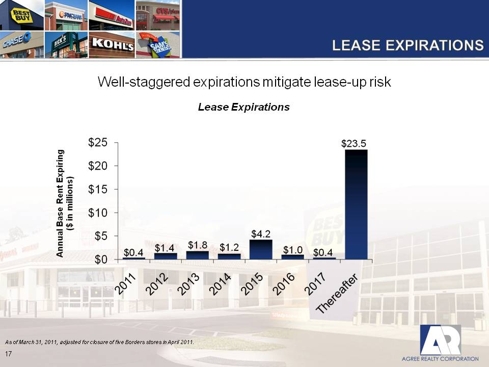 Recent acquisitions include an Advance Auto Parts (Marietta, GA), AT&T (Wilmington, NC), Chase Bank (Spring Grove, IL), and Kohl's (Tallahassee, FL). Here is a map identifying current assets. Click to enlarge: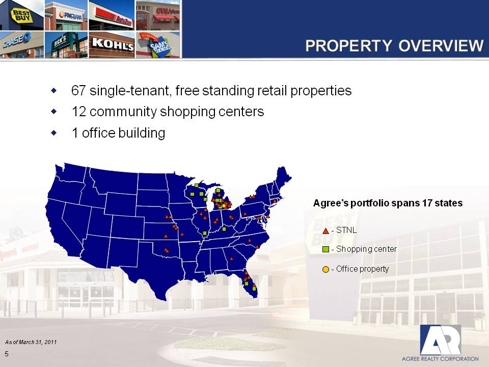 The Evolution of a Rhino
The rhino has survived thousands of years in the jungle habitat. Due to its perseverance and its evolutionary skills the thick-armored animal has engaged in battles with much larger predatory beasts, and, as a result, the beastly warrior has evolved with strategically advanced survival skills. Likewise, Agree Realty has seen combative elements and the developer-minded REIT has successfully navigated its most recent recession and retail economic crisis. In late 2010, Borders Books accounted for around 29% of Agree's annualized base rents and thru a series of asset management initiatives the rhino REIT reduced its overall exposure to around 14%. Click to enlarge: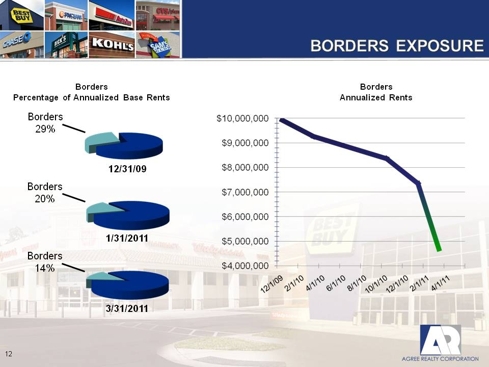 As evidence by its experienced senior management team and the REIT's developer-centric objectives, Agree was successful in negotiating property dispositions, lease amendments, and lender work-outs. Although a few remaining lease negotiations are unresolved, these four remaining cross-defaulted properties will not impact the company's NAV estimate as it assumes that the company will give these remaining Borders assets back to the lender. Raymond James – U.S. Research recently published (June 14, 2011) a reiterated Outperform analysis stating positive support to Agree's $28 NAV estimate.
As the report says:
While the fate of the Borders headquarters lease and the negotiations with the lenders on the non-recourse mortgage debt still present significant uncertainties, our Outperform recommendation continues based on an underlying value of the real estate and not any specific outcome. Furthermore, our base-case NAV estimate of $27.33, which ascribes zero value for any of the remaining Borders properties, should provide a valuation floor for ADC shares.
In addition, Janney Capital Markets also reiterated a BUY rating (June 14, 2011) with the company's investment conclusion:
Agree continues to trade with sentiment relating to its third-largest tenant, Borders Group. Our BUY rating is based on our belief that ADC is trading below the value of its non-Borders assets. Should Borders liquidate, ADC could trade lower before rebounding closer to its floor NAV. In short, we believe ADC presents an attractive risk-reward scenario for investors with a stomach for volatility.
In summary, this rhino REIT has responded well to its external economic forces and the result is a more diverse tenant profile with less concentration, more diversification, and more focus on recession resistant and web resistant tenant classifications.
The Rhino Peer Group
The free standing (net lease) FTSE NAREIT Equity REIT subsector is comprised of four (4) REITs. In addition, the net lease industry is comprised of several non-traded REITs (Cole, ARC, and Inland), and other lesser known co-ownership funds and operating sponsors. Given the "margin of safety" that exists in the asset category, the free standing market share (and equity capitalization) has grown considerably over the past few years. Unlike the shorter lease terms and non-investment grade credentials of the other asset categories (i.e., apartments, self-storage, and office), the free standing sector is a less-managed model with a sustainable track record and investment fundamentals equivalent to a bond; hence the analogy and reference made as a categorical "bond-replacement alternative".
Compared with its peer group, Agree is the smallest free standing retail REIT in the FTSE NAREIT index; however, its developer-centric platform is strategically-aligned to provide yield-enhanced profitability and exceptionally indexed returns. Furthermore, since many properties are newly developed (or acquired) there are fewer legacy assets and consequently, these assets require less capital and increased profit margins. Here is a comparative peer group chart:
| | | | | | |
| --- | --- | --- | --- | --- | --- |
| Free Standing Retail Peer REIT Analysis | | | | | |
| | | | | | |
| Company Name | Symbol | M-Cap | Rev | Properties | Dividend |
| | | | | | |
| Realty Income | | 4.43 B | 359.88 M | 2,500 | 5.00% |
| National Retail | | 2.18 B | 275.39 M | 1,223 | 5.90% |
| Getty Realty Corp. | | .87 B | 90.91 M | 1,170 | 7.40% |
| Agree Realty Corp. | | .21 B | 36.11 M | 80 | 7.60% |
| | | | | | |
| FTSE NAREIT Subsector (Free Standing) | | 7.39 B | | | 5.76% |
| FTSE NAREIT Sector (Retail) | | 106.71 B | | | 3.23% |
| FTSE NAREIT All Equity Index | | 410.40 B | | | 3.44% |
| | | | | | |
| Source: Yahoo Finance, FTSE ™, NAREIT ® | | | | | |
Take Charge and Crash The Future!
So as Mr. Johnson (distinguished Forbes author) explained, the "Rhino Principle" is applicable to many businesses and the free standing retail category, like the rhino, should survive the decades ahead. Another final and unique feature on the rhino is that the animal's group designation is called a "crash". Many animals have uncommon group names such as bees that swarm, fish in schools, and whales are pods. However, I always liked the name of the rhino group as the group cluster is appropriately named a crash. The four legged creatures run full speed ahead with unstoppable force and the effect is most forcefully called a crash.
With instinctively driven attributes, the free standing retail REITs (the "crash") are laser focused to provide investors with sustainable dividends and growth. With over four (4) decades of experience, Agree Realty is one well recommended REIT that should benefit from the ongoing recovery and provide investors with an extraordinary dividend. The current stock price is $23.01 (as of July 8, 2011) and the 12 month target pricing level is around $27.50. The expected stock appreciation (20%) and current dividend (7.6%) should generate some exceptional alternative investment options. So in the words of Paul Johnson, Take Charge!

Disclosure: I have no positions in any stocks mentioned, and no plans to initiate any positions within the next 72 hours.