There are very few stocks on the market that hold as much drama, triumph and heartbreak as does Dendreon (NASDAQ:DNDN). Dendreon's investing history actually reads more like a soap opera with all the intrigue and excitement of a prime time TV show. Early investors of DNDN suffered through wild price swings, accusations of wholesale manipulation and about one of the most confusing performances ever done by the FDA. Investors holding the stock, or option players holding long positions, needed nerves of steel and an iron will as the final scenes were played out live on trading screens everywhere. Millions were made, lost and made again in a blink of an eye. In the end though, DNDN did get its FDA approval and is today selling its products on the market for prostate cancer. Recently the FDA approved the Los Angeles immunotherapy manufacturing facility and the Centers for Medicare and Medicaid Services (CMS) issued a final National Coverage Decision requiring Medicare contractors to cover the use of their drug Provenge. The raw emotions coupled with the change in stock price from $2 in 2009 to $41.60 in 2011 makes DNDN something of a legend in the world of biotech.
This inevitably leads to the same question asked everyday by top hedge fund managers all the way down to the individual retail investor, who is the next DNDN?
Really the better question is who is the next biotech stock that can give us returns like that of DNDN? As an investor of DNDN in the early days, I can testify that no one wants to go through that roller coaster of emotions that we all went through. In response though, here are some possible candidates that have potential to give out outsized returns on their investments similar to that of DNDN. Due to the large number of companies that fit this bill I have only picked a handful to keep the article's length manageable. That being said below is a list of companies with basic introductions of their business processes and the drugs that will be the catalyst in making Dendreon like returns for investors. Before investing, further in-depth analysis should be done by investors to ascertain if the company is right based upon each individual's tolerance for the risks involved.
Keryx (NASDAQ:KERX): Keryx is a speculative biopharmaceutical company whose goal is to try to commercialize new pharmaceutical products that focus on renal disease and cancer. Much like DNDN before their approval, KERX will not recognize any revenue based on sales of their products for 2011. It should be noted though that there will be recorded license revenue in 2011 from an agreement for the initiation of a Phase 3 clinical trial in Japan.
Keryx's key for a Dendreon like return are in the form of two products that are being developed. The first product is Perifosine which is their oral anti-cancer drug. The drug is designed to treat advanced colorectal cancer and initial testing has delivered some very promising results. KERX derived the drug from a commercial license agreement in 2002 with Zentaris AG, which is a wholly owned subsidiary of AEterna Zentaris Inc. (NASDAQ:AEZS). In this agreement, KERX is granted exclusive rights to promote Perifosine in the U.S., Canada and Mexico. Currently, more than 2,000 patients in the US and Europe are involved with the Phase 3 trials of the drug. On top of this, the drug is also in Phase 1 and 2 clinical developments for several other tumor types.
KERX also has a second product, Zerenex, which is an oral compound that is used to treat end stage renal disease. The drug is also in a Phase 3 study with the FDA and KERX is working with the Japanese under a partnership to complete the trial. In the United States 485,000 people are afflicted with end stage renal disease. This number should increase by 60% to 785,000 by the year 2020.
KERX has a current market cap of $340 million at the time of this article. Year to date the trading range has been in a low of $3.50 to a high of $5.50 as we await the results. In early May 2011, the company did announce the pricing of a common stock offering of 7,021,277 shares at a price of$4.70 per share. Needless to say this did put some stress on the shares. If KERX is successful with either drug, the stock should break through its $5 resistance mark and make great gains.
AEterna Zentaris: You can not mention KERX without AEZS as they are joined at the hip with the drug Perifosine. As mentioned, AEZS has the right to promote Perifosine outside of the U.S., Canadian and Mexican markets. Besides the license to KERX, rights have been licensed to Handok Pharmaceuticals Co. Ltd. for Korea and to Yakult for Japan. Perifosine has also been granted Orphan Medicinal Product designation from the EMA in multiple myeloma and has received positive Scientific Advice from the EMA for both the advanced colorectal cancer and multiple myeloma programs, with ongoing Phase 3 trials for these indications expected to be sufficient for registration in Europe. Besides Perifosine though, AEZS has 4 other products in trials plus one product on the market. That drug is Cetrotide, which is administered to women to prevent premature ovulation in order to increase fertility success rate.
Sales and revenue was $7.1 million for the three-month period ended March 31, 2011, compared with $5.7 million for the same period in 2010. With operating expenses at $14.7 for the same time period, it's not hard to see that the company is living off its cash reserves. This explains the June 2011 actions by the company where they announced that the company entered into an "At-the-Market" ("ATM") Sales Agreement. Under the agreement the company may, at its discretion, from time to time during the 24-month term of the agreement, sell up to a maximum of 9,500,000 of its common shares through ATM issuances on the NASDAQ Stock Market. The common shares will be sold at market prices prevailing at the time of the sale of common shares and, as a result, prices may vary.
In summary AEZS needs Perifosine to succeed. If the drug were to pass for both uses in advanced colorectal cancer and multiple myeloma programs, the financial windfall to AEZS would give the share price a very outsized gain.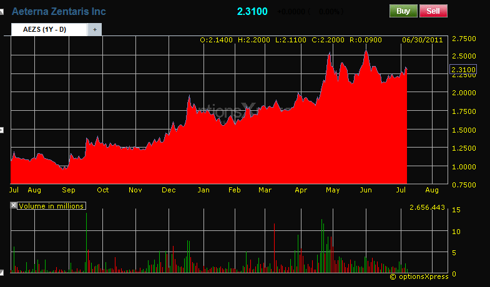 (Click to enlarge)
Oncothyreon (ONTY): ONTY is a biotechnology company dedicated to the development of oncology products for cancer patients. When hunting for the next DNDN, Oncothyreon is about as close as one can get. As DNDN's original focus was on a prostate cancer vaccine, ONTY is focusing on the non-small cell lung cancer vaccine (Stimuvax). ONTY does have other products in the pipeline but Stimuvax will be the major driver for the company. Much like DNDN, ONTY also envisions using their pipeline to treat other cancers like breast cancer, prostate cancer and colorectal cancer.
ONTY has partnered with Merck KGaA (OTCPK:MKGAF) of Darmstadt, Germany who is developing Stimuvax under a license agreement. The two Phase 3 trials of Stimuvax are currently underway and we look to get interim results by the end of this year. Recently, the company raised $43 million after closing a public offering of 11.5 million shares of its stock at $4 each. Since that time the stock has more than doubled in price in anticipation that the upcoming results on Stimuvax show such great survival benefits that the study is stopped early. Needless to say if this is the case, ONTY's share price will be much great than today levels.
BioSante Pharmaceuticals (BPAX): BioSante is a pharmaceutical company focused on developing products for female sexual health and oncology. BioSante's lead product is LibiGel which is for the treatment of female sexual dysfunction. LibiGel is currently in a Phase III clinical efficacy study and results are expected to be available sometime this fall. To this add BioSante's drug Bio-T-Gel which is a once-daily transdermal testosterone gel in development for the treatment of male low testosterone levels. With a market in the U.S. over $1.2 billion and a license to Teva Pharmaceuticls (NYSE:TEVA), a successful approval could make a major impact to the stock price. A NDA is pending with the FDA having a date of November 14, 2011. If that was not enough, the company also has in development a portfolio of cancer vaccines, four of which have been granted Orphan Drug designation and are currently in several Phase II clinical trials. On March 31, 2011, BPAX had had 93,590,612 common shares outstanding and approximately $51 million in cash.
Positive results from the above products should move BPAX's stock well north of its current price $3.
Rexahn Pharmaceuticals (NYSEMKT:RNN): Rexahn is a biopharmaceutical company that is engaged in the discovery and development of treatments for cancer, central nervous system disorders, sexual dysfunction and other unmet medical needs. RNN currently has a series of three Phase II clinical trials with drug candidates that have the potential to be real game changers. The first is a drug called Archexin which is an anticancer drug for the treatment of pancreatic cancer and renal cell carcinoma. When compared to conventional chemotherapy, Archexin blocks the production of a molecule that plays a central role in the uncontrolled growth of tumor mass. Therefore, Archexin may be able to replace the current standard cancer therapy with improved efficacy and tolerability. The world market for pancreatic cancer drugs is projected to exceed $1.2 billion by the year 2015. Top line results are expected sometime in the 2nd half of 2011. If ultimately accepted, RNN would find itself competing against rival therapies by Bayer and Onyx (NASDAQ:ONXX) and Pfizer (NYSE:PFE).
Serdaxin is another drug designed for the treatment of depression and neurodegenerative disorders. Data from a Phase IIa study shows that it improves symptoms of major depressive disorder. Serdaxin also promotes survival of neuronal cells in animal studies which suggests it may provide an innovative approach for the treatment of other brain conditions like Parkinson's and Alzheimer's diseases. The market for those two aliments is huge.
Zoraxel is a drug being developed for sexual dysfunction. Like the two mentioned above, it is another potential game-changing drug. Unlike other erectile dysfunction drugs targeting peripheral blood flow, Zoraxel boosts sexual functions by directly modulating specific brain activities. This mechanism gives Zoraxel a superior safety profile and promises increased patient satisfaction over standard medications such as Viagra. The Phase IIa clinical trial of Zoraxel has been completed with positive results and the Phase IIb trial is underway and will continue through 2010-11. The world market for erectile dysfunction drugs is projected to reach $4.4 billion by the year 2015. If RNN could actually bring Zoraxel to market and topple such medications as Viagra, the stock price would appreciate well above current levels.
In April of 2011 the company reported a cash position of $26 million and a monthly burn rate of $1.1 million. This cash position was supported when Rexahn announced it had received net proceeds of approximately $9.32 million when it sold an aggregate of 8.33 million shares of its common stock and warrants.
RXi Pharmaceuticals (NASDAQ:RXII): RXII is yet another biotechnology company engaged in discovering, developing and commercializing innovative therapies addressing unmet medical needs. The company was formerly known as Argonaut Pharmaceuticals, Inc. and changed its name to RXi Pharmaceuticals Corporation in November 2006. The company's lead product candidate is NeuVax. Treatment with NeuVax stimulates T cells in a highly specific manner to target cells associated with breast cancer. According to the National Cancer Institute, over 200,000 women in the U.S. are diagnosed with breast cancer annually. Of these women, about 75% test positive for Human Epidermal growth factor Receptor 2 (IHC 1+, 2+ or 3+). Only 25% of all breast cancer patients, those with HER2 3+ disease are eligible for a drug called Herceptin (Trastuzumab) which is a Roche-Genentech product. NeuVax targets the remaining 50% of HER2 positive patients (HER2 1+ and 2+) who achieve remission with current standard of care, but have no available HER2 targeted adjuvant treatment options to maintain their disease free status with low to intermediate HER2. The key to RXII's future is really the results from the latest trials where NeuVax given to low to intermediate HER2 positive patients. Initial results were spectacular as the recurrence rate for the control group was 22.2% while the recurrence rate for the NeuVax + Trastuzumab group was 0% for a 36 month period. The safety and tolerability profile were also noted to be excellent. A Phase 3 study expected to initiate in first half of 2012 under FDA approved Special Protocol Assessment.
With such excellent RXII will push as fast as they can to get NeuVax to market. If the drug really can drop the recurrence rates to 0% then its use will be a given for anyone taking Trastuzumab for the qualifying breast cancer candidates. Until such time, RXII will have to undergo the dilution game like they recently did when they announced they have priced a public offering of 11,950,000 units at a price to the public of $1.00 per unit for gross proceeds of approximately $12 million. Each unit consisted of one share of common stock and a warrant to purchase one share of common stock at an exercise price of $1.00 per share.
Geron (NASDAQ:GERN): When it comes to cutting edge medicine one has to look no further than the companies involved in the new world of stem cell technology. There are several companies and firms that are working in the field of stem cells and at current count that number is roughly 300 entities. Of those 300, only 2 companies have received the approval from the Food and Drug Administration (FDA) to conduct clinical trials using embryonic stem cells. Those companies are Geron Corp. and Advanced Cell Technology (ACTC.OB). While ACTC has opted to tackle macular degeneration within their clinical trials, Geron has made a decision to test its stem cell technology on treatment of spinal cord injury patients. Needless to say, working with the complexity of that part of the nervous system is making this project a very ambitious endeavor indeed. Currently only two human test subjects are undergoing the stem cell treatments. The company plans to enroll up to ten test subjects across the nation. Recent initial Phase I test results on the first patient were released and showed that safety and tolerability were within the acceptable ranges. If the company is successful in helping patients with spinal cord injuries walk again, the price per share should appreciate well above current levels.
For the first quarter of 2011, Geron posted a loss of 20 cents per share. The revenue for the quarter was $1.5 million, which was most made up of license fees. In turn, the operating expenses total was $25.9 million. Analyzing these figures, it is easy to see that Geron is in a negative cash flow position. That mean operating cash has to come in the form of grants or further dilution. Recently Geron was approved for a Targeted Clinical Development Award totaling $25 million from the California Institute for Regenerative Medicine (CIRM). This funding will be used to offset costs related to current studies but the question is how long will it take Geron to get to a positive cash flow based upon the spinal cord tests. The end date for the trials are still years out and it is not for sure that they will prove successful. If Geron does finally let the spinal cord injury patients to walk again then their stock price appreciation will be on the order of magnitude like that of Dendreon.
Micromet (NASDAQ:MITI): MITI was founded in 1993 by a small team of scientists from the University of Munich with a belief in the potential of T cell based therapies to treat cancer. Micromet's idea was to develop a new class of drugs that mobilizes T cells and enables them to detect and destroy normally unrecognizable cancer cells. The Company demonstrated the potential of its technology, referred to as BITE (Bi-specific T cell engager), with the publication of results from a Phase 1 trial of its BiTE antibody Blinatumomab (MT103) in patients with non-Hodgkin's lymphoma. In recent news MITI stated that interim results from a phase 2 trial showed that 75% of patients (9 of 12) achieved a complete remission with partial recovery of blood counts following treatment with Blinatumomab. All nine responding patients achieved a complete molecular response, or had no evidence of leukemic cells in their bone marrow, a key prognostic factor for patient survival. Notably, four patients with genetic abnormalities typically associated with poorer outcomes all achieved a complete remission. We should know more about the pivotal Phase 3 trials sometime in December 2012. MITI has other products in the works to, but MT103 will be the first to make it to market. The hopes for a DNDN return will have to start with it.
For the three months ended March 31, 2011, Micromet recognized total revenues of $5.5 million, compared to $6.3 million for the same period in 2010. Total operating expenses were $25.3 million for the three months ended March 31, 2011, compared to $17.4 million for the same period in 2010. Therefore losses from operations for the three months ended March 31, 2011 were $19.8 million. Like all of the other candidates, MITI is burning through their cash. The net cash used in operations was $19.0 million for the three months ended March 31, 2011. Micromet's cash, cash equivalents and investments were $207.8 million as of March 31, 2011 so they have a cushion of sorts as they wait for MT103 to be the next big thing.
Antares (AIS): AIS is a small pharmaceutical company that has its focuses on some very specialized products. Their current product mix is a bit diverse as they deal with self injection technologies and topical gel-based products. In the self injector business sector they have licensed products to Teva and Ferring resulting in income of $5.8 million in 2010. The real catalyst for the company will be their gel-based product Anturol. This gel is a topic treatment for overactive bladders and the FDA has agreed to review the company's application to market Anturol by December 2011. It is said that 33 million adults in the United States suffer from overactive bladders which results in a market of about $1.8 billion. The drug being a topical gel also makes it much desired by the public over pills and injections.
AIS did complete a public offering of 12,500,000 shares of the company's common stock at a purchase price of $1.60 per share on May 13, 2011. Since then Antares stock price had reached highs of $2.40 in recent trading. To further add weight to the company's story, Deerfield Capital reported a 9.59% passive stake. If the gel does pass FDA approval, the stock price should also have a nice appreciation rate from its current price.
In conclusion, the above companies all offer investors the potential for some great returns like that of DNDN. Let it said thought that this list is just a small percentage of the total number of great biomedical companies bringing ever better products to the market.
Chart Disclaimers:
Data and information are provided "as-is" for informational purposes only and are not intended as investment advice, tax advice or legal advice. All data and information are provided by optionsXpress Holdings, Inc. and optionsXpress, Holdings Inc. does not endorse or warrant the validity or accuracy of such data and information. Nor is optionsXpress Holdings, Inc. liable for any errors or delays in the data and information, or for any actions taken in reliance thereon.
OptionsXpress makes no investment recommendations and does not provide financial, tax or legal advice. Information accessed through this website and any link contained therein does not constitute a recommendation to buy or sell a particular investment from optionsXpress. You are solely responsible for your investment decisions and you should carefully evaluate the information to determine whether it is right for you and use of such information is suitable for your objectives.
Disclosure: I am long AIS, KERX, AEZS, DNDN.