Long term growth records appeal to value investors. Below is an elite group of companies (and their yields) with track records of increasing annual dividends for half a century, the Superstar Dividend Aristocrats. OK, I bent the rules for JNJ and KO. They will achieve this status next year, just 6 months away. But I trust that they will increase dividends next year.
1) Johnson & Johnson (NYSE:JNJ)__3.4%
2) Coca-Cola (NYSE:KO)_________2.7%
3) 3M Company (NYSE:MMM)_____2.3%
4) Emerson Electric (NYSE:EMR)__2.4%
5) Parker-Hannifin (NYSE:PH)____1.7%
6) Procter & Gamble (NYSE:PG)__3.2%
7) Genuine Parts (NYSE:GPC)___3.1%
8) Dover Corp. (NYSE:DOV)_____1.6%
In the last century, financial studies said that 1/3 of investment gains came from dividends and 2/3 came from capital appreciation. That belief has been put to the test in the last decade when capital appreciation has been limited at many of the largest companies thought of as growth stocks. Former growth stocks have matured. Cisco (NASDAQ:CSCO), Microsoft (NASDAQ:MSFT) and Intel (NASDAQ:INTC), after becoming Dow stocks, have had little or no appreciation over the last 15 years. That's a long period of time! Now they pay dividends (unheard of in earlier times) with respectable yields. Exciting new internet companies don't have earnings or dividends. Even if they have provided capital appreciation, who really knows where any will be in 10 or 15 years?
The charts for JNJ and KO below illustrate difficulties in earning capital appreciation in the last 2 decades (these charts are representative of charts for many Dividend Aristocrats):
Johnson & Johnson --- 10 years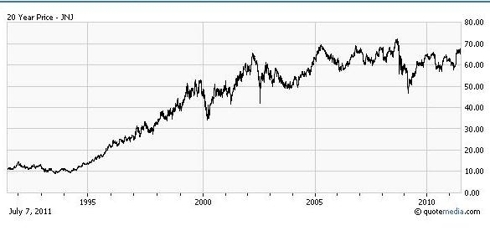 Click to enlarge
(Click to enlarge)
Coca-Cola --- 10 years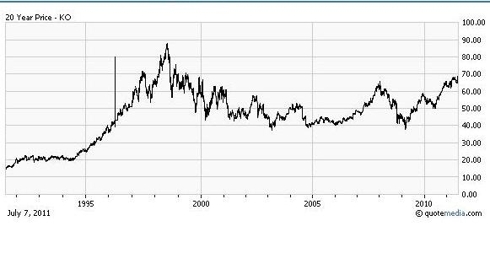 Click to enlarge
(Click to enlarge)
Generally their long term term charts look good through the mid or late 1990s, but have been lackluster since then. Other charts for some of the biggest name companies show stocks that have done worse. The Superstar Dividend Aristocrats have decent yields, moderate P/E ratios and strong finances which have allowed them to purchase millions of shares of treasury stock.
JNJ is one of the largest global healthcare companies.

KO is the largest largest non alcoholic beverage company with the best known brand name in the world.

MMM is a diversified worldwide technology company.

EMR designs and supplies product technology, as well as delivering engineering services for industrial and commercial markets worldwide.

PH manufactures fluid power systems, electromechanical controls and related components.

PG provides consumer popular brand name consumer goods in the U.S. and internationally.

GPC distributes automotive replacement parts, industrial replacement parts, office products, and electrical/electronic materials in the United States and western hemisphere.

DOV manufacture industrial products and components, as well as provide related services and consumables in the United States and internationally.
Predicting the future is always difficult, especially for companies which have not been tested in tough times. Superstar Dividend Aristocrats have paid annual dividends for decades (some for more than a century). The past does not guarantee the future, but extremely long track records of growth are impressive. Management is committed to rewarding stockholders with dividends and higher stock prices. These companies understand the meaning of the word success and have a greater chance of being winners going forward.
Disclosure: I am long KO.