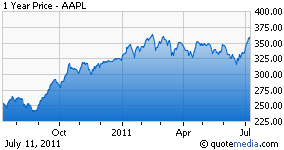 I cannot speak for the rest of the world but whenever Apple (NASDAQ:AAPL) is crushing the market I find myself messaging my Apple-hating colleague, the Wild Hog, with the oft-repeated and cliched line from Good Will Hunting; "How bout them AAPL's!" I have been able to say this a lot over the last year and half, but not so much over the last couple months. I have also made a nice profit over this time and not only do I not intend to sell anytime soon, I am definitely considering adding to my position in the near future.
Apple is by far one of the most discussed stocks in the market and it would be fruitless to attempt to recap all of its recent developments and newsworthy tidbits in a single article. That's what a Bloomberg newsfeed is for. It would be simple to recount the number of iPads sold, iPhones sold, Macbook market share among key demographics, or current cash assets. A recent article even detailed the race between Apple and Google (NASDAQ:GOOG) to get to $600 per share, like this was some sort of space race. It is indeed an interesting inquiry, but I personally wouldn't consider the two competitors and think that the two can certainly coexist. What does tie the two together is that they require big news to move the stock.
Three weeks ago Apple drifted below its 200-day moving average, as shown below in the green circle, and investors treated this as a panic signal. They were deeply concerned over the lack of recent price appreciation, and rightfully so. Apple had not been that close to the 200-day since last September, when there was a lot of market uncertainty. But it bounced off that low in the $240 area and ran to the $360s, the current 52-week peak.
The fear created by the sub-200 news has since been pared, and now the stock is flirting with new highs. And the next two weeks could be extremely foretelling of what is to come. Not only did Apple break back through the 200-day mark but it broke through the 50-day in a way that only Jim Morrison could be proud of. It also broke through a trend. Below is the same graph redefined to the last seven months. As you can see there was a downward channel spanning the last four months or so, in green.
Click to enlarge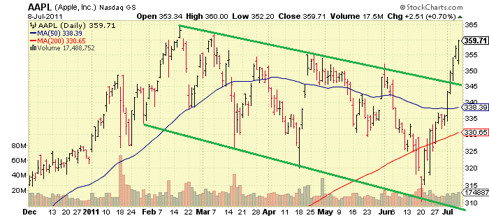 Coming out of this channel is a bullish signal and could mean big things going into earnings season. Apple reports on July 19. This being only eight days away means it would be a good time to go Apple picking. A different colleague of mine cataloged Apple's earnings history, in this article, and found that Apple jumps over 3% on average on earnings days. This would rocket Apple into the $370 range, a height never achieved, but certainly dreamed of by some.
After that several factors would come into play as to whether $400 is in the crosshairs, such as the health of Steve Jobs, the new iPhone, if Verizon's (NYSE:VZ) new data plan impacts sales, and the slowdown of iPad sales. Right now Yahoo lists Apple's one-year target price at $448, which would be 25% growth. This is certainly optimistic and less so in rationality, but it's doable.
My Wall Street Scanner app offers a layout of analysts' feelings and reports 37 strong buys, four buys and three holds. I generally would not give too much weight to this, but it is no secret how institutional buyers feel about the stock. For them, to have not owned it over the last five years would be silly, for lack of a better word. Based on the premise that Apple offers generally superior products and its history of innovation, it would be prudent to believe that it will continue to outperform on earnings, develop technological landscape altering products, and most importantly, grow as a stock.
Disclosure: I am long AAPL.