Let's start off with a few market observations in the words of Barclays Capital (see report here):
Four months after the Libyan oil industry was first thrown into turmoil, the IEA has released oil from strategic reserves intending it to be a partial response to the Libyan crisis. The cumulative loss of Libyan output now stands at 182 mb, primarily diesel-rich light crude bound for Europe. The first IEA release is one-third of that amount, split across regions and between crude and products.

After an initial fall, prices have rallied. The back of the curve has risen, given that the release is primarily a way of borrowing oil from the future into the present because the strategic reserves will ultimately be replaced. Overall, we see the IEA action as being well motivated, but a shot in the dark; in our view, the impact on oil politics and on market perceptions raises the danger of some significant distortions.

The long and sustained whittling away of surplus commercial inventory has continued. The overhang of US crude oil and oil product inventories above its five-year average has fallen by a further 4.1 mb in the latest US weekly data release, and now stands only 1.3 mb above a 30-month low.
Many people are still debating what the impact of this incremental supply will be and how long it will last. There seems to be a consensus forming that the SPR release will not have an impact much past the short run, and even that is questionable with prices higher now than before the SPR data release. It is hard to see how this could be much more than a rather short lived phenomenon.
However, the Obama administration didn't just randomly decide to wait this long to do an SPR release. In my opinion, the administration waited until oil prices started to weaken and then decided to take action hoping to add some momentum to the recent downward trajectory. Crude prices have already bounced off of the lows from this news, so despite this effort it appears that this was a short lived phenomenon after all.
How could this potentially impact investors? Simple economics would have you believe that more supply is bearish of prices. However, in this instance it is incremental supply for a very short amount of time. Plus it is my understanding that this SPR release is an outright sale with no preset obligation to buy back the oil to replenish the SPR in the future, though it is inconceivable to think that the SPR will never be replenished at some point in the future.
While it is challenging to really know what impact the end of QE2, as well as the SPR supply release will have, there are a couple of things that can be said for certain:
The SPR supply will be shipped via pipeline, it will be stored in a storage facility, and it will eventually be refined.
Gasoline and distillate (and a whole host of other products) will eventually be produced and distributed back through pipelines, into storage facilities and eventually through product terminals.
So who wins from the SPR supply release? The companies that run pipelines, storage facilities, and terminals are likely candidates in my estimation. While not always the case, a lot of the companies in this space are typically Master Limited Partner (MLP) structures (and frequently pay very high and stable dividends).
While the SPR supply release won't realistically be much of a blip on the MLP companies' radars, I nonetheless believe that these companies will perform well in comparison to E&P companies, on a risk adjusted basis anyway. There are several reasons to consider owning a portfolio of MLP companies (the companies that run pipelines, storage facilities, and terminals):
The business models are based on throughput, capacity, and other metrics that are not explicitly defined by outright commodity prices.
It is an easy and effective way to gain exposure to commodity demand without becoming overly exposed to outright prices.
Many MLP companies have very strong dividend yields and are not nearly as correlated to equities as integrated energy and/or E&P companies, which could be represented by XLE, the SPDR Energy ETF.
It is a natural hedge on your personal energy costs considering that a significant portion of what your bill is comprised of is transportation and storage fees that are passed on to you by your energy provider.
Many, if not most, of the MLP companies have inflation adjustments embedded in the company's contracts, which in effect make MLPs a terrific inflation hedge. This is one particular reason that Pension Funds and the like typically have significant allocations to infrastructure type investments such as energy storage and transportation operators.
Basic Outlook for Energy
It's tough to paint a bleak picture for energy over any significant period of time. Even though some are arguing that gasoline demand in the US has gone through a permanent peak, distillate demand, which is much more sensitive to industrial activity, has been increasing from its recessionary lows. Plus, there is growing energy demand in the EM nations which, thus far, have been more than enough to compensate for the loss of developed nation demand.
That being said, I am willing to bet that energy prices have already peaked for the year. Who knows, maybe in the context of a world with essentially maxed out OPEC production, an extra 30 million barrels of non-OPEC supply, and the end of QE2 a crude oil price of $80 is in fact more reflective of fundamental value. Either way, I believe that a portfolio of MLP companies represent a terrific opportunity for investors to gain, or maintain, a conservative to moderate level of exposure to the energy sector. MLPs will compensate more than XLE and possibly even the S&P 500 on a risk adjusted basis.
Portfolio Construction Process
I have constructed a portfolio of 10 MLP companies using an approach to asset allocation grounded in a risk parity framework. Since managing risk is paramount, the asset allocation process is guided by the relative risk of each of these 10 companies. The portfolio was constructed using historical volatility for the 36 month time period prior to January 2011. The weights are established with the intent on targeting a portfolio level volatility equal to the S&P 500. Any excess cash is invested in the short term Treasury ETF (NYSEARCA:SHY).
An appropriate re-weighting analysis should be conducted after holding this portfolio for 12 months.
The companies included are:
Kinder Morgan Energy Partners, L.P. (NYSE:KMP) – is a pipeline transportation and energy storage company in North America. KMP owns an interest in approximately 28,000 miles of pipelines and 180 terminals. It operates in five business segments: Products Pipelines, Natural Gas Pipelines, CO2, Terminals and Kinder Morgan Canada. The company's pipelines transport natural gas, refined petroleum products, crude oil, carbon dioxide and other products. Its terminals store petroleum products and chemicals and handle bulk materials, such as coal and petroleum coke. On September 1, 2010, it acquired the natural gas treating assets of Gas-Chill, Inc. In May 2010, its subsidiary KM Gathering LLC purchased a 50% ownership interest in KinderHawk Field Services LLC. During the year ended December 31, 2010, it acquired Linden, Baltimore and Euless facilities, and acquired the refined products terminal assets at Mission Valley, California from Equilon Enterprises LLC.
Copano Energy, L.L.C. (NASDAQ:CPNO) – is an energy company engaged in the business of providing midstream services to natural gas producers, including natural gas gathering, compression, dehydration, treating, marketing, transportation, processing, conditioning and fractionation services. Copano's assets are located in Texas, Oklahoma, Wyoming and Louisiana, and include approximately 6,424 miles of active natural gas gathering and transmission pipelines, and eight natural gas processing plants, with over one billion cubic feet per day (Bcf/d) of combined processing capacity. In addition to the natural gas pipelines, it operates 260 miles of natural gas liquids (NGL) pipelines. Copano operates in three geographic segments: Texas, Oklahoma and Rocky Mountains. On January 18, 2011, it formed Liberty Pipeline Group, LLC (a 50/50 joint venture with a subsidiary of Energy Transfer Partners) to construct, own and operate a 12-inch NGL pipeline (the Liberty pipeline).
Enterprise Products Partners L.P. (NYSE:EPD) – is a midstream energy company providing a range of services to producers and consumers of natural gas, natural gas liquids (NGLs), crude oil, refined products and certain petrochemicals. It operates in six business segments: NGL Pipelines & Services; Onshore Natural Gas Pipelines & Services; Onshore Crude Oil Pipelines & Services; Offshore Pipelines & Services; Petrochemical & Refined Products Services, and Other Investments. It conducts all of its business through its subsidiary, Enterprise Products Operating LLC (EPO). It is managed and controlled by Enterprise GP, which has a general partner interest in it. During the year ended December 31, 2010, it acquired the State Line and Fairplay natural gas gathering and treating systems and related assets; acquired a marine transportation business located in south Louisiana, and Enterprise Products Company's (EPCO's) interests in Enterprise Transportation Company (ETC).
Williams Partners L.P. (NYSE:WPZ) – is a diversified master limited partnership formed by The Williams Companies, Inc. (Williams). Williams is an integrated natural gas company focused on exploration and production, midstream gathering and processing, and interstate natural gas transportation primarily in the Rocky Mountains, Gulf Coast, Pacific Northwest, Eastern Seaboard and the Marcellus Shale in Pennsylvania. Most of its interstate gas pipeline and midstream assets are held through its 75% ownership interest (including the general-partner interest) in Williams Partners L.P.
MarkWest Energy Partners, L.P. (NYSE:MWE) – is a master limited partnership engaged in the gathering, processing and transportation of natural gas; the transportation, fractionation, storage and marketing of NGLs, and the gathering and transportation of crude oil. The company conducts its operations in four geographic operating segments: Southwest, Northeast, Liberty and Gulf Coast. It operates in four segments: Southwest, Northeast, Liberty and Gulf Coast. On February 1, 2011, the company acquired natural gas processing and NGL transportation assets from EQT Gathering, LLC.
El Paso Pipeline Partners, L.P. (NYSE:EPB) – owns and operates natural gas transportation pipelines and storage assets. The company conducts its business activities through various natural gas pipeline systems and storage facilities, including the Wyoming Interstate Company, L.L.C. (WIC) system, the Southern LNG Company, L.L.C. (SLNG) storage facility, the Elba Express Company, L.L.C. (Elba Express) system, a 58% general partner interest in the Colorado Interstate Gas Company (CIG) system, and a 60% general partner interest in the Southern Natural Gas Company (SNG) system. In March 2010, it acquired a 51% member interest in each of SLNG and Elba Express from El Paso. In June 2010, it acquired an additional 20% general partner interest in SNG from El Paso. In November 2010, it acquired the remaining 49% member interest in each of SLNG and Elba Express and an additional 15% general partner interest in SNG.
Energy Transfer Partners, L.P. (NYSE:ETP) – is a limited partnership based in the United States engaged in natural gas operations. The company is managed by the general partner, Energy Transfer Partners GP, L.P. (the General Partner), which in turn is managed by its general partner, Energy Transfer Partners, L.L.C. (ETP LLC). The company's natural gas operations consist of natural gas midstream and intrastate transportation and storage through La Grange Acquisition, L.P., which conducts business under the assumed name of Energy Transfer Company (ETC OLP), and natural gas midstream and intrastate transportation and storage through La Grange Acquisition, L.P., which conducts business under the name of Energy Transfer Company (ETC OLP). The company operates its retail operations through Heritage Operating, L.P. (HOLP) and Titan Energy Partners, L.P. (Titan).
Duncan Energy Partners L.P. (NYSE:DEP) – is engaged in the business of natural gas liquids (NGL) transportation, fractionation and marketing, storage of NGL and petrochemical products; transportation of petrochemical products, gathering, transportation, marketing and storage of natural gas. As of December 31, 2009, Duncan Energy Partners was owned 99.3% by its limited partners and 0.7% by its general partner, DEP Holdings, LLC (DEP GP), which is a wholly owned subsidiary of Enterprise Products Operating LLC (EPO). DEP GP is responsible for managing the business and operations of Duncan Energy Partners. The company operates in three segments: Natural Gas Pipelines & Services, NGL Pipelines & Services and Petrochemical Services.
Enbridge Inc. (NYSE:ENB) – is engaged in energy transportation and distribution. Enbridge conducts its business through five operating segments: Liquids Pipelines; Gas Distribution; Gas Pipelines, Processing and Energy Services; Sponsored Investments, and Corporate. During the year ended December 31, 2010, the company secured six expansion projects. These projects include expansion of the company's Athabasca Pipeline; expansion of the Waupisoo Pipeline; three new pipelines, the Woodland, Wood Buffalo and Norealis pipelines; and the Christina Lake Lateral project, which provides additional pipeline and terminal facilities to support expansion of the Christina Lake enhanced oil project. During 2010, the company sponsored investment, Enbridge Income Fund, substantially completed expansion of its Saskatchewan System, and announced a joint project with Enbridge Energy Partners, L.P. (NYSE:EEP) to further develop its Bakken infrastructure.
Energy Transfer Equity, L.P. (NYSE:ETE) – is a limited partnership company. The company has two segments: Investment in ETP and Investment in Regency. ETP injects and holds natural gas in its Bammel storage facility. Regency is a net seller of NGLs, condensate and natural gas as a result of its gathering and processing operations. During year ended December, 31, 2010, ETP completed construction of Fayetteville Express pipeline. The Fayetteville Express pipeline is an approximately 185-mile natural gas pipeline that originates in Conway County, Arkansas, continues eastward through White County, Arkansas and terminates at an interconnect with Trunkline Gas Company in Panola County, Mississippi. ETP completed construction of its Tiger pipeline. In September 2010, Regency acquired Zephyr Gas Services, LLC.
Portfolio Weights
The portfolio weights are the following: KMP (15.4%), CPNO (5.1%), EPD (12.6%), WPZ (4.7%), MWE (4.5%), EPB (11.1%), ETP (10.9%), DEP (7.9%), ENB (11.8%), ETE (8.6%), and SHY (7.5%).
Is My Portfolio Diversified?
Recall my emphasis on the holy trinity of finance (risk, return, and correlation) in my previous article which can be viewed here. As I argued then and will argue now, most investors focus on return when in fact investors should be focusing on the correlation and risk among investment opportunities. The level of correlation between the 10 MLPs included in this analysis and the S&P 500 is by in large pretty low. This implies that most of the MLPs included in this analysis provide diversification benefits to an investor who is predominately exposed to the S&P 500.
click on images to enlarge

Total History Returns
Over the whole time period of data that I have used, 2008 - 2011 year to date, the MLP portfolio has performed extremely well (particularly on a risk adjusted basis). To a limited extent this graph does include some degree of bias. However, I believe that this bias is very minimal since it is volatility based (and I believe the relative volatility of these securities are much more stable over time) vs. return based investing.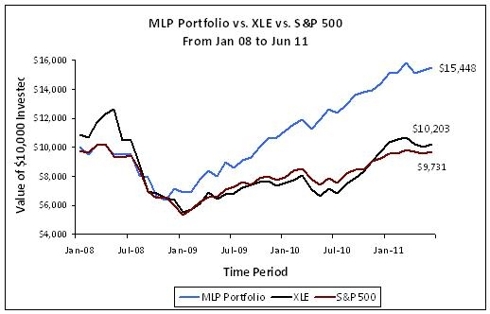 Monthly Returns
On a 2011 year to date basis (the time period without implicit selection bias), the portfolio has performed quite well. It has been running at just under 11% volatility while the S&P 500 has been exhibiting just under 12% volatility. The beta of the portfolio (using daily year to date data) is .545 which is indicative of risk factors present in the portfolio which are independent of the S&P 500 (a sign of diversification benefits).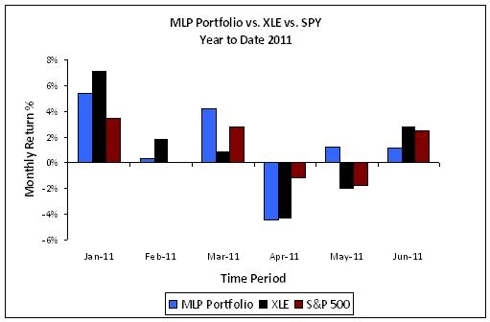 Year to Date Cumulative Returns
The MLP portfolio has pretty well kept pace with XLE in absolute dollar terms.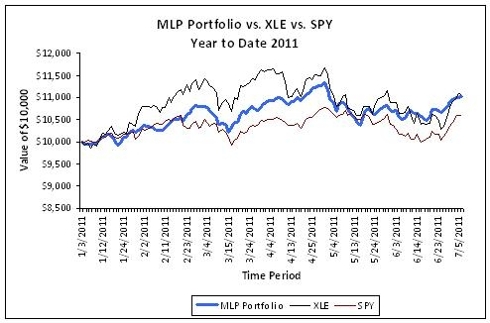 While it is easy to get caught up in historical and potential returns of a given investment, it is most important to consider the risk inherent in the investment. So rather then getting caught up in outright returns, it is crucially important to consider the risk adjusted returns. The measure that I have used to measure this is the Sharpe ratio. The Sharpe ratio for the MLP portfolio is 1.628 which compares very favorably vs. 1.032 for XLE or 0.936 for (NYSEARCA:SPY).
Risk and Return Tradeoff
This graph provides a visual of the tradeoff between risk and return. The key to this graph is that an investor wants to be as high on the Y-axis and as far to the left on the X-axis as possible. Consider XLE, which is marginally higher than the MLP portfolio in annualized return BUT is nearly twice as volatile. This increased volatility erodes your total returns over a long time horizon, which is fundamental to my belief that using a risk parity approach to investments is a superior approach to asset allocation.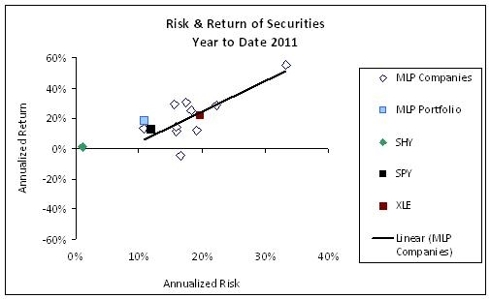 Conclusion
If you believe that energy represents a compelling investment over a medium or long time horizon, you might consider an alternative energy portfolio such as this MLP portfolio. It exhibits less volatility, has a terrific yield, and typical business models are not only inflation resilient but may actually perform better with inflation. Thus, I believe MLPs represent a compelling investment opportunity that will yield a terrific risk adjusted return compared to XLE and even compared to SPY.
Disclosure: I have no positions in any stocks mentioned, but may initiate a long position in KMP, CPNO, EPD, WPZ, MWE, EPB, ETP, DEP, ENB, ETE, SHY over the next 72 hours.