Annaly (NYSE:NLY) is the latest MREIT to announce a secondary offering. On the evening of July 11th, it offered NLY shares at $17.70. This is a reconfirmation that investors are seeking equity into secondary agency-MREIT offerings. The Treasury Bill and Treasury Bond rates offer positive yield-curve rates to investors. However, investors cannot take their eye off the ball-- that agency-paper trumps non-agency paper.

Agency-MREITs continue to attract additional funding through secondary offerings. A closer look at the offerings can provide insights into MREIT opportunities and risks. There are some firms, such as Invesco Morgage Capital (NYSE:IVR), which are not 100% agency-backed paper. Because the paper is leveraged, the fact that the paper is non-agency and leveraged can cause significant losses -- or potentially outsized gains if done right. My investment dollars say "show me first' and then let's put further investment dollars with the proven management team. I lack the investment confidence in IVR to put forth additional dollars.

Why should I?

Click to enlarge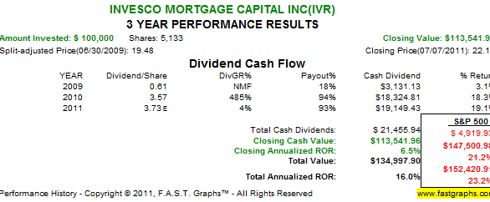 Annaly
After the market close, Annaly announced a secondary offering of up to 120-million shares at $17.70-per share. The gross-proceeds are anticipated at $2.1-billion. Michael Farrell has proven to be cognizant and aware of the risks vs. rewards over time.

Invesco Mortgage Capital Inc. (IVR)
Invesco Mortgage is a MREIT which recently had a successful secondary offering. Its IPO was in July 2009. IVR has a significant percentage of MBS in non-agency paper. As shown below in the 10-Q balance sheet, the MBS statement indicates IVR's non-agency MBS. The non-agency MBS is a 26% percentage of total agency MBS and non-agnecy MBS combined.
Click to enlarge




IVR raised $393-million, before fees, in its secondary offering. The current portfolio has the following attributes: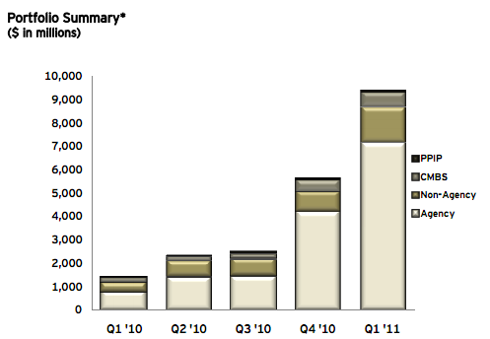 The intentional non-agency paper investment is acceptable only if the investor knows the company's position and strategy. IVR simply does not possess the Annaly, Anworth (NYSE:ANH), or MFA Financial, Inc. (NYSE:MFA) track record of MREIT success. The investor is left at face value with the percentage of agency vs. non-agency paper, and assumed views on their portfolio hedges. I don't think this is a fair assumption to make on a 2009 IPO with a limiited record of success during a pro-MREIT environment (i.e., decreasing interest rates). Let's stick with the proven agency-MREIT winners: NLY, MFA, ANH and American Capital Agency (NASDAQ:AGNC). Let's bypass IVR until it proves itself.

IVR Management:
The IVR external is backed by Richard J. King. In my opinion, Annaly, Hatteras (NYSE:HTS), and American Capital Agency have proven management teams in agency-MBS opportunities.
Click to enlarge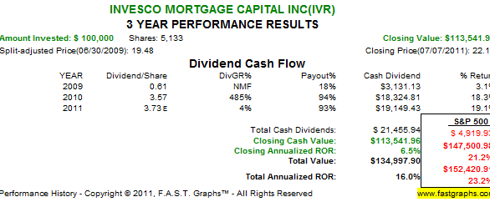 IVR has not proven itself to warrant any rationale to bring investor dollars. The agency-MREITs, ie AGNC, HTS, NLY, have proven themselves to attract investment dollars prior to AGNC.


Disclosure: I am long AGNC, HTS.